Three-time Olympian, current Mount Royal student has no regrets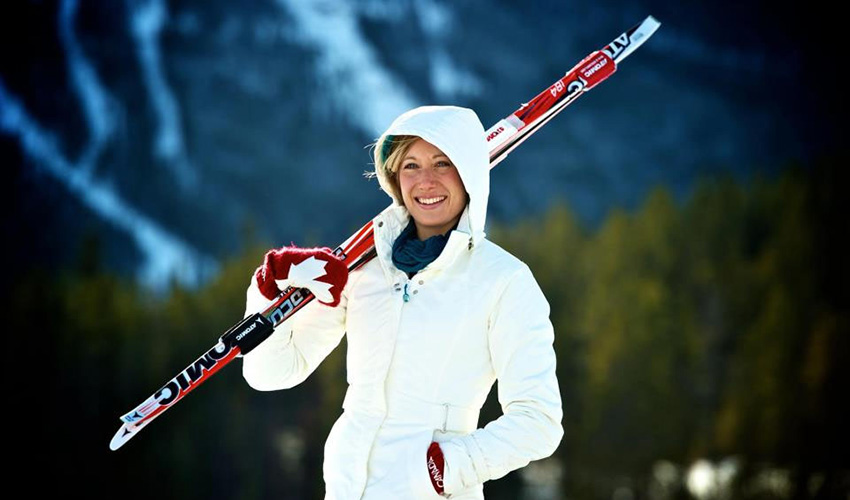 Zina Kocher's performance at the Olympic Games selection races in Beaupré, Quebec did not qualify her to compete at the PyeongChang Winter Olympics - and she's okay with it.
The three-time Olympian and World Cup medalist in biathlon retired from that particular sport in 2016, however, she attempted a return to compete in Pyeongchang as a member of Canada's cross-country ski team.
Kocher is also a second-year student at Mount Royal enrolled in the Massage Therapy diploma program.
"I decided to try to make the cross-country team as there is a 10 kilometre skate-ski event at the Olympics this year," explains Kocher. She describes herself as strong at that technique, as it is used in biathlon.
Rebecca Steele, who was one of Kocher's instructors in the Massage Therapy Diploma Program, did not realize Kocher was managing multiple priorities.
"I didn't notice any changes in her dedication to her studies," says Steele.
"She was always a quiet, pleasant, introspective and dedicated student in my classroom."
Cross Country Canada opted to have a 10 kilometre classic race and 15 kilometre combination event as part of the Olympic qualifying process. Knowing this, Kocher was aware that qualifying would be extremely difficult, however, she was motivated to try for two reasons.
"I decided to attempt a comeback because I missed it and wanted to challenge myself," says Kocher.
"And secondly, because my long-time coach, Richard Boruta, whom I had made this comeback plan with, passed away tragically in a climbing accident at the beginning of August."
"I not only had to do this for myself, but I wanted to pay tribute to him."
While Kocher did not qualify, she currently sits atop the Haywood NorAm Race Series, which supports athlete development at the elite level and promotes cross-country ski racing.
Going forward, Kocher sees herself participating in Loppets, which are the equivalent of shinny hockey games for cross-country skiing.
"It's basically back to sport retirement for me," says Kocher, but her outlook is positive.
"I knew that regardless of what happened, I have a life at home, happily married and a career ahead of me that I am excited about." Kocher is continuing her studies at MRU for a future as a massage therapist. The program teaches relaxation and therapeutic massage techniques, along with subjects that include anatomy, physiology, pathology, business and research.
She'll be rooting for Canada's cross-country ski team as they compete in PyeongChang.
Feb. 8, 2017 — Rob Petrollini
Media request contact information.
Have a story idea? Please fill out this form.