Changemaker Conversations 'motivate to action'
Trico Changemakers Studio series designed to keep inspiring progress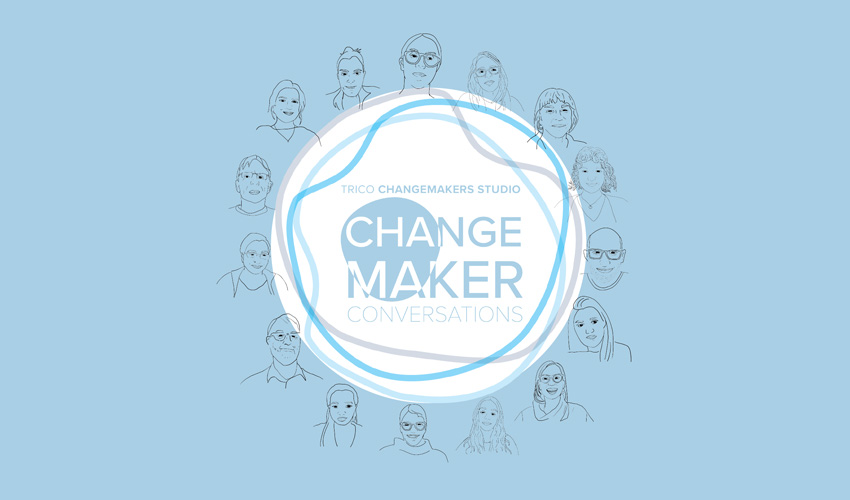 The Changemaker Conversations series convenes a diverse body of changemakers, including students, MRU faculty and staff, and community organizations engaging in generative dialogue towards action.
---
The Trico Changemakers Studio at Mount Royal University is where community organizations, social ventures and students collaborate and innovate to address social or environmental challenges. In 2018, the 5,000 square foot space in the Bissett School of Business at Mount Royal University received funding from Trico Homes, the Trico Charitable Foundation and the Government of Canada's Post-Secondary Institutions Strategic Investment Fund, and now houses a number of non-profit ventures run by social entrepreneurs, artists, activists and students addressing complex issues.
As the Mount Royal community is not physically connected these days, the Trico Changemakers Studio is working on creating new ties via the online world. Students can't walk around on campus and 'bump' into new ideas, people, initiatives, clubs, and so on, so the Trico Changemakers Studio wanted to bridge this gap with their Changemaker Conversations series.
The Changemaker Conversations series convenes a diverse body of changemakers, including students, MRU faculty and staff, and community organizations engaging in generative dialogue towards action.They started at the end of March last year as a response to the pandemic in recognition of the need to stay in touch with their community. The conversations in the series are one hour in length and held bi-weekly on Thursdays.
Since its launch, students have had the opportunity to participate in and contribute to the various conversations and learn about relevant initiatives taking place in Calgary and North America. They also get exposed to community members including MRU faculty and staff who can help with their personal and academic development.
"The Changemaker Conversations project is really about all of us," says Sally Njoroge, program and engagement co-ordinator with the Studio. "Everyone has the capacity to create change so we want to continue encouraging that idea. And at the same time we want to show that we are not alone, because change also happens together. We want to motivate each other to action through storytelling, exploration, vulnerability and truth."
Building on the Studio's changemaking work and success to date, the series highlights topics within five areas to inspire and encourage action:
Artist Changemaker

Right Relations + Racial Equity

Sustainability + Systems Change

Wellbeing + Belonging

Student Changemaker
Each conversation is hosted by a changemaker community partner, faculty or staff member, student or alumni, or any combination of these three. The hosting team shares knowledge, perspectives, experiences and expertise around a particular theme and the Studio facilitation team engages participants in dialogue towards individual and collective action.
Assistant Professor Ranjan Datta, PhD, took part in a racial equity discussion during the 2020 series covering the concept of reconciliation.
"These conversations are significant for understanding that reconciliation is not an event; it is lifelong learning, unlearning and relearning responsibility," Datta says.
"Ongoing conversations among us can contribute to building bridges between critical anti-racist education and decolonization in different aspects of Indigenous and non-Indigenous lives, particularly holistic meanings of people's lives and their responsibilities in taking care of Indigenous people, Indigenous culture, environmental justice, protecting traditional knowledge and community resilience."
As one of MRU's new Canada Research Chairs for community disaster research, Datta says programs like the Changemaker Conversations are important because they reveal to him how far progress has come and how far it needs to go. He believes we all are relationally connected and we all have responsibilities towards each other, and the Changemaker Conversations project, "provided a common place to share our stories, build relationships among us, and critically discuss what we need to do to move forward."
When it comes to issues such as reconciliation specifically in a post-secondary setting, often responsibilities for change are downloaded onto the Indigenous population at that particular institute. Through his conversation, Datta wanted to critically think about how others at MRU could play a role in meeting the goals of reconciliation.
"We can have multiple benefits from our ongoing conversations: finding meanings of who we are as an educator and researcher; centring local Indigenous perspectives on reconciliation; challenging Canadian colonization that has spread in the wake of colonialism, ongoing racism and excluding and 'othering' Indigenous knowledge in their own land."
In its first year the series facilitated 27 powerful conversations, and the focus is to keep growing in 2021.
"We have learned that creating and holding space for courageous and meaningful conversations is important, now more than ever," Njoroge says. "So we want to continue providing the space and leverage the relationships that emerged between community partners, students, faculty and staff at MRU."
For 2021, the hope is also to be even more intentional on how the MRU community enters these conversations together. For this, the Studio has created a Changemaker Conversation Guide.

Download the Changemaker Conversation Guide.
---
The Changemaker Conversations Project resumes on Jan. 14 at 12:30 p.m. featuring student changemakers Asfa Riyaz and Shania D'Costa in conversation about Shifting Grounds: Women in STEM.
Learn more about Changemaker Conversations and register for future events.
Jan. 13, 2021 — Jonathan Anderson
Media request contact information.
Have a story idea? Please fill out this form.