MRU's World Wetlands Day Symposium dives into world's water crisis
Research points to importance of mountain ecosystems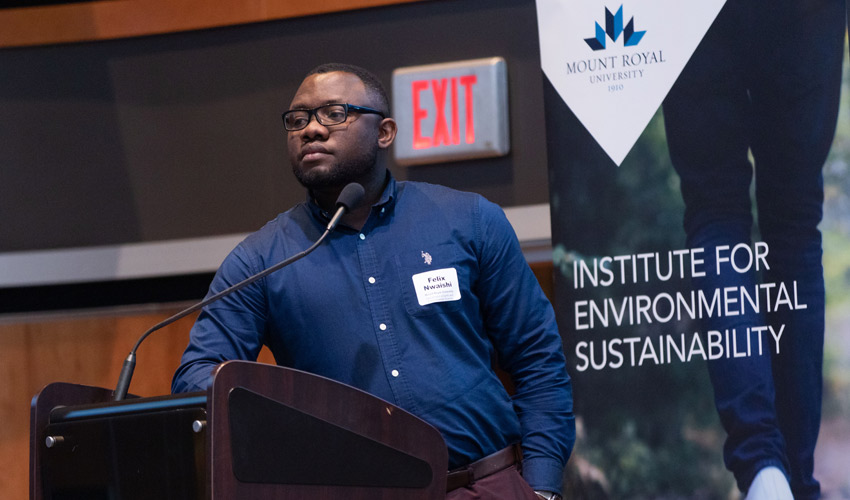 The online event was hosted by Felix Nwaishi, PhD, assistant professor in earth and environmental sciences at Mount Royal University. Nwaishi is shown here at the 2019 World Wetlands Day Symposium which took place in Ross Glen Hall.
---
Imagine wetlands as the "tap" on the world's water towers. This crucial piece of the water cycle that sustains all life was the subject of a recent virtual event at Mount Royal University.
As the world faces a freshwater crisis, the Institute for Environmental Sustainability (IES) at MRU brought together wetlands experts at a virtual World Wetlands Day on Feb. 2.
Celebrated to mark the protection of wetlands under the Ramsar Convention, the theme for the 2021 World Wetlands Day was "Wetlands and Water," which highlights the crucial function of wetlands as a source of freshwater and promotes actions to restore and stop the loss of this wetland function.
In 2019, the IES at Mount Royal began creating a hub for wetland sustainability knowledge exchange in Alberta by gathering key stakeholders in wetland science, policy development and practice in the province and across Western Canada to join the global celebration of World Wetlands Day. Canada's Oil Sands Innovation Alliance (COSIA) and the Alberta NAWMP (North American Waterfowl Management Plan) partnership collaborated with MRU and the IES to host the symposium.
"The world's freshwater resources are under great threat from population growth, overexploitation and wetland losses, with models projecting severe droughts in parts of the world like Canada, which is home to a significant portion of the global freshwater resources," says event organizer Dr. Felix Nwaishi, PhD, assistant professor in earth and environmental sciences at MRU.
Protection of wetlands from loss and degradation is a key component of freshwater conservation because healthy wetlands function as the kidneys of the environment by facilitating water storage while removing contaminants and nutrients through biofiltration before discharging the water into aquatic freshwater bodies. These functions of wetlands support healthy freshwater systems by improving water quality and habitat conditions for humans and wildlife.
"The goal of this year's World Wetlands Day celebration is to highlight the important contribution of wetlands to sustaining freshwater quantity and quality as well as the crucial need to advance wetland conservation and restoration efforts," Nwaishi says.
World Wetlands Day celebrations were open to everyone interested in wetland conservation. Given that this year's theme highlighted the growing freshwater crisis that threatens the planet and its people, the event featured presentations from speakers and groups who are conducting extensive research to understand and mitigate the impacts of human disturbances on freshwater resources.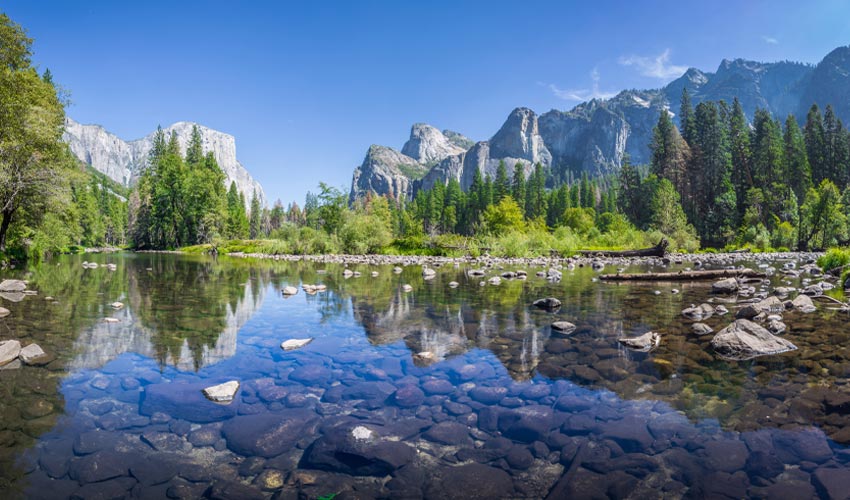 A panoramic view of Yosemite Valley in Yosemite National Park, California, USA. Photo courtesy worldwetlandsday.org.
---
The online event, hosted by Nwaishi and moderated by COSIA's Natalie Shelby-James, environmental and regulatory specialist, featured four keynote papers, including University of Waterloo's Dr. Richard Petrone, PhD, discussing wetlands as "taps" on the world's water towers. Presenting research done in the Kananaskis region in Alberta, Petrone said "it has become evident that alpine wetlands, and their landscape connection, exert a strong control on mountain water yield, but that our scientific understanding of the ecohydrologic processes that give rise to wetland functions in this region is especially weak."
Petrone presented preliminary work done in the Bow River Basin to establish the basic ecohydrological function of alpine wetlands and their interactions with groundwater and forests while also assessing their overall hydrological role in changing mountain environments and the resulting interactions with ecology. Climate change, surrounding forests, forestry, even shade from surrounding mountains, all have an impact on alpine wetlands. Further research will hopefully lead to better understanding of the role of wetlands in these processes.
Other keynote papers came from:
Dr. Nandita Basu, PhD, an associate professor and University Research Chair jointly appointed with the Departments of Civil and Environmental Engineering and Earth and Environmental Sciences at the University of Waterloo. Basu's research interests cover a broad range of issues related to water in human-impacted environments. She discussed the importance of a landscape-scale approach to wetland restoration and protection and provided a broad context for thinking about the effects of wetlands on water quality.

Dr. Scott Ketcheson, PhD, is an assistant professor and NSERC (Natural Sciences and Engineering Research) Canada Research Chair in hydrological sustainability at Athabasca University.  Ketcheson studies the movement of water between forests, wetlands and streams in Northern Alberta. He described instrumented headwater catchments south of Fort McMurray and findings that highlight the importance of the region's smaller mountains and wetlands for sustaining water flows in local streams and regional rivers in the Athabasca River Basin.

Dr. Pascal Badiou, PhD, is a research scientist with the Institute for Wetland and Waterfowl Research, the science arm of Ducks Unlimited Canada. His research focuses on the ecology of wetlands and large shallow lakes with specific interest in the role wetland restoration and conservation can play in regulating water quality and quantity in agricultural watersheds of the Canadian Prairies. Badiou's presentation highlighted the nature-based solutions that prairie wetlands provide against floods, nutrient pollution and mitigating the impacts of climate change.  
"Wetlands are a critical aspect to environmental sustainability locally and globally. The symposium enables us to showcase the important and rigorous research and scholarship our faculty and students are conducting in the area of environmental sustainability," says Dr. Connie Van der Byl, PhD, academic director of IES.
"The IES is all about collaboration and this event brings together various stakeholders and we are greatly appreciative of partnering with COSIA and Alberta NAWMP Partnership specifically."
Van der Byl said the symposium takes place thanks to the considerable efforts of Nwaishi.
"This event would not occur without the vision and commitment of Dr. Felix Nwaishi. Felix is a major contributor to examining environmental sustainability issues and he has shown tremendous initiative in engaging with the IES, students and external community members."
Read more about the Department of Earth and Environmental Sciences at Mount Royal.
Feb. 4, 2021 — Peter Glenn
Media request contact information.
Have a story idea? Please fill out this form.