Podcast series explores how racism in sports mirrors broader society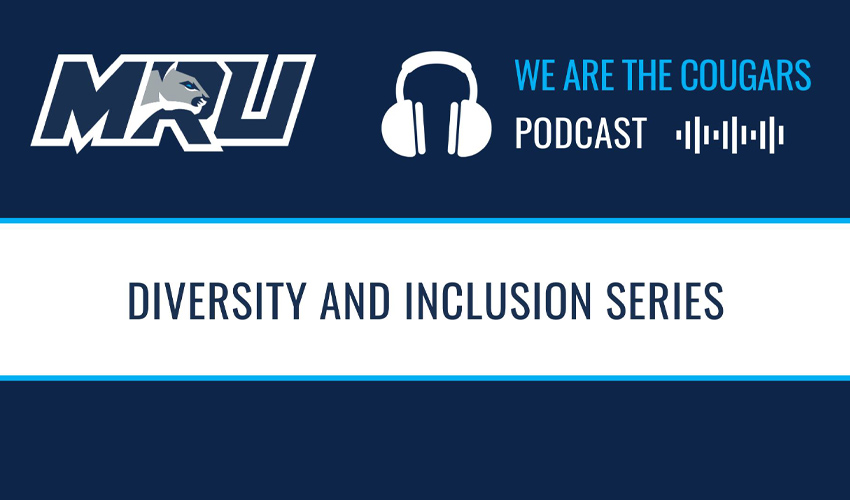 Released in December 2020, each episode weaves discussions of real-world events.
---
Looking at racism through a sports-and-society lens, Mount Royal University Cougars Athletics and Recreation has produced a diversity and inclusion podcast series.
Released in December 2020, each episode weaves discussions of real-world events — from the hijab controversy in soccer to Masai Ujiri's confrontation with a security guard after the Toronto Raptors won the NBA Championship — with information and opinions from academics, MRU staff and Cougars athletes.
"Equity, diversity and inclusivity are fundamental topics because a lot of this world now revolves around multiculturalism and people from different ethnicities working together," says fifth-year Cougars men's volleyball middle Godi Jibi. A member of a committee that developed the series, Jibi shares in one episode a harrowing account of being attacked at the Brentwood C-Train station.
"Ensuring we have a conversation with our Cougar Nation and beyond allows people to broaden their world views and understand the importance of working together."
Dr. Brad Clark, PhD, an associate professor in broadcast media studies at Mount Royal, hosts the podcasts.
"This project has brought students and staff and faculty together to start to deliver on those commitments to diversity and inclusion," Clark says, who in Unpacking Privilege, admits to being a "poster child" for privilege as a white middle-aged male. "I'm really proud of all the work everyone's put into this."
Contributors include Dr. Marty Clark, PhD, assistant professor in health and physical education at MRU, Steve Kootenay-Jobin, Iniskim Centre events and housing coordinator; Jannalee Morris, Academic Strategist Program coordinator, and Dr. Ornella Nzindukiyimana, PhD, assistant professor of human kinetics at St. Francis Xavier University.
"This podcast series is important with all that is going on in our world," says Karla Karch, director of Cougars Athletics and Recreation, adding she hopes it "will help many of us in understanding, learning and growing from our own biases on racism and oppression. Our hope is that we can begin this journey and work together through this initiative."
In an episode titled Diversity and Inclusion, Jamal Watson, fifth-year accounting student and forward on the Cougars men's hockey team, says "systemic oppression and racism are no longer acceptable. MRU can take that next step forward and start pushing the envelope and say, 'It's not enough to be followers, we want to be leaders in creating a community of anti-racism so no matter where you're from you feel you're family at MRU.' "

In the same episode, sports historian Nzindukiyimama says well-meaning messages along the lines of "Sports includes everybody" are hard on people who experience racism regularly.

"It's difficult to be heard over the noise of those messages of inclusion. It's difficult to understand for others on the team who do not have that experience, or understand the barriers they may be facing."
Marty Clark says, "One of things I can do is listen to athletes of colour tell us of racism. People still don't listen to them and hear their voice."
The roots of systemic racism run deep. In an episode titled Unconscious Bias, Steve Kooteney-Jobin explains his own life experience and the work he does in this area speaking to groups of settler Canadians. He says unconscious bias often starts at home, and takes effort and education to face, unpack and change.
Volleyball player Nyadholi Thokbuom provides her own lived experience in the Cultural Competence episode. Walking into a room, she says she feels like all eyes are on her.
"I have to overcompensate to make people around me comfortable, being too nice almost so white people around me don't feel I'm a threat. It shouldn't be like that."
The podcast series was produced by Katya Sodamin, Brad Clark, Stuart Bleay, Alexander Brodie and Jarron Mueller.
Podcast series topics include
Diversity and Inclusion: In this episode, sports historians Ornella Nzindukiyimana and Marty Clark discuss the topic of diversity and inclusion. Using current and past examples, they define these terms and explain that having a diverse community doesn't always mean that it is inclusive.



---
Unconscious Bias: In this episode, Steve Kootenay-Jobin discusses the importance of understanding unconscious bias. Using personal experiences and other examples, he demonstrates how unconscious bias can start early in life and evolve into harmful assumptions. The way forward is to acknowledge these biases and then encourage conversations that foster listening and learning.



---
Unpacking Privilege: In this episode, Brad Clark dives into the concept of privilege. Based on the example of Raptors president Masai Ujiri and others, Clark discusses what privilege means and the unearned benefits that come from lived and past experiences.



---
Cultural Competence: In this episode, Janalee Morris explains many important concepts with her knowledge of cultural competence. This deep understanding serves as a foundation and is one of the most important concepts associated with diversity and inclusion education. Morris is the coordinator of the Academic Strategist Program at Mount Royal University, and runs the peer programs.



Feb. 1, 2021 — Peter Glenn
Media request contact information.
Have a story idea? Please fill out this form.