Write and submit a poem … it just might help
Calgary Poet Laureate Natalie Meisner building digital jukebox of poetry for healing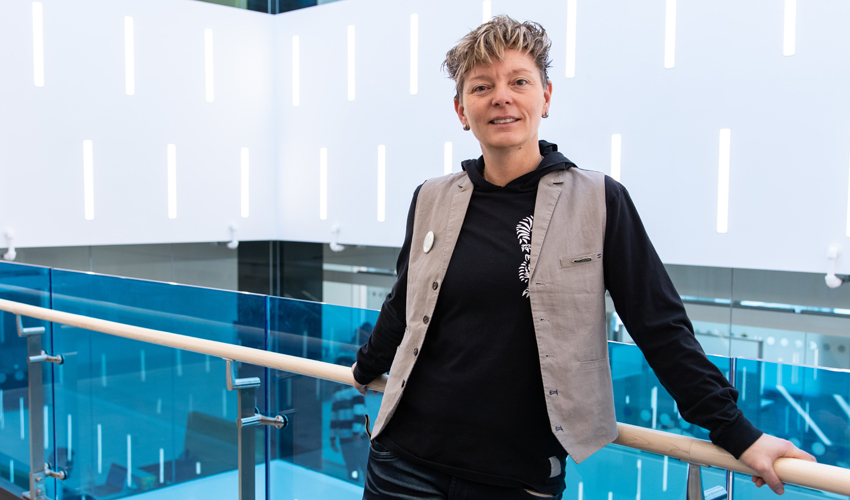 Natalie Meisner is in the process of creating an online poetry "jukebox," a repository of audio files of poets reading their work aloud.
---
Mount Royal's own Dr. Natalie Meisner, PhD, is the Calgary Poet Laureate, and she recently implemented an idea based on the healing powers of poetry for both writers and readers.
Called This Might Help, Meisner, along with Calgary Arts Development and the Alberta Foundation for the Arts, is in the process of creating an online poetry "jukebox," a repository of audio files of poets reading their work aloud. Visitors will be able to come to the website, pick a poet, topic or title, and settle in for a three-minute reading (about the length of an average song) of a piece created especially with the hope of helping.
A creative writing professor with the Department of English, Languages and Cultures, Meisner has been reaching out to the Calgary writing community, seniors' centres and other poet laureates, but she stresses that anyone (and she really does mean anyone), can submit. The deadline is Feb. 14, and files must be in an MP3, MP4, or WAV format. Writers will be paid for accepted works.
The goal is to have the This Might Help jukebox up and ready to launch in April, just in time for final exams. "It's a nice time to give people a bit of a boost," Meisner says. "I want people to try out the form, to think about working with words as a raw material. I think a three-minute poem is a very doable thing." The time limit has an "invigorating" effect on the creative mind, often revealing "engaging terrain" of which writers were not even aware.
"Anybody can pick up a pen and paper and try it. And, it is a reframing process. Writing and creativity are an escape, but they also help us reframe, see things from another point of view, which might help," Meisner says.
"I guess we always know this as writers: if you can heal your story or heal someone else's story, you can take a step toward healing yourself or healing them."
Open to all ages and skill levels, everyone is invited to write and record original poems that address the challenges facing us right now and submit them to This Might Help!

Learn more at https://t.co/vX0ezGj5Z1. #yycarts #yycLCL #yycpoet @ndmeisner pic.twitter.com/PhRpMb0UgS

— Calgary Arts Development (@CalgaryArtsDev) January 26, 2021
Poet Laureates are a big deal right now, as evidenced by the skyrocketing popularity of Amanda Gorman, who read a breathtaking poem at President Joe Biden's election, appeared at Super Bowl LV, and has been signed as a fashion and talent representative for a modelling agency. The U.S.'s first National Youth Poet, Gorman's two books of poetry have now reached best-seller status, making her the undisputed rock star of the poetry world.
As a fellow poet laureate, Meisner is already a big fan of Gorman's work and is seeing more and more empowerment of poetry through the work of its real-life representatives.
"I like the direct applications of the power of words to big social problems that are happening right now," Meisner says. She has been approached to create a piece to encourage donations to a food bank, and to write a poem for a cancer research benefit. "One of the big lessons for me (as poet laureate) is how powerful poetry and language can be when we take our skills and apply them to real-world situations."
A form of writing that is a home for the full range of human emotions, and Meisner has witnessed a "groundswell" of appreciation for poetry during the pandemic.
"My big revelation of late has just been how needful metaphor is. People need to have access to metaphor in the public sphere. We are craving it."
A senior Mount Royal creative writing student, Audrey Jamieson, is assisting Meisner on This Might Help project, and Meisner says they have already received submissions from Mount Royal students and faculty.
In her quest to keep putting poetry in the hands of the people, Meisner just finished working with Telus Spark Science centre on a year-end gift to their patrons, an MP3 original poem about reframing/ hope/ human potential called "People of the Fold." She also worked with Spark on a poem generator crafted out of a paper fortune teller, where people can print out a template and follow video directions to create their own poem.
Listen to Meisner read her poem "Creatures of the fold."
Feb. 8, 2021 ― Michelle Bodnar
Media request contact information.
Have a story idea? Please fill out this form.