Years of environmental advocacy recognized
Professor Israel Dunmade speaks on teaching, research and advocacy in academia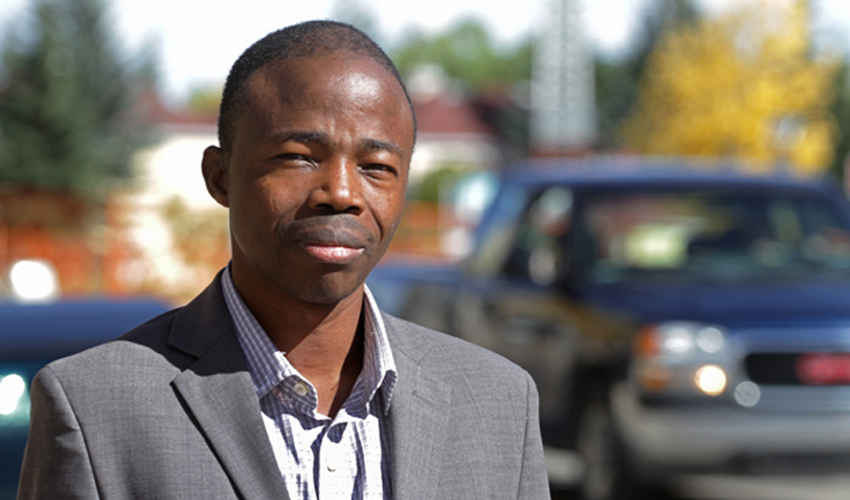 Israel Dunmade is a champion of green living, saying he works to embody sustainability in everything he does.
---
Dr. Israel Dunmade, PhD, has been educating Mount Royal students in the field of life-cycle engineering for close to 20 years. The recipient of several research grants, including support from the Institute for Environmental Sustainability, Dunmade is a champion of green living, saying he works to embody sustainability in everything he does. In addition to his academic research into the development of system models for improved life-cycle design, Dunmade also performed extensive research into the comings and goings of the MRU campus in 2017, was a member of  the Sustainable MRU Committee and advocates for continued communication across all departments in order to keep reducing the University's carbon footprint.
Recently, along with six other colleagues, Dunmade was also made a full professor, a formal recognition of remarkable contributions to the academy, adding to the collective body of knowledge, taking risks and persisting through much adversity while remaining devoted to the pursuit.
"The department is very proud of Israel's accomplishment and the hard work that led to his promotion," says Dr. Gwen O'Sullivan, PhD, associate professor and chair of the Department of Earth and Environmental Sciences. "Israel is a dedicated and supportive colleague, an enthusiastic instructor and successful scholar. His passion is evident in the classroom, and we are grateful for the support he has provided our department and institution."
When Dunmade completed his bachelor's in agricultural engineering in his home country of Nigeria, he entered into mandatory national service. Not military service, the national service was developed to help foster unity in what was a geopolitically fractured country. Dunmade comes from the west of Nigeria, and was sent to serve at a university in the east. He was both an ambassador and a student, and took on his first role of teacher as an instructional assistant.
Dunmade did not intend to join academia for the long run at the time. "I was training as an engineer, so I wanted to be an industrialist. My ultimate goal was to become chairman, or managing director of a multinational company," he says. After searching fruitlessly for work in the oil and gas field, which just didn't seem to want to hire him (one interviewer told him he would be "better off at the university"), Dunmade realized life kept nudging him towards education. He taught science at a university admissions' preparatory (high) school, then moved to an industrial research institute where he was able to complete his master's in mechanical engineering while employed. He later took up a teaching appointment at a polytechnic, before transferring to a university as a lecturer. Shortly after that, Dunmade was accepted to a PhD program at the Brandenburg University of Technology Cottbus–Senftenberg. While there, he began the immigration process for Canada, migrating to Toronto in 2002 and finding Mount Royal in 2003.
Through his profession, Dunmade says he enjoys the ability to make a positive impact on the lives of young people.
"A university is like a factory where character and knowledge are being built," he says. "I believe what I teach and I live by what I teach." Dunmade teaches sustainability, and also lives a sustainable lifestyle. "There's ample opportunity to serve as an example."
An additional benefit is when he gets to watch his students move forward and put what they have learned into practice.
Contributions to the research world
The Alberta regional director of the Canadian Society for Bioengineering, a member of the Board of Directors of the Canadian Society for Bioengineering Foundation and the author of two books, several book chapters, and co-author of several more peer-reviewed publications, Dunmade has, "contributed significantly to shaping the research field of life-cycle engineering, which is evident in his publication track record and funding success," O'Sullivan says.
Dunmade studies how resources are obtained from the environment and then the various stages those resources go through before a product is complete. Then he looks at where those products are purchased, how they are used and then how they are retired.
"We want to make choices that have a lower impact on the environment, improved value for the economy and are socially acceptable," Dunmade says. This leads to improved sustainability overall.
Always on the hunt for ways to completely eliminate the concept of waste, Dunmade is currently researching the "circular economy," where there are no leftovers from the manufacturing process and the used product is not discarded into landfills. Everything that gets thrown in the garbage has to be made again, a massive waste of energy and resources. Sustainability makes economic sense, he says, pointing to Delron Laser Products in Okotoks, which remanufactures printer cartridges at 60 per cent the cost of a new one, and has been doing so for several years. Their work has caused Lexmark to take note, which has now begun to take back their own used cartridges.
"So it's good for the environment, is good for our health, and is also good for our wallet."
Making racism unsustainable
Dunmade's accomplishment was announced during Black History Month, fitting as he also provides his perspectives to the President's Equity, Diversity and Inclusion Advisory Committee, which is made up of 15 members "of students, faculty and staff from across campus to bring a breadth of lived experiences and expertise." The committee's mandate is to affirm MRU's commitment to equity, diversity and inclusion, to disrupt racism, and to advocate for systemic change at Mount Royal and in the community.
"I want to be honest. There is no organization that is perfect, if we want to be candid," Dunmade says. "We are human, and people always want to protect their personal interests."
Racism can be "painful, it is challenging," he says of his personal experiences, but it's important for him to try to show understanding. The reason for conflict is because people have a tendency to only think about themselves, he says. Thinking in a sustainable manner, conflict is simply waste, a by-product of a system tends to pit things against each other rather than see how they can best work together.
Travelling to many places brings "good changes," as "somebody that has not been to another person's farm always thinks theirs is the best," Dunmade says. Travellers see themselves in a larger, intricate global context, providing an entirely different frame of reference.
"When we mix with other people in other places, we begin to understand them, begin to know, and it helps us to also moderate our attitude as well," Dunmade says. He adds that he is grateful to be able to work at a university, where there is freedom for respectful argument.
Six more faculty members also reached the highest academic rank this month. Congratulations to:
Faculty of Business and Communication Studies

Professor Paul Varella Connors

Faculty of Arts

Faculty of Health, Community and Education

Professor Mohamed El Hussein

Professor Christy Lane

Faculty of Science and Technology

Faculty of Teaching and Learning
Feb. 18, 2021 ― Michelle Bodnar
Media request contact information.
Have a story idea? Please fill out this form.