New Conservatory course sings praises of music therapy
Virtual course provides overview of evidence-based practice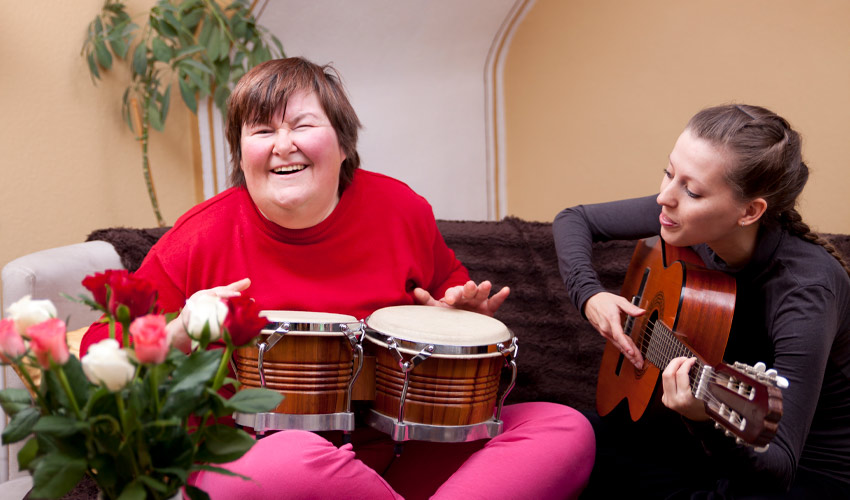 A new course at the Mount Royal University Conservatory provides an overview of music therapy and includes experiential learning.
---
Whether it's a favourite song, a distant memory of a snippet of a symphony or an aria that moves you to tears, music creates emotional responses and connections. A new course at the Mount Royal University Conservatory provides an overview of how music therapy can be used to positively affect mental and emotional health.
The six classes in Music Therapy: Approaches and Techniques equip students with an understanding of music therapy practices from a person-centered perspective, says instructor Fleur Hughes, a certified music therapist.
"I love how music therapy offers a space where the client is free to grow and develop an awareness of their inner experiences. At the core of the work is the relationship with the client and how that is centred within the framework of music," Hughes says. "Within the music, we develop a therapeutic relationship based in respect, empathy, positive regards and acceptance."
The introductory course — which features live, online learning via videoconferencing — includes practical examples and case studies. Students take part in experiential demonstrations of receptive and active techniques, learning how music can be used for reducing stress and increasing relaxation.
Students enrolled in the inaugural course offering — which started in February — come from education, community and therapy backgrounds. (Due to demand, a second course has been added. It starts April 15.) Those who work in nursing and in educational settings would also benefit from the course, Hughes says.
Mel Labrecque, a provisional psychologist based in Edmonton, specializes in nature-based, animal-assisted therapy. The hands-on learning in Music Therapy: Approaches and Techniques is a highlight of the classes so far, she says.
"It's fun to do the experiential part. Even though we are learning the techniques, we are experiencing them as well. As in any artistic type of therapy, it's the experiential part that provides the benefit," Labrecque says.
"I'm also really enjoying all the different perspectives Fleur brings to the table, including education, therapy and client standpoints."
Labrecque operates from a 40-acre farm that is home to a revolving menagerie that she integrates in her practice, including mini donkeys and horses, sheep, goats, llamas, turkeys and even peacocks. She'd been looking for information on gaining a more in-depth understanding of music therapy, but kept hitting brick walls.
"I am really enjoying learning different strategies and techniques, as well as finding out information on suggested paths for increasing my knowledge of music therapy."
Working with stakeholders, the Conservatory has been exploring ways to offer music therapy programming for a few years, says interim director of the Conservatory Jean-Louis Bleau, who notes strong community interest in the subject. It is a natural fit for the Conservatory, which has been offering high-quality musical education since 1910.
"The importance of music for the mental well-being of an individual is core to what we do at the Conservatory. Promoting the beneficial impact art has on the individual is something we have always done, albeit through private and group music instruction," Bleau says. "This course is the next evolution in promoting what we know to be true about the study and import of music. We're keen to support the mental, emotional and cognitive health benefits of music therapy."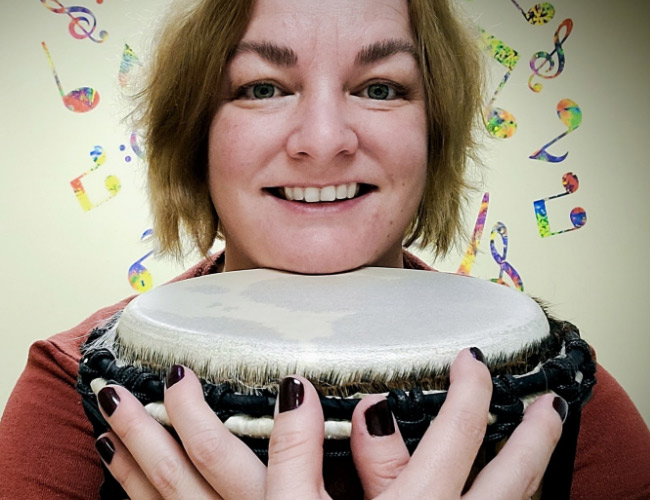 Instructor Fleur Hughes is a certified music therapist.
---
Hughes is a passionate advocate for the evidence-based practice and ethics of music therapy. She serves as ethics director for the Music Therapy Association of Alberta. She's delighted to highlight the benefits of music therapy through the course at Mount Royal.
"I'm so excited to share the positive impacts of music therapy. Students are learning about how music can be used for physical and emotional benefit in a safe space," Hughes says. "I also feel it is important to educate people on understanding what constitutes music therapy and what does not."
To become a certified music therapist (MTA) in Canada, you need to be a member in good standing, complete a bachelor of music therapy and 1,000-hour clinical internship, pass a Certification Board for Music Therapists exam and sign a Statement of Adherence, according to the Canadian Association of Music Therapists.
"We abide by a code of ethics, standards of practice and have a scope of practice that we follow. This ensures that we do work that is ethically informed," Hughes says.
During the pandemic, the arts have provided comfort and strength to countless people. Bleau points to a video of an elderly dancer with Alzheimer's as an example of how "music can illuminate the consciousness."
"The video reminds us of the power of music. It can free the mind, help us communicate, deal with challenging moments and help us celebrate joyful exuberance."
The next Music Therapy: Approaches and Techniques course starts April 15. Visit mru.ca/MusicTherapy for more information. For more information on music therapy in Alberta and where to find a music therapist, visit the Music Therapy Association of Alberta.
March 25, 2021 — Ruth Myles
Media request contact information.
Have a story idea? Please fill out this form.