New memoir for Professor Robert Boschman
White Coal City chronicles multigenerational trauma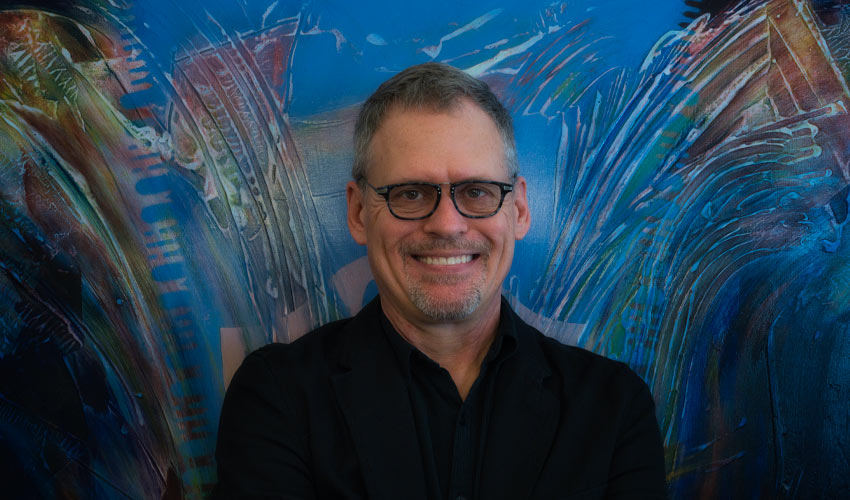 Robert Boschman, PhD, is chair of the Department of English, Languages and Cultures at Mount Royal University.
---
A troubled family in a hockey-obsessed Saskatchewan city is the setting for Dr. Robert Boschman's new memoir, White Coal City (University of Regina Press).
Boschman, PhD, chair of the Department of English, Languages and Cultures at Mount Royal University, grew up in the living quarters of a laundry in Prince Albert. His family suffered from an unspoken trauma, one he later discovered stemmed from the death of his grandmother, who was killed by a hit-and-run driver while she was six months pregnant. Her husband, who saw it happen, was plagued by the crime. The tragic story is shared through letters, journal entries, newspaper clippings and accounts from the coroner's inquest.
Boschman describes Prince Albert and its residential school, penitentiary, sanatorium, pulp mill and half-built hydro-electric dam, as a "circle of pain"— one felt by white settlers but more so by generations of Indigenous and Métis people in the city and on surrounding lands who were forcibly removed, incarcerated or abducted.
Boschman's Cree sister Crystal was adopted by his parents during the Sixties Scoop when she was just a baby. Careful to tell his own story, not hers, Boschman accounts for his family's part in Canada's shameful past.
"I was 10 at the time Crystal came into our family. I knew nothing of the Scoop. I loved her instantly as my sister," he recalls. "Although over time I gradually awakened to Canada's destructive history, and the part PA (Prince Albert) played in that history, my very first worries about Crystal involved her being bullied, hurt, teased, or worse. I recall being intensely concerned and on guard about that. The thought of anything bad happening to her was unconsciously tied in my mind to her being identified in the racist terms I knew flourished in PA — and that made me deeply afraid for her."
Boschman says in writing the memoir he came to see the suffering of Indigenous Peoples as an ongoing trauma, one that he could only experience at a distance as a child, and how his own family trauma could lead him to greater empathy.
"By knowing and articulating one's own trauma, all Canadians can develop and further the discourse so badly needed regarding Truth and Reconciliation. Those two terms are actions that must go hand-in-hand: there is no reconciliation without truth. These are the most important and grave pair of terms Canada faces in this century."
Hockey culture, which he says was like a religion in Prince Albert, and the "toxic masculinity" that comes with it also had a lasting impact on Boschman.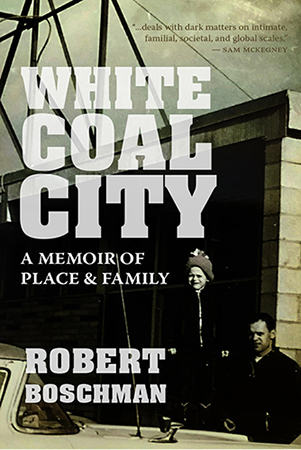 Boschman and White Coal City have been featured in the Calgary Herald, Prince Albert Herald and the Globe and Mail's Winter Books Preview.
---
"What should have been fun, and only fun, for me as a child was ruined, made toxic, by the rankism, violence and codes of hockey," he says, adding that his upbringing has also shaped him as a father as he works to not repeat the patterns he experienced in his youth.
"In my experience, it's a culture that valourizes toxic masculinity as we have come to know it. It attributes identity, celebrity and merit only on certain boys and men, while on other boys and men it consigns them to various sorts of depression, despair, low self-esteem, alienation and injury, especially brain injury."
Lesley Choyce, author of Broken Man on a Halifax Pier, says White Coal City "is more than just another memoir. The images are vivid and the commentary insightful. The town and its citizens come fully to life in this narrative that is dark, unflinching and intriguing as the author illuminates the past lives of singular hard-edged characters living in a city most Canadians know nothing about."
Boschman, who specializes in the environmental humanities and place studies, sees White Coal City as a North American story, and in it he often refers to the U.S. events and history in juxtaposition with Canada.
"I hope readers will see PA and White Coal City as emblematic of the vast network of settler communities across the continent: and with that, how settler and immigrant stories are always everywhere embedded in far older human narratives involving community, language, story, love, creation and loss."
Indigenous Peoples, he stresses, were here for tens of thousands of years prior to white settlement "in a vast weaving of nations and histories.
"Without romanticizing them, we settlers owe them acknowledgement and respect — and everything that goes along with those two things. As a person born on Turtle Island, I feel gratitude. My greatest hope is that White Coal City will make a modest contribution to Truth and Reconciliation everywhere on this island."
University of Regina Press Acquisitions editor Karen Clark opened a virtual book launch event on March 10 by calling Boschman an ideal author with which to work and praising his "engagement and devotion" to the memoir. Dr. Sam McKegney, PhD, author and head of the English department at Queen's University, led a panel discussion with Boschman exploring the work's painful themes. In his introduction, he praised Boschman's "relentless curiosity and generosity with his passions" and lauded White Coal City as a "beautiful, hard and demanding book."
Boschman and White Coal City have been featured in the Calgary Herald, Prince Albert Herald and the Globe and Mail's Winter Books Preview.
March 12, 2021 — Peter Glenn
Media request contact information.
Have a story idea? Please fill out this form.