Vivacity
Using tech for good to improve the lives of our most vulnerable citizens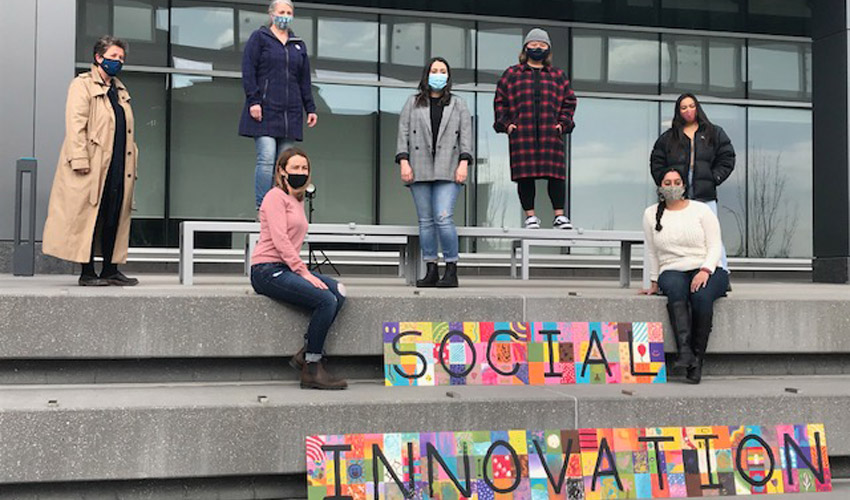 From left, Catherine Pearl, sign artist Wendy Lees, students Danika Dinko, Kat Bravo, Ashley Villaflores, Roshni McCartney, Ivy Daminan.
---
How can Calgary use technology to give voice to marginalized and vulnerable residents?
This semester, the fourth cohort of students enrolled in Vivacity YYC sought answers to this question as they learned about digital social innovation and what is known as "tech for good."
Vivacity is a multidisciplinary and inter-institutional civic innovation course taught by Dr. Catherine Pearl, PhD, associate professor of social innovation at MRU. This year's theme was a result of Pearl's discussions with Civic Tech YYC and a small group of volunteers who have been looking for ways to establish a user testing group in Calgary that would test digital products and services to make them more user friendly for marginalized citizens. Pearl also connected with the City of Calgary and its Smart Cities and Resilient Calgary initiatives, as well as Calgary Economic Development (CED), which has been focusing on the potential technology holds for economic recovery.
"It just all came together for me last summer recognizing the attention given to tech in our city. I started to think about how tech can be more than simply an economic driver, that it could and should also be leveraged to do good," Pearl says. "I hadn't really heard too many people talking about it in the city nor at CED, so I reached out to them explaining where I was coming from, and I think the light went on."
While attending classes virtually each week for 12 weeks, student teams engaged with their communities and also examined cities around the world considered great examples of civic tech and tech for good to assess lessons learned and what might be applicable to Calgary. Pearl describes the course as "very hands on, even in a virtual setting."
"We follow a human-centred design process and apply design thinking as a tool to learn more about a civic issue and how it might be addressed," Pearl says, adding it is "not a course for the faint of heart.
"I always bring in mentors and community experts on the topic under examination so students obtain a sense of how very real an issue is. It then becomes much bigger and more real for Vivacity students."
Interdisciplinary at its core
Vivacity is open to any post-secondary student, with students from Mount Royal, U of C and Ambrose University signing up over the years. The course has attracted students from across MRU, including marketing, finance, accounting, computer information systems, social work, anthropology, biology, sociology, information design, sport and recreation, English, geography and physics. Past Vivacity themes have addressed such issues as the impact of empty office towers in the downtown core and the millennial brain drain; how to embed the creative economy into Calgary's DNA; and, how can Calgary's cultural industries be leveraged to build community and a sense of belonging.
"The more diverse the better and the more enriching is the learning for students as together they examine in depth a problem facing our city and create experiments/prototypes as potential solutions," Pearl says.
This year faculty from other universities were also involved, including Dr. Tatenda Mambo, PhD, a post-doctoral associate in sustainability studies at the University of Calgary; Dr. Sarah Skett, PhD, an assistant professor with U of C's School of Architecture, Planning and Landscape; and Kurtis Lesick, associate professor in media arts at the Alberta University of the Arts.
"My hope is we will be able to attract even more students and involve even more profs from other institutions in the years to come."
Presenting the final product
During an April 7 virtual showcase, in front of a community panel, students explored what a tech-driven economy looks like in terms of the digital divide and how to provide 'voice' to individuals who are marginalized and vulnerable.
Geoff Zakaib of Civic Tech YYC outlined his group's efforts regarding civic tech being used to build community and solve problems. He detailed projects in Chicago and Toronto using citizen testers from diverse and underrepresented communities to improve access to the Internet and other technologies.
"We're thrilled to be part of the course this year, and we thank Catherine and the students," Zakaib says. "It's been an amazing journey."
The showcase also featured James Stauch, director of MRU's Institute for Community Prosperity, who spoke of the Institute and its support for Vivacity, particularly its focus on interdisciplinary, systems thinking. Brian Traynor, acting dean of the Faculty of Business and Communication Studies, praised students for risk-taking in an area they are not familiar with to potentially help people in their community.
Student team presentations focused on how to develop and implement civic user testing groups in order to make technology more accessible and user-friendly.
Ideas included involving community partners such as The Alex, the Kerby Centre, Alberta Health Services and the Calgary Drop-in Centre, and also their clients who have been excluded from civic discourse (Indigenous peoples, LGBTQ+, new immigrants and people without housing, for example) as community testers of everyday digital products. Teams presented potential funders for the project, a timeline and a budget. They emphasized the involvement of government, non-profit groups and universities, as well as building a network of non-profit and community organizations to cultivate community testers.
Ultimately, clients (developers of digital technology and processes) would use feedback from testers to improve their products' inclusiveness and accessibility. One team suggested Calgary Transit's My Fare app as an example of a technology that might be tested in this way.
"We were trusted with the responsibility of working on real projects, which was one of the most exciting parts of the course for me," says MRU information design student Dawson Diment. "Getting to work with people with different skill sets was such a great learning opportunity for growth. I didn't know too much about tech for good at the start of the semester, or about user testing for civic organizations, but I've come to have a deep love and respect for the work of user testing and technology for good. It's near and dear to my heart now."
Information design and social innovation student Meagan McIntosh, who has also worked for the Calgary Food Bank, said the class "gave me a really amazing opportunity to connect with professionals doing important work in Calgary and have really great conversations with them about that work. An important insight from our class that I'll take with me is remembering not to focus on a target audience completely, but widening that scope and really considering the impact design may have on other groups unintentionally, and understanding that not considering that may ultimately be harmful to some people."
What is Vivacity?
Vivacity started as a 24-hour challenge event for any Calgary post-secondary student in 2013. It's grown into a three-credit interdisciplinary course providing opportunities for students to learn about their city and become engaged in it. The course builds on four key areas:
innovative curriculum

community engagement

changemaking and prototyping

multi stakeholder cross-pollination
April 15, 2021 — Peter Glenn
Media request contact information.
Have a story idea? Please fill out this form.