MRU geology professor zeroes in on Newfoundland rocks through new documentary about Ireland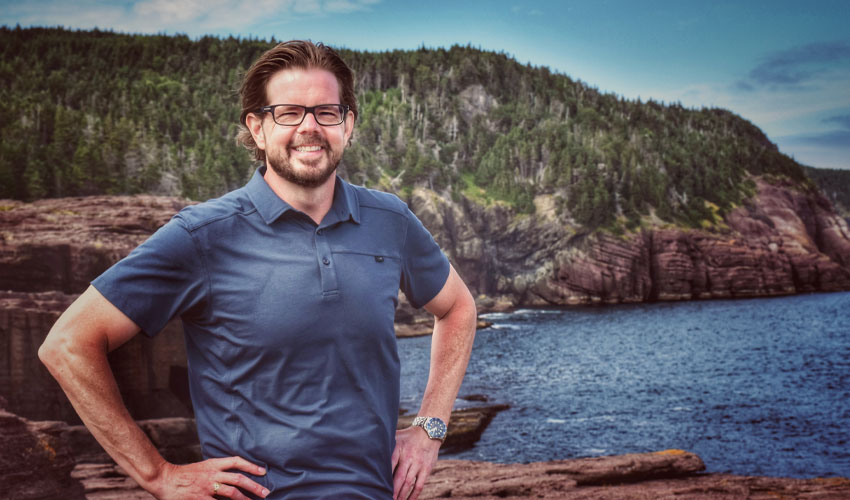 Mount Royal University geology professor Dr. Jeff Pollock, PhD.
---
Ireland and its geological connection to Newfoundland brought MRU geology professor Dr. Jeff Pollock, PhD, to The Rock this summer … actually to lots of rocks once shared by the Canadian province and the Emerald Isle.
Pollock, who studies the geological processes associated with the tectonic evolution of the earth's crust, will be featured in the upcoming documentary The Island — 1.8 Billion Years in the Making, hosted by French science, wildlife and natural history presenter Liz Bonnin and produced in association with Irish broadcaster RTÉ and the BBC.
Over three episodes titled "Land," "Water" and "Life," the documentary traces Ireland's geological journey, including long-lost continents, the origins of the country's earliest rock formations and Ireland's seabed mapping programme. It also examines the world's oldest reliable evidence of the transition of life from water to land. Filmed across all four of Ireland's provinces, the focus is on ancient "continental-jigsaw connections with international locations in Newfoundland and Norway."
Delayed somewhat due to the pandemic, the project was initiated by Geological Survey Ireland in conjunction with an exhibit at the National Museum in Dublin to celebrate the Survey's 175 years. Pollock grew up in Newfoundland and his research is partially based there. As he has maintained connections with Irish geologists over the years, he was invited by Geological Survey Ireland to become involved in the documentary.
"They wanted to look at the connections between Ireland and Newfoundland, so it was really getting involved telling that part of the story," recalls Pollock, who will appear in the episode "Land."
Newfoundland and Ireland were once part of the supercontinent Pangaea, which began to break apart 180 million years ago. Starting in what is now the U.S., connected mountain ranges run through the Atlantic Provinces in Canada and continue through what is now Ireland, Scotland and Norway.
"Placing Ireland in the world was really my contribution," Pollock says. "They're the same rocks but now they're separated by the Atlantic Ocean. Few people know about that connection. I didn't know that until I started studying it."
Early in his career Pollock appeared in an episode of the long-running CBC science program The Nature of Things, but says filming his parts outdoors with a small crew on the coast of Newfoundland was a new challenge.
The production faced some hurdles, including COVID-19 restrictions and finding film crews. Disney was shooting a new Peter Pan movie in Newfoundland around the same time, while the producers of Schitt's Creek were also filming a new series.
"Crews had a couple of days break from shooting and they were out with me and it was just a great experience with them," he says, and that he may have caused some consternation from forgetting his lines.
The crew had questions for Pollock, but he didn't necessarily know what would come before or after him in the episode.
"I had planned to meet with the producers and go through everything, but they didn't come over (due to COVID-19) so it was a little more on the fly and explaining things to a camera without anyone else there. By the second day I got much better at it.
"As is often the case for an academic speaking in a time-constrained format to a general audience, whether a TV documentary or to media, the documentary required crunching subject matter down into bite-sized chunks.
"I'm used to speaking at a conference in front of a group of geologists so it was a challenge to try and speak to a non-technical scientist audience," Pollock recalls. "The film crew weren't geologists and they said: 'I haven't understood any of that … make it simpler.' We went through a bunch of takes and I worked with them to try and distill it down."
Beyond oil and gas, geology has enormous impacts on people's lives (natural hazards, water use, climate change) yet Pollock says geologists don't always communicate that importance. That public exposure is something geologists in industry and academia are trying to increase.
"This is one of the reasons I got involved. The film crew was shocked I was volunteering and wasn't being paid. I said, 'This is part of what I have to do as a profession — get out and tell our story of geology, why we're important and make it more accessible to the general public.' More people should be interested in what geologists do and why it's important."
Dr. Gwen O'Sullivan, PhD, chair of the Department of Earth and Environmental Sciences, agrees.
"Jeff's participation in this documentary is a great example of a researcher sharing knowledge with a broader audience," she says. "As scientists we need to speak to the community and beyond about what we do and why it matters."
Production of The Island — 1.8 Billion Years in the Making is expected to wrap up later this month, but it won't air until spring. Pollock said he hopes to receive an advance copy and is open to a viewing night on campus if that can be arranged.
Read more about MRU's Faculty of Science and Technology.
Oct. 25, 2021 — Peter Glenn
Media request contact information.
Have a story idea? Please fill out this form.