Professor and psychologist offers practical guide for first-year students
Laptop? Check. Portable charger? Check. Mount Royal psychologist's first-year survival guide? Check.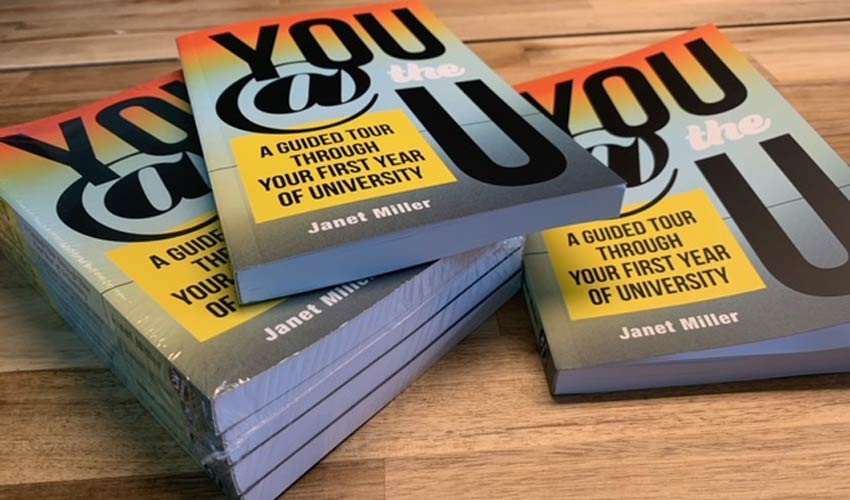 The book is part of a series from UBC Press that supports students on campus to thrive.
---
Student counsellor Dr. Janet Miller, PhD, has written a how-to book for successfully navigating the first year of university. Entitled You at the U: A Guided Tour Through Your First Year of University, the book is a practical resource that breaks down some of the challenges into manageable steps and includes a foreword from Elder Roy Bear Chief.
Aimed at students entering university right from high school, Miller explains she wanted this book to be different from what else is available to new university students.
"I didn't want it to be a textbook. There are lots of textbooks about stress management, time management and study strategies. I didn't want it to be like a book from your mother — no one needs to be told to eat more vegetables; we know exercise is good for us and we should get more sleep."
Instead, Miller wanted to include the voices of students.
"I've got so much first-hand, privileged knowledge about students who have found their way to make the undergraduate years meaningful, wonderful, successful by their own definitions. So I wanted some of those voices to be in the book." Some stories are composites, taken from real examples of her experience with students.
The book opens with information about registration and tailoring a schedule and moves on to the first six weeks of school, "finding your people, finding your places, learning how to study," Miller says. Having counselled students for more than 20 years, Miller says feeling overwhelmed at the beginning is normal.
"It's really normal, that first crash in October, when everything can feel wrong and they question why they did this. A lot of the hoopla and fun in September fizzles out quickly and many students are left in this big, empty space. And then there's this coming together when you do find your people and you've learned how to manage your time," Miller says. "You can recover from a bad midterm — of course you can — and get back on track through November. There's always a way through."
Dr. Glen Ryland, PhD, associate professor, says that rang true for him. "I personally related to the part (of the book) that showed how a procrastinating student who feels the demands of the semester come crashing down can still make effective decisions. Most of us have been there at some point in our university experience."
Miller was a writer-in-resident for a first-year Gen Ed course Ryland teaches. He says Miller's book captures the student experience well. "I don't know of any book that does what Janet's book does: she uses narratives drawn from the day-to-day student journey through a semester to speak frankly about the kind of experiences students are likely to encounter."
Miller said that by listening closely to students as they spoke about their experiences, she realized that the issues can be much more complex for some students than for others. "I think we need more first-year students to feel included — but not just included. I'm understanding now is it's about breaking the system so that you don't have to change to be included here."
Dr. Miller's top five tips for every student's first year
Go to ALL of your classes, take notes and ask questions.

Talk with the students around you — in classes, coffee lineups, at the library, etc. University is a time when life-long connections can really be made.

Get to know your students' association and join at least one club/activity/society/event.

The last few weeks of the semester will be busy, so use Reading Week to catch up on homework and on sleep!

If you're feeling off-track or overwhelmed, there are student services available to support you! Connect with the Office of Student Success, Academic Advising, or Student Counselling for support, information, and encouragement.
Alumnus Andrea Heron, who has known Miller several years, says she admires the candour and optimism that come through in the book. "She doesn't make university sound like all fun bombs, but with the challenges she provides potential solutions and how to navigate that. She's upfront, honest and realistic."
Heron graduated in January 2020 with a Bachelor of Arts — Psychology and a double minor in Indigenous Studies and Women and Gender Studies. Now in grad school, she says the book is chock-full of insight and advice on things she didn't know as a new university student — supports and resources, but also how to pick courses and when. "If you're like me and like to do things the hard way, don't read this book," she laughs.
She adds that Miller's motivation to help students is obvious. "I'm Dene. In the Indigenous community the belief system is we're all interconnected. A lot of families have many aunties, uncles and cousins. And to me, Janet is like an academic auntie. She's just looking out for her students, genuinely wanting the best."
The book is part of a series from UBC Press that supports students on campus to thrive. Other books in the series include one aimed at upper-year students as they transition from university to the workforce. Another has a mental health focus, offering tips and self-care strategies for undergrad students. A fourth book is in development, aimed at grad students and teaching assistants.
Miller's book is available for purchase but also as a free download for students.
Oct. 4, 2021 — Melissa Rolfe