Nursing alumnus makes a difference in Haiti
Andrew Nguyen joins seven-person team, providing assistance to 300 patients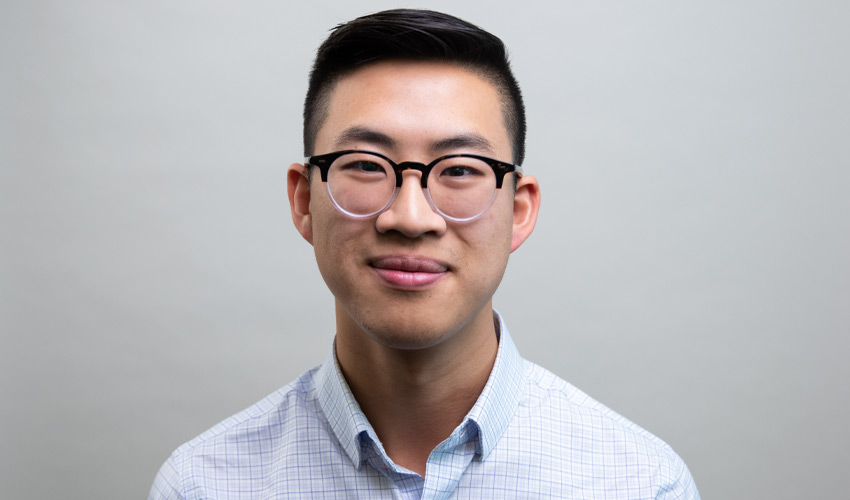 Nguyen aspires to lead others at a broad systems level, whether it be on the international disaster relief stage or operationally with health-care delivery here in Canada.
---
Eight years ago while serving on a mission trip in Costa Rica, Andrew Nguyen witnessed a young boy get injured during a soccer game. When first aid-certified Nguyen rushed to bandage the boy's wound, he was shocked to learn that he wasn't allowed to treat the injury because of potential legal liability. Disappointed, Nguyen swore he would never again allow himself to be prevented from treating someone in need of medical help.
Immediately after graduating from Mount Royal's nursing major, Nguyen immersed himself in the front line response to COVID-19 in unconventional ways; helping at inpatient COVID-19 units, the intensive care unit (ICU) and with virus screenings. The former SAMRU president and Centennial Gold Medal Recipient discovered a passion for disaster relief, which ended up landing him in Haiti for a week.
After the country's southern peninsula suffered a 7.2 magnitude earthquake this past August, one of Nguyen's colleagues turned to him as someone who would jump at the chance to help others. Having previously worked closely together during a medical disaster relief trip in 2019 in the Bahamas after Hurricane Dorian, Nguyen was eager for another opportunity.
"Each time I help with one of these trips, I'm humbled by the people, by the team's expertise and by humanity's hope and resilience in the face of chaos," Nguyen says.
Despite Nguyen's passion for humanitarian relief in the midst of disasters, he shares that it wasn't easy to adjust to the shock of the conditions of the Haitian hospitals.
"It was a gripping life lesson for me. Witnessing all the chaos and hurt of the local Haitians broke me, and I had to piece myself back together by reminding myself why I was there," he says.
Nguyen recalls landing in Les Cayes and seeing hundreds of people peering through fences by the airstrip, waiting to see what assistance had arrived. He remembers walking close to the fence andlocals reaching toward him, begging for water, food and money.
"The moral distress was very conflicting, as I thought: 'I want to help, but I can't give away our team's supplies.' I had to remind myself that my team and I were there to provide medical assistance — that's what we had to give," Nguyen says.
He describes feeling at one-third his normal comfort level, and relied on debriefs with physicians who walked him through how to handle grief and how to simply love the locals by being present with them. He also drew upon the Mount Royal nursing program's emphasis on the importance of considering "the whole person" during crisis response.
"While our team was there we treated patients physically, but that led to conversations with each patient about their social history, families, working conditions, coping mechanisms and protective factors for resiliency. These are all aspects of health that MRU reinforces, and that cannot be lost when working in disaster relief," Nguyen says.
Of course, nurses are known to be intelligent practitioners, capable of providing comprehensive, science-based care to patients in every stage of need. But Nguyen says that a nurse's relationality to humanity is what sets a great nurse apart from a good one. He's channeled this belief throughout his career, acting not only as a registered nurse, but as a storyteller — sharing all that he's learned from his patients with others.
"The proudest moments of my nursing career so far have not been resuscitating patients in the ICU, but rather, when I get to stop and sit with patients and their families and listen to their stories. To learn from them in their weakest moments and to draw strength from that," Nguyen says.
Upon his return to Calgary, Nguyen had the option to go back to Haiti on another team's deployment, but he was mindful of Alberta's fourth COVID-19 wave that left ICUs in a critical state. He ultimately chose to stay in Calgary, despite his desire to eventually return to Haiti.
"No matter where I am, I'll simply do my best to help others," he says.
Nguyen aspires to lead others at a broad systems level, whether it be on the international disaster relief stage or operationally with health-care delivery here in Canada. From bedside duties to boardroom positions, he's determined to empower high-impact teams and to strengthen health care for all.
Read how Mount Royal's nurses are addressing the ever-evolving needs of patients and society with strength and compassion.
Dec. 1, 2021 — Katherine Sharples
Media request contact information.
Have a story idea? Please fill out this form.