An insider's look at a journey to the Olympics
Shining the light on what it takes to get to the Games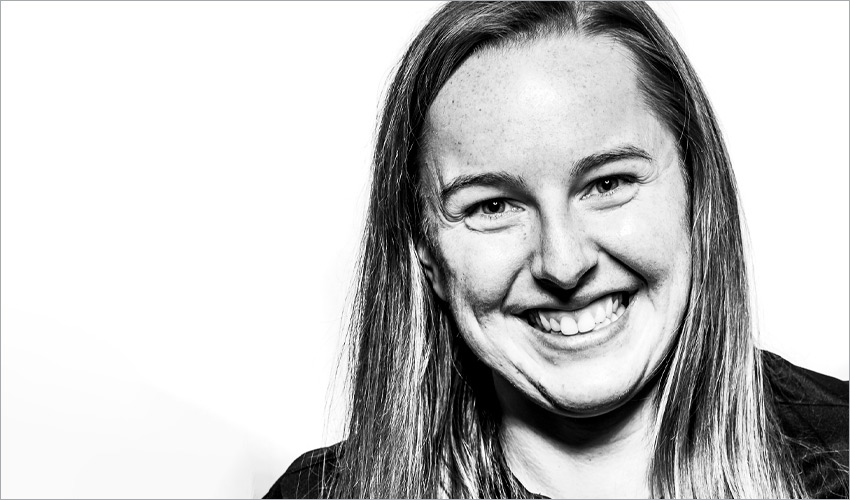 Alumna and 2026 Olympic hopeful Grace Dafoe.
---
Now picture this … you're standing at the starting block about to rip down a wicked fast track head first, trying to go as fast as you possibly can. Now imagine doing that against the athletes you've trained with, admired and looked up to ever since you started. All while trying to secure a spot to represent Canada at the Olympics.
Alumna and 2026 Olympic hopeful Grace Dafoe has always wanted to be an Olympian, but knew her original sport of figure skating wasn't the path to get her there. At 18 she decided to stop skating competitively, but Dafoe knew she wasn't ready to give up being an athlete. So, how did she find herself competing in skeleton, one of the fastest sports on ice?
For Dafoe, it all came down to timing. There were a lot of moments between 2010 and 2012 that pointed her in the direction of skeleton. As a figure skater, she had spent many hours up at Canada WinSport, where she was exposed to a variety of winter sports for the first time. Watching the 2010 Vancouver Winter Olympics elevated her interest in disciplines like speed skating, bobsleigh and skeleton.
"I initially thought I would be a really good fit for bobsleigh, but I'm 5-7 and most of the women are over 6 feet tall or at least over 5-11. So, I quickly learned that wasn't for me"
As an MRU student, Dafoe attended a volunteer fair and landed a position as a skate assistant at WinSport. That eventually turned into a job and she started working at the WinSport gym. Her time there opened up the opportunity for her to try skeleton for the first time in January 2012, and she officially started learning the sport in October of the same year.
"When I first started skeleton, I had a few people tell me I was crazy." There was a fear of her throwing away her university education and missing out on the opportunity to have a professional career. But Dafoe turned her passion for skeleton and going to the Olympics into an extension of her degree. She took what she learned in her sports psychology and nutrition classes and applied them to herself, almost like a case study.
Dafoe graduated in 2016 with a Bachelor of Health and Physical Education. When she reflects back on her time at MRU, she is grateful for the flexibility, support and encouragement her professors showed her. Without it, her ability to graduate on time and compete at a high level wouldn't have been possible.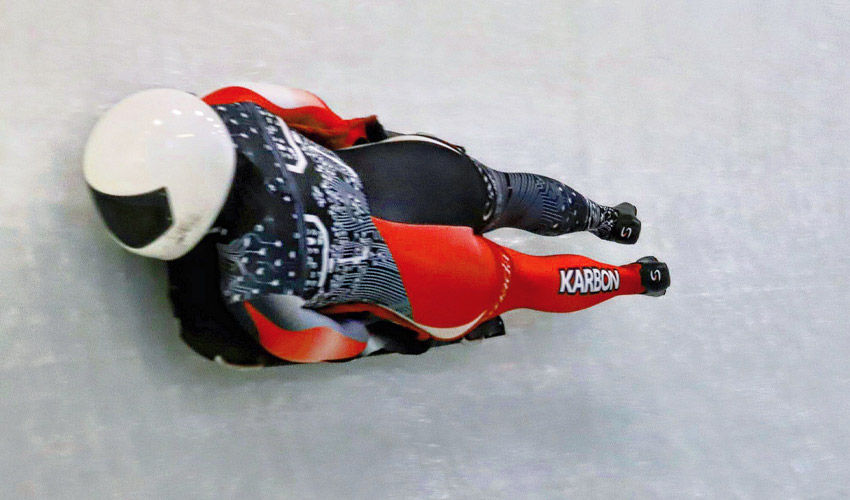 Dafoe competing in the sport of skeleton.
---
In 2019, Dafoe made the Canadian National Team and her dream of going to the 2022 Olympics was that much closer. In preparation, Dafoe competed both provincially and internationally and was ranked fifth in Canada. Going up against two other competitors who had represented Canada in the 2018 Olympics, Dafoe knew it was going to be an upward climb to make one of the two qualifying spots for Beijing.
"For me, the best strategy to mitigate fear is through preparation. My brain works really well when I know I'm prepared," Dafoe says.
When the butterflies are dancing a little too much on the start line, Dafoe uses breathing techniques, lots of visualization and tries to remind herself how awesome it is to compete at her level. Otherwise, it's easy to get caught up in the pressure and expectations to be perfect, she says.
After battling hard at the Canadian selection camp, Dafoe wasn't selected for the 2022 Olympics. When asked if it's challenging to mentally reset and refocus after not making it, Dafoe says, "Being an athlete is all about the bounce back. We call it fail forward — you dust yourself off and get up and keep going."
In situations where you don't qualify, the counsellors from Game Plan (Canada's total athlete wellness program) often check in to see what an athlete's support plan is for watching the Olympics. For some athletes, they need to block out social media or avoid watching the event they didn't qualify for. For Dafoe, she plans to enjoy them as a fan and is happy to be watching from home with the rest of Canada.
Recalling the first time she represented Canada, Dafoe says a friend had texted her that morning to say, "You get to wake up and wear the maple leaf. Don't take that for granted, that's super cool." To this day she still tries to remember that and how far she's come.
For a lot of Canadians, the idea of getting to wear the maple leaf and representing your country at any level is something to be proud of, but there's something extra special about the Olympics. It's no different for Dafoe, and her journey of going to the Olympics and making her dream come true isn't over.
Feb. 7, 2022 — Kendall Besealere
Media request contact information.
Have a story idea? Please fill out this form.