The road to Beijing
Athletic therapy student to face off as goalie of Canada's men's paralympic hockey team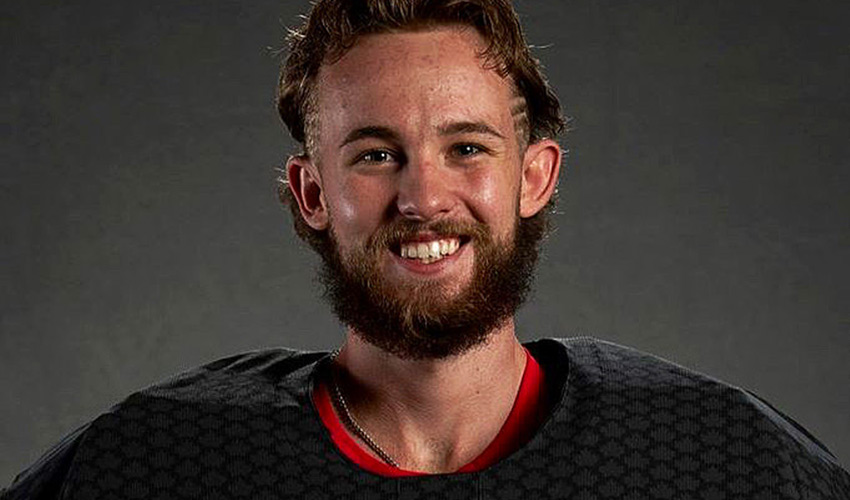 Adam Kingsmill and Team Canada are looking to take home the top medal in Beijing. Photo courtesy Team Canada.
---
Mount Royal athletic therapy student Adam Kingsmill isn't dealing with the mid-semester rush that most students are pushing through at this time of the year.
Instead, Kingsmill is in Beijing with Team Canada's National Para Hockey Team, preparing for the 2022 Paralympic Winter Games.
He has been training with Hockey Canada as a goalie in Calgary since 2016 and made his debut with the Canadian National team in 2021.
"I moved to Alberta to play sledge hockey after I finished off my stand-up career," Kingsmill says. "Hockey Canada figured it would be the best option if I came to Calgary where the headquarters are so I could spend some time around the coach, which was the best decision I've ever made."
Originally from Smithers, B.C., Kingsmill lost his lower right leg in a lawnmower accident when he was just two years old. But that didn't stop him from instantly becoming a hockey lifer.
"Six months later, my parents put me on skates on our backyard pond and I fell in love with the game right then and there," Kingsmill says. "My brother, my dad and my mom all played hockey, so it was kind of a rite of passage like every small-town Canadian kid. Hockey is just something I've always wanted to do."
Now at the highest level as a member of the national team, Kingsmill and Team Canada are looking to take home the top medal in Beijing.
At the 2021 International Paralympic Committee World Para Hockey Championships in Ostrava, Czech Republic, Canada lost to the U.S. in the gold-medal game.
"It definitely left a sour taste in our mouths," Kingsmill says. "But that motivated us, even more, to train harder. We're the underdogs, so we're excited and motivated."
As a team, gold will always be the goal for Team Canada in hockey, but individually, Kingsmill is hoping to get to soak in the Olympic experience as much as he can.
"I hear everyone say that they wish they would have taken in more of the experience. We've got a pretty packed schedule, so I think that may be the hardest thing to do," Kingsmill says. "I'm going to try and really take it in because when I'm feeling excited, that's when I play my best hockey."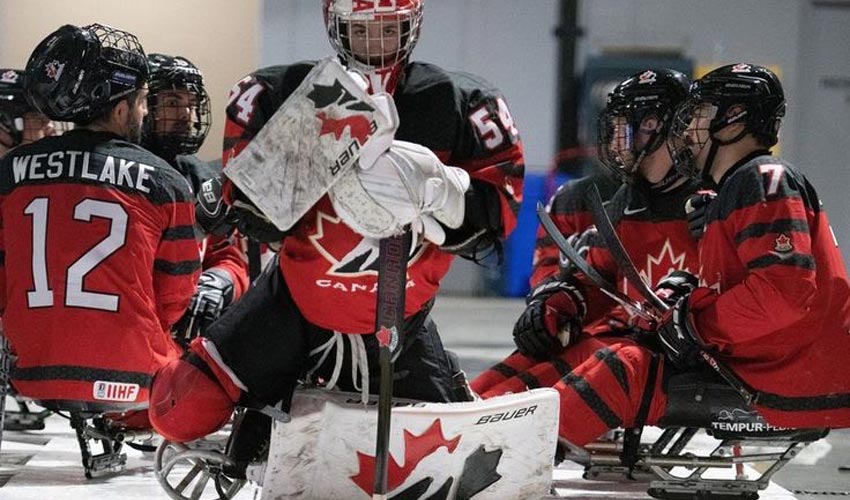 The support Kingsmill receives is what he considers the best part of playing for Canada on the international level. Photo courtesy Team Canada.
---
Along with the chance to play at the Olympics, Kingsmill will have the opportunity to continue wearing the maple leaf and represent Canada, which he calls a "surreal feeling."
"It's something that's been a dream of mine since I first put on skates after my accident," he says. "There are very few people in the world who get to wear the maple leaf and represent Canada, so it's very humbling and an honour at the same time."
The support Kingsmill receives is what he considers the best part of playing for Canada on the international level.
"When I got to the world championships, I didn't quite realize the amount of people who supported me," he says. "When I got the outreach of praise and congratulations when we won the silver medal, it was quite humbling and honestly the best experience."
That support has extended to Kingsmill's academic career, as balancing the life of being an Olympic goalie and an athletic therapy student is quite a handful.
Kingsmill credits his professors at Mount Royal for being so accommodating to his schedule, which includes three ice times a week, three strength-training sessions, three cardio sessions, a lot of mental performance and whatever he needs for recovery. This is on top of all the travelling Team Canada does throughout the year.
"I think the biggest thing is being open and honest with professors at the beginning of the semester," he says. "My friends have also been so helpful throughout this program, making sure that I get notes when I miss class. All the people around me and my friend group have been the reason for my success."
The athletic therapy major also gave Kingsmill the opportunity to gain practical experience in the field while working with the Calgary Flames during their pre-season testing. He says the program has helped him better understand what's going on in his body as an athlete.
"Athletic therapy has helped me with recovering and getting along with my training staff," Kingsmill says. "It's really helped me grow as a person and it's opened up some opportunities down the way for growth past my playing career."
While Kingsmill still has a lot of hockey ahead of him — he has his eyes set on the 2026 Paralympic Winter Games in Italy — he sees his athletic therapy degree as a way to stay around the game even when he's done playing.
"There are always other avenues that are open and that I'm exploring. I'm going to finish up my degree here while I'm playing hockey and hopefully go on to play in the 2026 Paralympic Games," he says. "I'm very lucky with the people I know and athletic therapy is definitely something I want to pursue."
Kingsmill and Team Canada kick off their Paralympic schedule on March 5 in a preliminary game against the U.S. The team will play two more preliminary games before the playoff schedule starts on March 9, leading up to the gold-medal game on March 13.
Mount Royal's athletic therapy program is designed to meet accreditation requirements of the Canadian Athletic Therapists Association and the Canadian Council of Undergraduate Physical Education and Kinesiology Administrators.
Feb. 28, 2022 — Zach Worden
Media request contact information.
Have a story idea? Please fill out this form.