Creating a career in the cloud
Displaced energy professionals learn new skills through AWS re/Start
Ruth Myles — Mount Royal University | Posted: April 27, 2022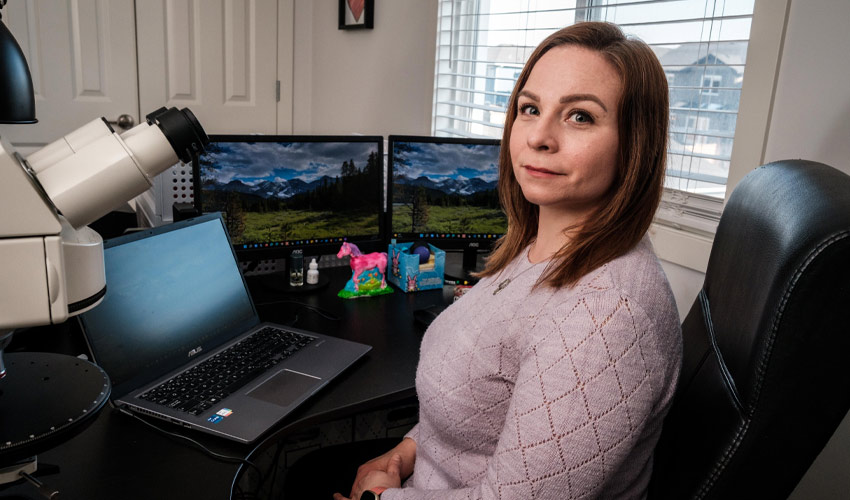 Holly Howes is leaving a career as a geologist in the energy sector to create a new path in cloud computing as part of Amazon Web Services (AWS) re/Start. She is one of 44 students taking part in the program, offered by continuing education at Mount Royal University in partnership with Energy to Digital Growth Education and Upskilling Project (EDGE UP) 2.0: A Scaling Opportunity.
---
Holly Howes is living proof of the transformational power of knowledge. As a single mother living in public housing, she enrolled in university to become a geologist. She landed a full-time job in the energy sector after graduation, but was laid off five years later. After seven years of contract work and freelance gigs, she was tired of the "constant uncertainty" that is part and parcel of the industry.
Now, Howes is one of 44 learners taking part in the inaugural Calgary offering of Amazon Web Services' (AWS) re/Start, a job skills training program that prepares individuals for entry-level roles in cloud computing and connects them to potential employers. It's a means for Howes to leverage her experience in a new and engaging career path.
"I felt like I was out of options. I was losing the passion and motivation I had in my career because I was always worrying about finding the next job to stay afloat. I decided to make another change and transition into tech through AWS re/Start," says Howes, who started her cloud computing journey along with her classmates in early March. "The past few weeks have been life changing for me. I never imagined that this program would introduce me to so many unique opportunities.
"I thought the oil and gas industry was the only place I would fit in, but now I know my skills as a scientist can be applied in other industries. It's given me a lot of hope for the future."
AWS and Mount Royal University's Faculty of Continuing Education teamed up to offer AWS re/Start, with the support of Calgary Economic Development's Energy to Digital Growth Education and Upskilling Project (EDGE UP) 2.0: A Scaling Opportunity, last fall.
The 12-week, full-time skills development program is funded by the Future Skills Centre and offered at no cost to unemployed and underemployed professionals in the Calgary area who have been displaced from the oil and gas sector or a related industry.
Creating a new foundation
After graduating from the University of Calgary with a Bachelor of Science in 2010, Howes was excited for a future that didn't exactly emerge as planned. AWS re/Start is providing a brand-new foundation for a different kind of future.
"The unknown is challenging, especially as an adult learner and mid-level to senior professional. I decided to take the leap into cloud computing because when we face what we fear, we grow as people," Howes says. "I am finally feeling energized about my career path again. I have been networking quite a bit and I absolutely love the tech community that is developing in Calgary. I feel like I have found my people."
Through scenario-based learning, hands-on labs and coursework, learners in the AWS re/Start program gain cloud computing skills and prepare for the AWS Certified Cloud Practitioner exam with free access to practice questions to review core topics. It's part of AWS's commitment to provide free tech training to 29 million learners by 2025 through a variety of offerings. In re/Start, participants build skills in areas such as Python, Linux, networking, security and relational database skills.
And those skills are in high demand. Calgary Economic Development predicts that from 2021 to 2024, area companies will lead Alberta's $20 billion-plus spend on digital transformation. In Calgary, the figure is expected to be $7.5 billion across industries. From international corporations to medium-sized manufacturers to tech startups, organizations need workers well versed in the technology of today who can also tackle the challenges of tomorrow.
"Building these skills and gaining a foundational knowledge of cloud computing positions our learners for success. Employers benefit by having skilled, tech-savvy workers who can grow with the organization as they continue to expand their skill set," says Brad Mahon, dean, Faculty of Continuing Education at Mount Royal University. "Employers also know they're hiring someone who is up for a challenge, who invests in their career and who knows the value of professional development. That's the kind of person you want on your team."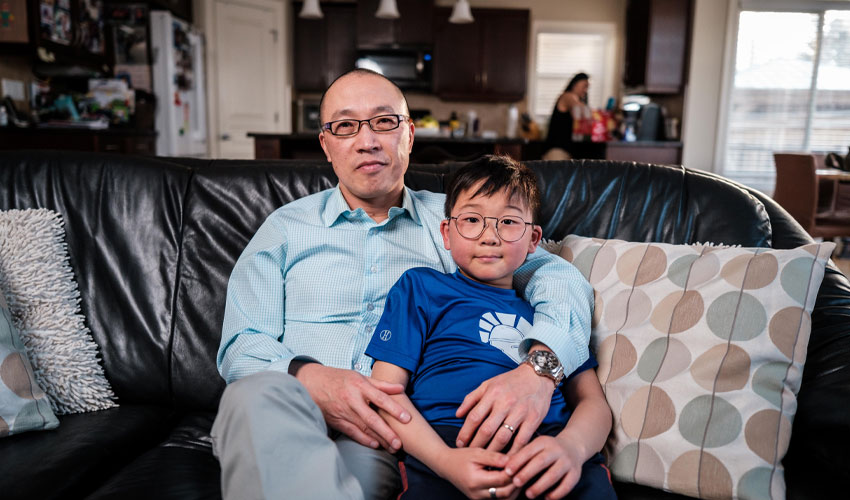 One of the reasons Calgarian Ken Chow is pivoting to a career in cloud computing is to be able to spend time supporting his children — Hayden, eight, seen here, and Connor, 16 — as they compete in modern pentathlon.
---
Balancing risk and reward
Ken Chow, who emigrated from Hong Kong to Calgary as a child in 1976, has experienced the risks and rewards of changing careers. After earning his Bachelor of Commerce at the University of British Columbia, he worked in sales and banking in Vancouver. Returning to Calgary in 2003, Chow took evening classes to earn his Pipe Drafting Certificate. A few months later, he landed his first job in the energy sector. After almost two decades, however, it was time for another career change.
Chow's wife spotted an ad for AWS re/Start and encouraged him to look into the program. He was between projects at his job and "wasn't sure if oil and gas was still for me after 18 years in the industry." The opportunity to add to his existing skill set and receive support while forging a new career path was too good to pass up.
"Professionally, the skills and knowledge I gain in AWS re/Start will open a new set of opportunities that weren't available previously. I won't be in an industry that continually has me worried about my job security," Chow says. "Personally, it will allow me to travel with my boys — Connor, 16, and Hayden, who is eight — to their international competitions and watch them reach their athletic dreams in modern pentathlon."
While the accelerated pace of the course is "intense," coding in Python and working with the Linux operating system are standouts for Chow, as is learning more about the AWS products and services. His goal is to land employment with a small- to medium-sized organization where he can "collaborate in an open and positive team environment, where I start my day knowing what I contribute will lead to the continued success of the company."
Skills for success
Prior to beginning AWS re/Start, the learners took part in EDGE UP 2.0's Transition to Tech and Foundations of Digital Transformation training for two weeks. The work readiness courses provided soft skills to support career transitioning, such as networking and resume building to complement the tech knowledge in AWS re/Start.
"Education-to-employment alignment" is a key objective of AWS re/Start, says Coral Kennett, education sales leader, Canada, Amazon Web Services. As industry demand for cloud skills continues to grow, it's crucial to create a pipeline of local, cloud-savvy talent, she says. Organizations have access to early-career talent that can grow into a variety of roles.
"A program like re/Start provides the foundation so you understand the basics of the platform. From there, you can continue to specialize through all of the learning pathways AWS has," Kennett says. "Maybe you have an interest in machine learning or security. It's understanding where you want to work and growing those skills."
In Alberta, industries such as agriculture and oil and gas are seeing increased demand for workers trained in the Internet of Things (IoT)  — which consists of all Internet-enabled objects that send data, receive instructions  and more — cybersecurity, data analytics and machine learning, she says.
AWS is scheduled to open a new cloud computing region in Calgary in late 2023 or early 2024. The AWS Canada West Region (Calgary) will be three separate groupings of data centres that reduce latency for end users in Western Canada and will also support the development of advanced, distributed solutions that span multiple AWS regions. Having a new region locally will attract more tech-based organizations, increasing demand for skilled workers. Currently, there are thousands of vacant tech positions in the Calgary area.
Howes is counting on that demand to keep growing. And she says she is part of a collaborative community dedicated to achieving its collective goals. From the instructor to Mount Royal staff to her classmates, "everyone I've met is committed to making our (re/Start) cohort successful." Moving forward, she is interested in learning more about artificial intelligence, IoT, and building and managing databases.
"There are so many options to move forward with. I don't think I will ever get bored. Not only because tech is always evolving, but because cloud computing comes with so many opportunities to learn and cultivate your knowledge," she says.
"I can see myself changing the way people visualize and use their data to communicate. In the startup culture that is thriving in Calgary right now, I feel like anything is possible."
Find out more about the possibilities provided through AWS re/Start.