Community connector, business leader and university builder
Former Mount Royal board chair Cathy Williams granted Honorary Doctor of Laws June 3
Matthew Fox — Mount Royal University | Posted: May 27, 2022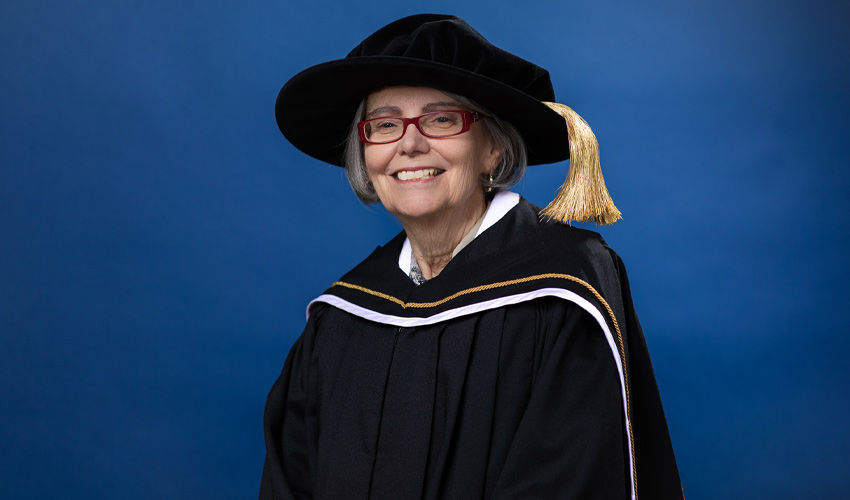 Cathy Williams has advocated for the growth of women in leadership roles, including executive positions and board appointments.
---
Throughout her career, Cathy Williams has epitomized resilience. Rising above gender stereotypes to ascend the executive ranks of the energy sector, doggedly helping to secure a brighter future for then-Mount Royal College, and now facing a health challenge of her own, Williams has succeeded mightily when others may have predicted failure.
Mount Royal celebrated Williams' many contributions to the University and the wider Calgary community with an Honorary Doctor of Laws during the morning Spring 2022 Convocation ceremony on June 3.
The MRU honour will augment an already impressive list of recognitions Williams has earned, including being twice named to The Globe and Mail's 100 Most Powerful Women in Canada list (2005 and 2006), inducted to the WXN Hall of Fame in 2008, and awarded an Honorary Doctor of Laws from Western University in 2009.
Williams was appointed as a public member of Mount Royal College's Board of Governors in 2003. Shortly after she was named Shell Canada's chief financial officer. In 2007, the year she retired from Shell, Williams became board chair and went on to lead the College's efforts in lobbying the provincial government to elevate the institution's status to that of a full-fledged undergraduate university.
"Cathy firmly supported Mount Royal's case that Alberta needed a spectrum of higher education institutions including colleges, polytechnical institutions, undergraduate universities and research universities and that Mount Royal was positioned to become a leading undergraduate university," said Jane O'Connor, MRU's recently retired and long-serving university secretary in her nomination letter for Williams.
"It took a long time, so when we got there it was really meaningful, the culmination of a lot of work by a number of people, including (former board chair) Hal Kvisle and (then-President) David Marshall," Williams recalls. "We had to go up to Edmonton and meet with government officials numerous times; occasionally we felt that we were not being taken seriously. We persisted and said, 'We need to own this.'
"It took a lot of resilience."
Setting a new standard 
After earning an undergraduate degree in political science in 1971 from the University of Western Ontario (now Western University) and later an MBA from Queen's University, Williams spent her early career with the Bank of Canada, where she was "one of the first, if not the first," female traders, and the Industrial Development Bank (a precursor to the Business Development Bank of Canada). She then moved on to Nova Corp. in Calgary before joining Shell in 1984.
In an era when female executives were rare in the energy sector, Williams climbed the ladder through a series of domestic and international roles with Shell.
"Cathy has incorporated a focus on supporting other women in their career ascendancies …  and has advocated for the growth of women in leadership roles, including executive positions and board appointments, both by setting an example herself and as a champion for others," said Dr. Elizabeth Evans, PhD, MRU's interim provost and vice-president, academic.
In 2010, Williams completed her term as board chair of what had become Mount Royal University. She has remained connected to the University ever since. Through mentorship and philanthropy she has supported the Institute of Innovation and Entrepreneurship, the Board of Governors Entrance Scholarship Endowment and the Centennial Mural Mosaic Project, among others.
"It is critical that our students see gender diversity, not only in business and community leadership, but also in philanthropy," said Ray DePaul, director of the Institute for Innovation and Entrepreneurship. "Cathy is a role model for all students at MRU who wish to pursue a path of doing good while doing well."
Williams' own message for MRU students, especially those graduating in 2022, is "don't be afraid of failure, have a 'plan B', and help others understand their own potential."
Williams is a past chair of various community boards, including Junior Achievement of Southern Alberta, the United Way of Calgary, and Vibrant Communities Calgary. She says she is particularly proud of the work developing and launching the "Enough for All" poverty reduction strategy adopted by the United Way and Calgary city council in 2013; it's a program that remains relevant today, now stewarded by Vibrant Communities Calgary.
Williams was recently diagnosed with aphasia, a progressive neurological condition that impacts her ability to express herself verbally. It's not a well-known disease, yet it affects an estimated 100,000 Canadians, according to the Aphasia Institute. Hollywood actor Bruce Willis recently brought more exposure to the illness with a public acknowledgement of his own diagnosis.
"I stopped my board work in the last couple of years because I didn't think I was doing the best job I could any longer," she says. "In preparing for a board meeting I was having a harder time putting the printed material in context and I wasn't getting the insights I used to."
Williams asks for no sympathy and credits her family and friends for providing all the support she has received. "It's challenging, but challenges come when we don't expect them to and I have a great community helping me."
As she and her husband Bruce navigate the relatively uncharted territory of aphasia, Williams will be drawing upon the resilience that has served her well through life as a spouse and mother, business leader, community builder and philanthropist. And she doesn't expect this honorary degree to be her last engagement with MRU.
"I really hope that I can continue to have connections with the University. It's been a wonderful place to me."