MRU mathematics professor honoured with 3M National Teaching Fellowship
Pamini Thangarajah is known for her innovative approaches, kindness and inclusion
Rob Petrollini — Mount Royal University | Posted: May 10, 2022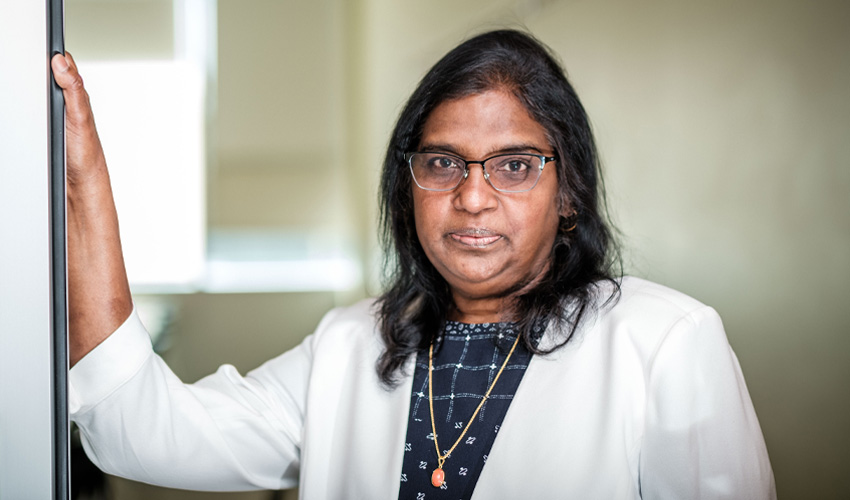 Dr. Pamini Thangarajah, PhD, professor of mathematics at Mount Royal University, has been named to a prestigious group of university educators in Canada.
---
As a role model for women aspiring to science, technology, engineering and math (STEM) education and careers, it will come as no surprise that Dr. Pamini Thangarajah, PhD, professor of mathematics at Mount Royal University, has been named to a prestigious group of university educators in Canada.
She joins a reputable group of scholars as a member of the Council of 3M National Teaching Fellows, an award that has been likened to the Stanley Cup of university teaching.
"The community of 3M National Teaching Fellows embodies the highest ideals of teaching excellence and scholarship with a commitment to encourage and support the educational experience of every learner," says the award website.
Thangarajah is one of 10 post-secondary educators from across Canada to receive this honour in 2022 for excellence in educational leadership and undergraduate teaching.
"Dr. Thangarajah is a vital and influential member of the mathematics community in Canada," says Dr. Jonathan Withey, DPhil, dean of the Faculty of Science and Technology.
"She has made significant contributions to curriculum and pedagogy in mathematics, to the learning of students and to the teaching practice of others."
Thangarajah's efforts, combined with extensive engagement in STEM outreach, serve to maximise student learning and development in inclusive and inspiring educational environments.
Her work with next-generation digital learning resources (DLRs) provides compelling evidence for educational innovation. Thangarajah's innovative STEMwiki texts have served as DLRs for tens of thousand users, with the development of these materials attracting funding and engaging undergraduate students.
She has also worked to co-organize multiple Alberta Mathematics Dialogue conferences and organize Explore STEM, a one-day conference for Grade 9 girls in Calgary and area that aims to grow awareness and interest in careers options in STEM.
Thangarajah was awarded MRU's Provost's Teaching and Learning Enhancement Grant for three consecutive years from 2017 to 2019, and earned a prestigious Distinguished Faculty Award in 2018.
A banner year for Thangarajah, in 2018 she was also the recipient of the Open Education Champion Award from the Student Association of Mount Royal University and received a Natural Sciences and Engineering Research Council of Canada PromoScience grant.
The Council of 3M National Teaching Fellows is a community of award-winning teachers who become lifetime members of the Society for Teaching and Learning in Higher Education (STLHE). The Council shares the aims of the STLHE, advises the 3M National Teaching and Student Fellowships Program Coordinators and undertakes projects that enhance teaching and learning in Canadian post-secondary institutions.
Thangarajah says that she has overcome many obstacles to achieve her success, having been one of few women students throughout her educational journey, and she continuously works to change that.
"During my early academic career in Canada, I noted that few female students were enrolled in my classes for engineers. This intensified my desire to empower underrepresented students from junior high to undergraduates to ensure that they have equitable opportunities."
"I believe that an equitable, diverse and inclusive environment will encourage a more open-minded and fair approach to education."
Her students concur. "Pamini is a great teacher, who shows her love and passion for math in every class," says one former student. "She really involves the class. It really doesn't seem like a lecture, but more of a group of friends learning together."
"She really cares about the students and their learning, gives good advice on how to approach mathematical concepts and is supportive when students reach out for help," says another former pupil.
The feedback from students speaks volumes to the attention Thangarajah devotes to improving the student learning experience and the depth of care she takes in ensuring that she creates an atmosphere that is full of student learning supports.
"Glowing testimonials from former students provide compelling evidence and it is clear that Dr. Thangarajah clearly loves what she does in the classroom," Withey says.
Mount Royal has a rich tradition of teaching and learning. The individual student experience has been at the heart of the institution's face to the world. Students are heavily involved in their own learning processes and professors have earned a reputation for knowing and supporting them in their educational development.
While honoured to receive the fellowship, it represents for Thangarajah far more than her own efforts.
"As a fellow, I will continue to find ways to advance teaching and learning at MRU and take the opportunity to engage with 3M Canada national initiatives of my interest to improve teaching and learning in higher education across Canada," Thangarajah says.
"I look forward to a rich, rewarding and impactful experience."
In April, Mount Royal was the location of a Government of Alberta announcement of a one-time top-up of funding for the distribution of a number of Women in STEM Scholarships.