Building a more inclusive fitness community
Personal Fitness Trainer alum dedicated to creating a welcoming experience
Ruth Myles — Mount Royal University | Posted: June 17, 2022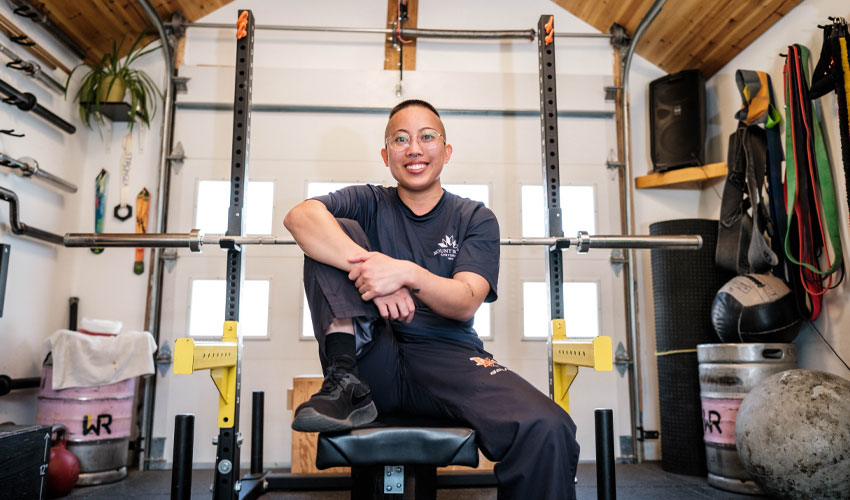 Ace Rodriguez, a graduate of Mount Royal University's Personal Fitness Trainer (PFT) Diploma program, is fostering a community built on acceptance, respect and trust for everybody and every body.
---
Forging genuine connections with clients while creating a more inclusive fitness industry gets Ace Rodriguez's blood pumping.
A graduate of Mount Royal University's Personal Fitness Trainer (PFT) Diploma program, Rodriguez saw a lack of queer and trans representation in their local fitness community. They set about fostering a community built on acceptance, respect and trust for everybody and every body.
"As a queer, non-binary, racialized person, it's difficult to feel like you are welcomed anywhere. Due to my own experiences, I can't help but empathize with clients whose stories and experiences coincide with being shunned by society," says Rodriguez, whose pronouns are they/them. "With Geoff (Starling), the founder of Every Body STRONGER, we are working to build a space that is welcoming of all identities and creating a community where people can find connections and feel a sense of belonging. Everyone deserves to move in an environment free from judgment and in a capacity that feels right for them."
Rodriguez has always been passionate about movement and being active. They credit their high-school classmates with supporting them in learning how to use proper form when lifting weights. While in their third year of studying kinesiology at the University of Lethbridge, they realized that a career in physiotherapy wasn't what they wanted.
"Personal training was the first thing I thought of as a career. I found out that Mount Royal had a program with hands-on learning and experience, which was a big selling point for me. I transferred almost instantaneously," they say.
Mount Royal's PFT program is taught by experienced instructors who lead and support students through 22 required courses that include experiential learning and hands-on work experience. The curriculum is designed to meet the Canadian Society for Exercise Physiology — Certified Personal Trainer national certification.
Being in the program during the COVID-19 pandemic created challenges and opportunities for Rodriguez. They had a year of in-person learning and one of a mix of remote and in-person. As someone with ADHD, they found online learning more engaging than sitting in a classroom and it was also more accessible if they missed any material. However, they also missed that in-person connection with classmates and instructors, in addition to gaining hands-on experience in on-campus labs.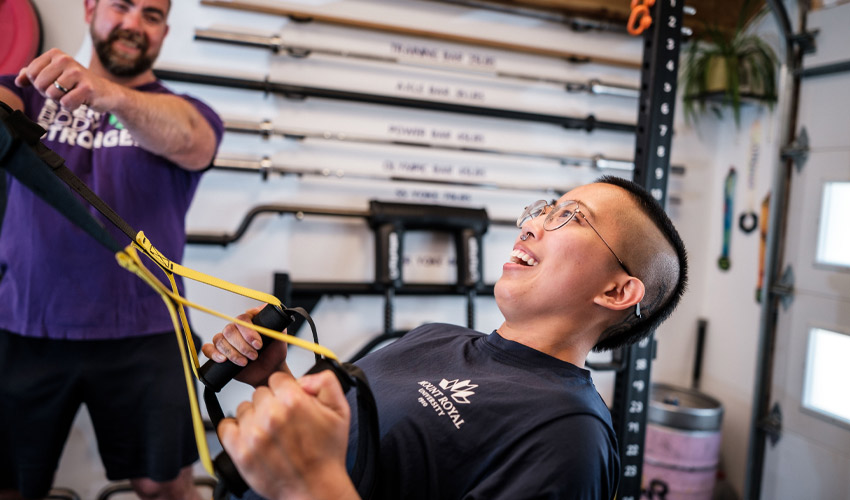 Every Body STRONGER founder Geoff Starling, left, and Rodriguez go through their paces in the "Iron Shed," which Starling created to offer a totally private workout space to clients.
---
Rodriguez, who is "in love" with being a personal trainer, promotes the ability to "heal through movement."
"I want to change the association with exercise being for weight loss and promote exercise for its health benefits. I want my clients to feel stronger, more confident and live their lives as pain-free as possible," they say. "As a trainer, I believe that there is a level of investment and care that you should have with each client. It lets your client know that you are there for them and are focused on helping them reach their goals."
Ace's dedication to a diverse client-base is a perfect fit with Every Body STRONGER, says owner Geoff Starling. Prior to the pandemic, the business operated out of a 5,000-square-foot fitness centre with a roster of trainers. With the fitness industry shuttered due to health measures, Starling had to come up with a solution to keep his business going and his clients engaged. In the spring of 2021, he set out to transform his single-car garage in Inglewood into the "Iron Shed." The finished space is fully stocked with all the trappings you'd expect in a fitness facility, from weight-lifting equipment to a punching bag and rowing machine.
"We attract and seek out folks who don't feel comfortable in traditional gyms. That can be adults who are either new to fitness or returning after a significant break. It can be people in larger bodies, older bodies, injured bodies. Sometimes it's gender identity, sometimes it's neurodiversity," Starling says. "There are a lot of reasons why so many people feel like they don't fit into traditional gym spaces. Going into that big room filled with people who appear to know what they are doing in the gym can be debilitatingly terrifying. What draws people to a space like this is that it's completely safe. There's no judgment, no expectations."
After a virtual practicum, Rodriguez reached out to Starling, requesting that they do their next practicum at Every Body STRONGER.
"They said, 'I love everything you do. Your mission and values really line up with mine. I want to do my next practicum with you,' '' recalls Starling, a member of the Personal Fitness Trainer Advisory Committee at Mount Royal. "I have never had a student be that proactive."
Their first in-person practicum with Every Body STRONGER was in the spring of 2021, followed by a second that fall. From this start, it was a great fit for everyone, they both say.
"Ace came in with energy, with vibrancy, this youthful outlook on getting things going. They've brought new ideas and built great rapport with clients," Starling says. "They're emotionally intelligent and tuned in with a real eagerness to serve the same population that we do."
Throughout their practicum, Rodriguez became more confident in taking on new clients while building their skillset. They say the practical, hands-on experience they built during this time was crucial to their growth as a trainer. Clients were "universally positive" in their feedback on Rodriguez's services, Starling says.
"They liked Ace's ideas, fresh programming and fresh perspectives, as well as the gender diversity. I saw them being a great fit, myself. Then, when we got the client validation, that's when it was a done deal for asking them to join on a permanent basis," Starling says. "They've also attracted clients from the 2SLGBTQ++ community. Ace has really promoted a safe space in their community. I didn't appreciate how significant a need this was until Ace joined us."
Three months in, they're booking 20 sessions a week, an almost unheard of number for someone fresh out of school. Dimitra Fotopolous, director of the Faculty of Continuing Education, is impressed not only with Rodriquez's professional accomplishments, but their community building as well.
"We're so proud of Ace and what they are achieving. Seeing a student putting their education into practice while making a difference in the community is an amazing combination," Fotopolous says. "We look forward to seeing how Ace continues to develop their career as they build community."