David Legg selected as Alberta Sports Hall of Fame inductee
MRU celebrates esteemed professor
Katherine Sharples — Mount Royal University | Posted: June 24, 2022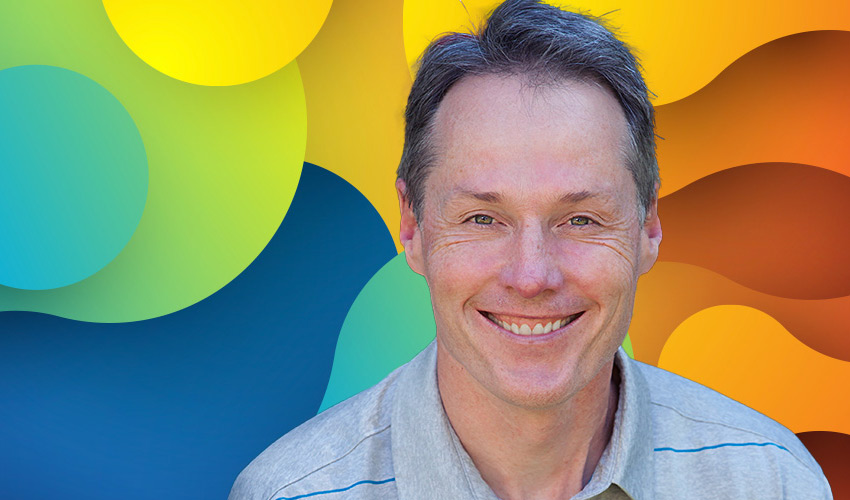 David Legg has volunteered with Wheelchair Sports Alberta, the Canadian Paralympic Committee and the International Paralympic Committee, and helped found the Children's Adapted Physical Activity program, a play-based physical activity program for children with disabilities.
---
Dr. David Legg, PhD, an MRU health and physical education (HPE) professor and president of the International Federation of Adapted Physical Activity, is one of 11 inductees to the 2022 Alberta Sports Hall of Fame this year. Joining other trailblazers in sport, Legg's journey has been a mix of passion, luck, mentorship, family history and serendipity.
Paving the road to inclusive physical fitness
While completing his doctorate at the University of Alberta, Legg was supervised and mentored by Professor Robert Steadward, PhD, the founding president of the International Paralympic Committee (IPC). Newly created in 1989, the IPC had few staff. Steadward's graduate students were able to assist him during this nascent stage of development and this included bringing Legg to the 1996 Paralympic Games.
"That's where I cut my teeth in disability sport, and the world was suddenly opened up to me," Legg says. He would move on to become president of the Canadian Paralympic Committee and a board member for the 2015 Pan Parapan American Games in Toronto. Legg has also served on the International Paralympic Committee's Sport Science Committee and worked with Calgary BidCo for the 2026 Olympic and Paralympic Games as a consultant.
While his entrance into the world of inclusive sport was rather fortuitous, Legg's ties to the industry are personal.
"My father had multiple sclerosis," Legg shares. "He wasn't very mobile and he wasn't necessarily a person with a disability who competed in sport, but he really liked sports and watching me play them. And so, I think I had an interest in sports but I also had an awareness and understanding of disability, too."
A class he took as a third-year student at McMaster University, similar to the one he developed and teaches at Mount Royal focusing on the issues and opportunities of providing physical activity experiences for persons with a disability, is what helped Legg recognize he wanted to pursue adapted physical activity professionally. Then, while completing his master's degree at the University of Windsor, he saw a call for volunteers at a local wheelchair rugby club.
"I just showed up, not knowing anything about the sport. There wasn't even a rulebook — more of a guideline," Legg says. His volunteering then led to experiences officiating wheelchair rugby provincially, nationally and even internationally. In 2015, Legg was asked to provide colour commentary for wheelchair rugby in the first-ever live paralympic event shown on CBC.
"I've been really lucky to be nurtured and supported by a lot of great people who were willing to support me without expecting anything in return. I'd like to think they were paying it forward, and that's hopefully what I'm doing as a professor," Legg says. "I try to get my students to go into their careers wanting to provide opportunities for everybody."
Legg's commitment to inclusivity on campus has resulted in tangible changes. For example, MRU's wheelchair basketball program is one of very few run in a post-secondary setting. Additional evidence of Legg's legacy of advocacy for adapted physical activity at MRU includes hosting of the 2017 Adapted Physical Activity Symposium, with another to take place in March, 2023. He also secured funding to purchase a functional electrical stimulation (FES) bike for persons with spinal cord injuries and co-founded the Calgary Adaptive Hub: Powered by Jumpstart.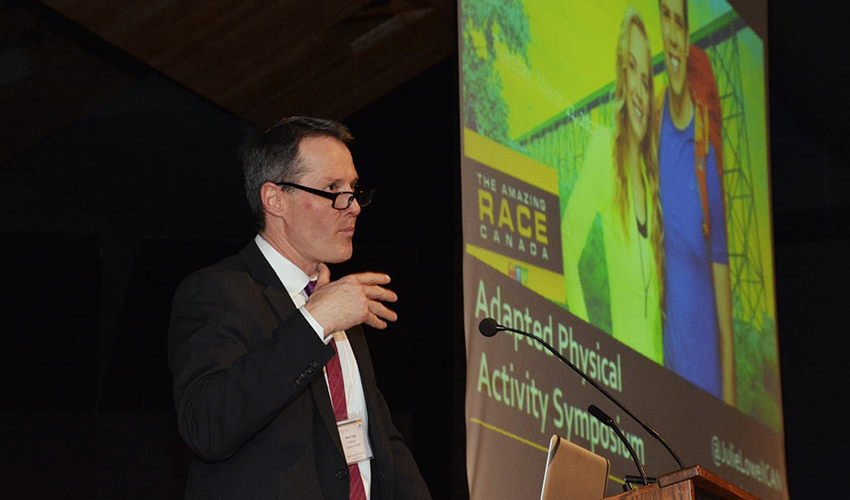 Legg addresses the crowd at the Adapted Physical Activity Symposium.
---
In addition to the FES bike, Legg also helped secure funding for adapted fitness equipment that is housed in the fitness centre.
"I wanted other people to see it. I wanted it to be highly visible when people were working out and not tucked away," Legg explains. "Same with the pieces of equipment we use in the adapted fitness program. I wanted them in the main fitness centre so able-bodied people would be working out next to someone with an impairment so that this type of interaction becomes normalized."
Every year in Legg's adapted physical activity class, students have also conducted an accessibility audit of Mount Royal's fitness facility. As a class, they noticed that the height of the front desk was not welcoming to those who used a wheelchair. Legg was suitably pleased to see that recently completed renovations have lowered the height of the reception desk and increased the entrance's overall accessibility.
Also orchestrated by Legg in 2010 is the Children's Adapted Physical Activity (CAPA) program, where children with disabilities are paired up one-on-one with a student to play for an hour in the gym where they can learn how to catch and throw. Then there is an hour in the swimming pool.
"A lot of these kids don't easily participate in community sport and recreation so it's a great opportunity for them and our students to learn together," Legg says.
The CAPA program then encouraged aquatics staff to create the H2Able swim program, which now offers swim lessons for children with disabilities.
All of this, of course, couldn't happen without support and Legg is particularly grateful for the University's continued encouragement and foundational contributions.
"I have had amazing chairs in my department and deans, including Stephen Price and before him Chad London, who have all been outstanding in letting me take some risks and try out new ideas. I've really benefited from the leadership here, which has enabled me to pursue my passions and try to make a difference," he says.
Making it into the Hall of Fame
On Oct. 21, 2021, Legg was announced as an Alberta Sports Hall of Fame inductee, and while the accolade is well-deserved Legg shares his induction still feels surreal.
"I was really emotionally overwhelmed to be inducted, because there are people in it who I put up on a pedestal and I don't consider myself to be one of their peers at the moment — but maybe one day," he says.
"I'm touched and taken aback by the whole thing, that someone nominated me and others supported it."
Legg's long-term hope for adapted sport is that it wouldn't need to exist anymore. That there would be no adapted physical activity class; that all physical education courses would include or incorporate some form of conversation or example of a person with a disability. To have individuals with disabilities be included not only in sport, but everywhere.
"We're far from perfect, but CODA winning the Oscar for best picture is an example of how things are changing and getting better. You'll be watching a TV show and see a character who has cerebral palsy, and they're just a character who has cerebral palsy — not the character with cerebral palsy," Legg says.
Fellow HPE instructor Jean Jarrell is thrilled to have Legg joining her as an Honored Member in the Alberta Sports Hall of Fame.
"Legg has given so much to sport locally, provincially, nationally and internationally from his well-recognized work with the Paralympics. Through his vision and dedication, Legg continues to be instrumental in mentoring and providing leadership opportunities for MRU students to become involved with para athletes and those in adapted physical activity programs," Jarrell says.
"His legacy continues to grow in many directions."
Read about all of the 2022 Alberta Sports Hall of Fame inductees.