David Taras remembered as scholar, friend, colleague and public intellectual
MRU professor loved teaching, mentoring and enlightening public through media
Peter Glenn — Mount Royal University | Posted: June 13, 2022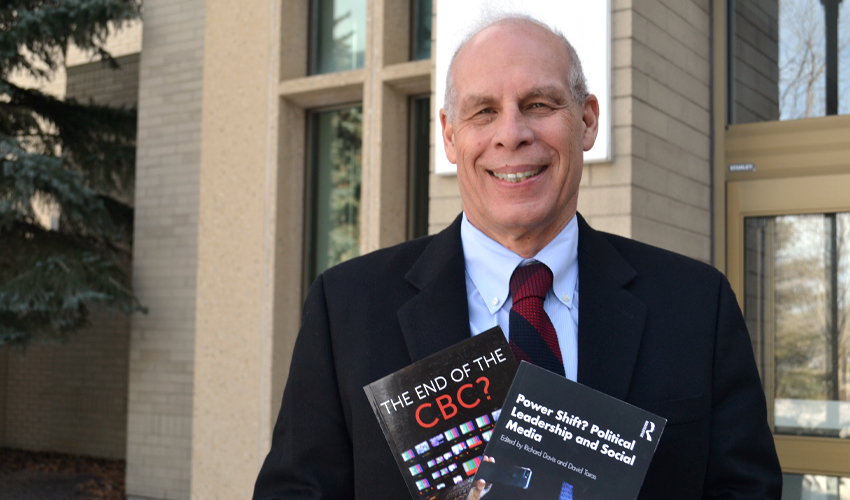 Dr. David Taras, PhD, holding two books. One he co-authored and the other co-edited.
---
Combining sharp insights and extensive research into the intersection of media, politics, democracy and technology, Dr. David Taras, PhD, was a leading academic in communications, sharing his knowledge with his students and the public at large.
Taras, who passed away June 9 in hospice surrounded by family after dealing with cancer, was a professor of Communication Studies and held the Ralph Klein Chair in Media Studies at Mount Royal University.
"David believed deeply in the value of democracy and was well known across our campus community, the city of Calgary, the country and internationally as a leading expert in the area of Canadian media policy and its relationship to Canadian identity and democracy," said Dr. Tim Rahily, PhD, president and vice-chancellor of Mount Royal.
"A kind and generous mentor to colleagues and students, past and present, David will be profoundly missed."
In a recent interview with Sally Haney, chair of Journalism and Digital Media and Broadcast Media Studies at MRU, Taras spoke of how much teaching meant to him, and why he'd enjoyed his time at Mount Royal.
"I just love the classroom. I love the challenges of the classroom, I love people. I love reaching out, and most of all, I loved being able to lift those who didn't seem to have a future. And I would be the helping hand, the guiding word, (teaching) the tricks of the trade. But most of all, I'd be there to encourage and to cheer them on. So I would say in the classroom, I was cheerleader-in-chief."
Listen to the full interview
Before coming to Mount Royal in 2010, Taras, who turned 72 on June 7, taught at the University of Toronto, the University of Amsterdam and the University of Calgary, where he served as the Ernest C. Manning Chair in Canadian Studies. While there, he received the Students' Union Award for Teaching Excellence five times and was inducted into the Teaching Excellence Awards Hall of Fame in 2011.
Taras received a PhD in Political Science from the University of Toronto and was a graduate of the Legislative Internship Program at Queen's Park.
Leading scholar in media policy impact on democracy
A leading expert in the area of Canadian media policy and its relationship to Canadian identity and democracy, Taras organized global conferences held at the Banff Centre, was a regular commentator on Global News, a go-to source for newspaper reporters and columnists, and the author, co-author editor or co-editor of a shelf-full of books on media, the Internet, democracy, the Supreme Court and more.
Those included The Newsmakers: The Media's Influence on Canadian Politics, Power & Betrayal in the Canadian Media; Digital Mosaic: Media, Power, and Identity in Canada; The Last Word: Media Coverage of the Supreme Court of Canada; multiple volumes in the How Canadians Communicate series, four editions of A Passion for Identity: Introduction to Canadian Studies and, Making a Difference: The Internet and Elections in Comparative Perspective.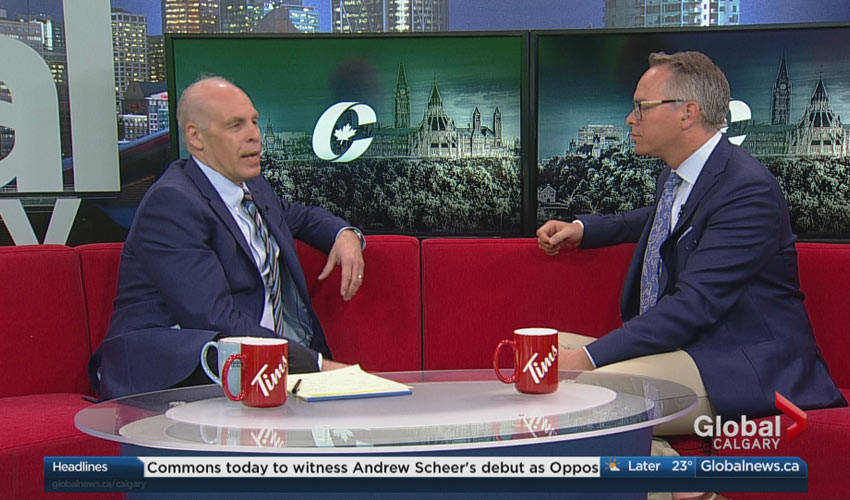 Taras, left, speaking on Global News Calgary.
---
More recently, a pair of books, one co-authored and one co-edited by Taras, shone a light on the digital revolution and how it has deeply impacted Canada's public broadcaster and political leadership in the country.
The End of the CBC?, published in 2020 was co-written with Christopher Waddell and tackled the crisis that has enveloped Canada's public broadcaster, the crisis of news, and the crisis of democracy. Power Shift? Political Leadership and Social Media was edited by David Taras and Richard Davis and published in 2019. It examined how political leaders have met the challenges of social media, including Facebook, Instagram, Twitter and memes.
At the time of his death, he was co-editing a new book, Blue Storm: The Rise and Fall of Jason Kenney, with Dr. Duane Bratt, PhD, professor in Policy Studies, and Dr. Richard Sutherland, PhD, associate professor in Policy Studies at MRU. That book, a follow-up to Orange Chinook: Politics in the New Alberta about the NDP's rise to power, is expected in 2023.
"David was an outstanding scholar, top rated teacher, and public intellectual, and genuinely kind person. That is a very rare combination of skills," said Bratt.
"When he came to MRU we started to collaborate very closely with a speaker series, closed door sessions with key political actors and book projects. But the pinnacle was our two books on Alberta politics, Orange Chinook and Blue Storm. It is fitting, given his commentary on Alberta politics over the decades, that his last scholar project would be Blue Storm. His name is prominent on the cover as co-editor. And the book will be dedicated to his memory."
Taras also hosted an interview program produced by students in the Broadcast Media Studies program and CMRU.ca called David Taras Talks to… where he spoke with political insiders and observers about current events.
Accessible to media as a public service
Often sought out by reporters for insights on political happenings, Taras spent time formulating his thoughts into bite-sized chunks that fit as well into TV and radio stories as newspaper and web articles. In the interview with Haney, Taras said:
"I would give it a lot of thought. I would try and be funny or conceptualize it into something very bite-able. Otherwise, it doesn't get on and it's not as memorable. So I was very conscious of that. One of the issues was what do I say? And then how do I say it and be funny and interesting, and not get lost in the scramble."
In 2015 Taras told MRU's Summit Magazine about what initially piqued his interest in politics and media during a youth where his great-grandmother sold newspapers at the corner of Peel and Sainte-Catherine in Montreal.
"Living in Quebec during the October Crisis and the rise of separatism, with riots in the streets and bombs in mail boxes, I understood that you couldn't take the country for granted. You had to care and you had to be involved. I understood that politics was an inescapable part of the world and could be ignored only at our peril."
Taras hosted an interview program produced by students in the Broadcast Media Studies program and CMRU.ca called David Taras Talks to… where he spoke with political insiders and observers about current events.
---
Of studying, teaching and writing on new media, he said, "I study the rise of the new media, including Facebook, Netflix and Twitter, and how they are transforming traditional media as well as how we work, learn, entertain ourselves and communicate with others. My principal focus is on how media change — what I call 'media shock' — has affected democracy and the challenges that it poses for our public policy."
He encouraged students and citizens to be engaged and his willingness to speak to the media was part of that.
"I believe in the values of democracy," he told Summit. "Debate is healthy. Exposure to issues is healthy. Engagement is healthy. A society that doesn't breathe that air, that closes itself off to new ideas, that avoids real debate, can quickly become a narrow, backward and poorer place. While elections can be ugly and cynical, they can also bring out the best in people. Not being involved means that we are leaving decisions about our lives to others."
In his office, he told Haney, sat a book titled The Twentieth Train about the twentieth train to leave Belgium for Auschwitz during the Second World War. Taras's uncle was on that train.
"I've  always had that as a reminder, in my office . . . so everybody could see. And most importantly, that I could see that my teaching was not just stories but real lives, real impacts, the fight for democracy, the fight for people's voices. I mean, all of that was very alive. And so that comes out of my experience."
Mentor to many
Taras was known for mentoring his colleagues and students and could often be seen around campus having coffee with one or more of them, always with a smile on his face.
"David was my office-next-door mate for a decade. Each morning he would stop to discuss the news of the day. If things were particularly juicy he'd sit down," recalled Janice Paskey, associate professor of Journalism at MRU.
"When he had a crisp shirt and tie on he'd come from a TV appearance. T-shirt and shorts? He was heading to the gym. Casual sweater: likely writing and heading to coffee with his MRU punditry clan. It was hard not to absorb the ebb and flow of David. His kindness, sage advice  and powers of persuasion were legendary. I remember he showed up with chocolate and a request to write a chapter for his next book. That was David: he made life sweet."