MRU secures more than $3.3-million to expand flagship business growth program
Michelle Bodnar — Mount Royal University | Posted: June 29, 2022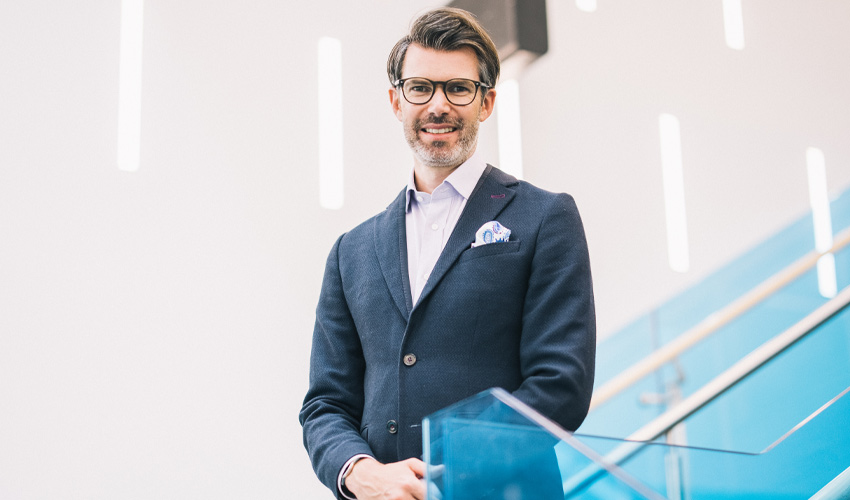 Dr. Simon Raby, PhD, is an associate professor of innovation and entrepreneurship and academic director of Growth Catalyst, which assists small- and medium-sized businesses to achieve and more readily sustain new episodes of growth.
---
A donation of $500,000 from TD Bank Group (TD) to Mount Royal University's Institute for Innovation and Entrepreneurship, combined with federal and provincial funding, has provided the foundation for the province-wide expansion of the Institute's Growth Catalyst program plus additional initiatives, which are set to trigger the creation of hundreds of new jobs and deliver millions in economic impact to Alberta over the next few years.
In addition to the TD investment, the Institute has also been successful in funding applications made to both the provincial and federal governments. The Government of Canada, through PrairiesCan, is investing nearly $1.4 million to support the expansion of the Growth Catalyst program, further building on its initial investment of $100,000 in 2020 towards the pilot initiative. Funding of $1.4 million is also being provided through the Alberta Innovates Ecosystem Development Pilot Program.
Valuing education in all forms, TD and MRU share a commitment to entrepreneurship, with both institutions recognizing the importance of a strong and innovative economic climate.
"Entrepreneurs and their innovative ideas have long been the backbone of Alberta's thriving business community," said Robert Ghazal, TD senior vice-president for branch banking across the Prairie Region.
"Through the TD Ready Commitment, the bank's corporate citizenship platform, we aim to support programs that create the conditions needed so that everyone has the chance to succeed in our changing world. That's why we're pleased to support the establishment of the business growth centre, which will help bridge gaps for the next generation of entrepreneurs and assist established small- and medium-sized businesses in achieving their full potential. As part of Mount Royal's Institute for Innovation and Entrepreneurship, we know these programs will play a significant role in driving Alberta's economy towards a more equitable and prosperous future."
Growth Catalyst is a scale-up program targeting established Alberta businesses with ambitions to become world leading. Through extensive research on the drivers of small- and medium-sized (SME) business growth, Dr. Simon Raby, PhD, associate professor of innovation and entrepreneurship and academic director of Growth Catalyst, has uncovered seven strategy components that business leaders can deploy to achieve scale. Using these globally proven methodologies and tools, Growth Catalyst enables strategic growth teams to catalyze, and more readily sustain, new episodes of growth. During the program, cross-functional leadership teams embark on a six-month cohort-based integrative journey to reimagine, rediscover and realize big strategic growth opportunities.
Raby says, "TD, and the provincial and federal governments, have recognized the inherent value within the business owners and leaders across the province and that we can really support their organizations to grow and develop. A focus on established innovation-driven enterprises and how we help them unlock their growth capacity and capability is key."
In a June 2 news release, Alberta Innovates announced more than $9.1 million to go to the first 15 projects selected through the province's Ecosystem Development Pilot Project. Mount Royal will receive $1.4 million over three years to assist in supporting the growth of innovative businesses and technology companies.
Doug Schweitzer, Alberta's minister of jobs, economy and innovation, said, "Alberta's technology and innovation sector is growing, creating jobs and finding solutions. We know the importance of ensuring the correct supports are in place to help small- and medium-sized technology companies grow and bring their ideas to market. The investments being made in these organizations will help solidify Alberta's reputation as a growing and thriving technology hub."
PrairiesCan is the federal department responsible for diversifying the economy across the Canadian Prairies and works to build a strong, competitive economy by supporting business, innovation and community economic development in Alberta, Saskatchewan and Manitoba.
"Small and medium-sized businesses are at the heart of Calgary's economy, which is why our government is providing support to scale up and access the talent they need to innovate and remain competitive," said the Honourable Daniel Vandal, minister for PrairiesCan. "Our collaboration with Mount Royal University, to expand the Growth Catalyst program, will allow established businesses to benefit from training, mentorship and investment opportunities that are critical to their growth and development, and continue to provide leading-edge learning opportunities for a new generation of post-secondary students and future business leaders."
Internal research reveals need
While half of all business startups survive up to five years, only 0.1 per cent of established small companies become medium-sized and only two per cent of established medium-sized companies become large. Established companies grow in episodes, which last from three to six years, on average. Only a few companies experience more than one growth episode.
"Company growth is not persistent over the long run, with only 10 to 15 per cent of companies repeating a growth episode," Raby says. "We also know there are strategies that entrepreneurs can deploy to improve their probability of catalyzing and sustaining their positive growth trajectories. These programs targeting the scaling phase of organizational development will enable leaders to more readily achieve their growth aspirations."
Raby and the Institute for Innovation and Entrepreneurship's research has been published in a 2021 Industry Report funded by Alberta Innovates titled Leading to Scale: The Design, Delivery and Impact of SME leadership Development Programs and a 2017 report titled Leaders Growth Mindset. In November, a special issue article in the International Small Business Journal titled, "In Search of the Next Growth Episode: How Firms Catalyze and Sustain Periods of High Growth," will also be published.
"This program of research revealed insights and intelligence that has helped us appreciate the importance of supporting the leaders of established SMEs and the central role these individuals play in job creation, innovation and productivity enhancement," Raby says.
In addition to the Growth Catalyst program, the Institute's business growth initiatives include:
The Innovation Accelerator program, which trains teams on a repeatable and scalable innovation process to capture new value and revenue streams. Each company will develop and test a new product and/or service concept by the end of the program.
The Growth and Resiliency Speaker Series, which will be expanded and geared towards sharing the latest best practices on company growth and scaling up.The speaker series is also supported through a generous gift from Cathy and Bruce Williams.
A large part of Raby's work is also to break down the barriers between students and business. Participants in the Growth Catalyst and Innovation Accelerator programs will be supported by Alberta undergraduate university students, with the pilot cohort of the Growth Catalyst connecting MRU and SAIT students to participant companies to help analyze their growth constraints, technology and capital requirements. These partnerships also lead to employment opportunities for students.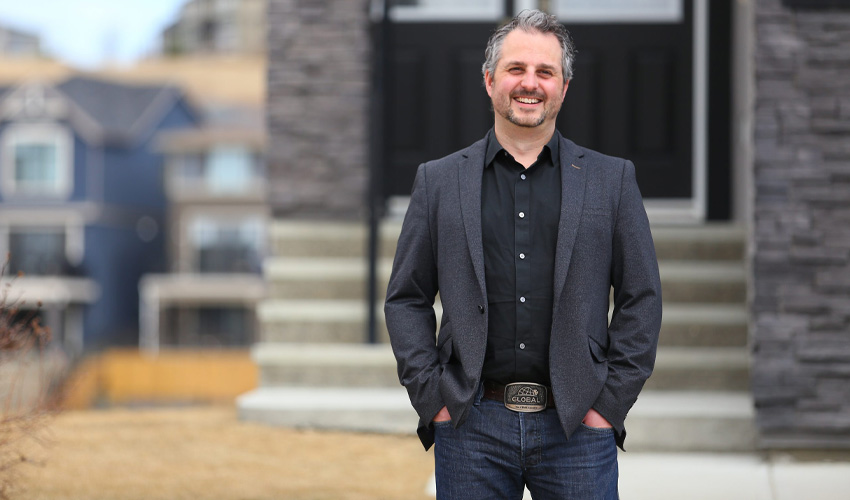 Brian Rosentreter, president of Calgary's Global Analyzer Systems, says participating in Growth Catalyst led to significant business and revenue growth plus provided his team with better strategic direction and a new energy.
---
Success stories
Brian Rosentreter is president of Calgary's Global Analyzer Systems, an environmental services and equipment fabrication company based in Calgary. One full fiscal year after Rosentreter and members of his team participated in the Growth Catalyst program they reported business growth of approximately 40 per cent, and only a half a year after that were on track to achieve an additional 35 per cent revenue growth. They have also doubled their staff size from 20 to 40 people with minimal turnover.
Growth Catalyst led Global Analyzer Systems to spend more time focusing on the strategic direction of the company, Rosentreter says.
"Our team now has far greater clarity on how to plan for and scale the operation in support of growth initiatives," he says. Lines of communication are more open and transparent, they have a better understanding of Global Analyzer Systems' purpose, vision and core values, and all members of the company now understand, identify with and are involved in developing their strategic plan.
"There's a lot more energy within the company and a growing sense of a collective focus on where we're headed together," Rosentreter says.
The Innovation Accelerator benefits from running in parallel to undergraduate courses such as corporate innovation and entrepreneurship at Mount Royal.
"Smaller firms do not have the resources to invest in dedicated research and development departments. Undergraduate students can essentially play the role of an outsourced research and development function, helping uncover new intelligence and insights to the product development and launch process," Raby says. "This highly innovative pedagogy allows innovation teams to rapidly test new offers."
Jennifer Massig, CEO of Magna Engineering Services, and members of her team recently participated in the Innovation Accelerator. "I was looking for an opportunity for my team to better understand the journey of a new product and technology from inception to commercialization. We graduated as a fully integrated team with a renewed innovation and entrepreneurial mindset. From a testable MVP (minimum viable product), to a clearly articulated value proposition and improved sales and marketing processes, we were able to refine our product development processes and integrate our learnings across the entire business," Massig says.
To contribute to the broader conversation on scaling up and growth, the Institute for Innovation and Entrepreneurship will share regular insights on the results of their growth programming.
"We have already seen the major impact these programs have had on existing businesses looking to grow, and we are proud to be able to draw a direct line from their success to research being done at MRU," says MRU president and vice-chancellor Tim Rahilly, PhD. "It's exciting to watch real-world work being carried out that will help define and strengthen Alberta's future.
"We thank TD Bank, Alberta Innovates and PrairiesCan for this funding, which will help continue to drive forward the positive momentum achieved so far."
Learn more about MRU's Institute for Innovation and Entrepreneurship's Growth Catalyst and Innovation Accelerator programs.