Dr. Terry Clark brings renewed vision to MRU's Conservatory
With a new director and full suite of fall programming, the Conservatory is hitting all the right notes
Haley Jarmain — Mount Royal University | Posted: August 29, 2022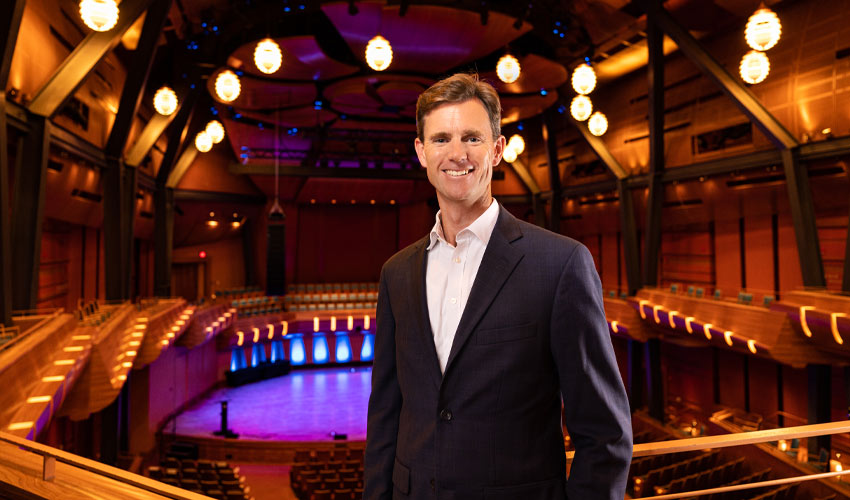 Dr. Terry Clark is looking forward to expanding the presence of the Conservatory not only within the University community, but beyond to see where new connections can be made.
---
The Conservatory at Mount Royal University is thrilled to welcome a new director starting in the fall of 2022.
Dr. Terry Clark comes to MRU from the Centre for Performance Science at the Royal College of Music in London, England, where he has been a Fellow for the past seven years.
No stranger to the Conservatory, having studied and performed there when he was young, Clark's ties to Calgary run deep. His family has been in the city for more than a century.
"My grandfather was a student at the Conservatory in the 1930s. So he played with what was, at the time, called the Mount Royal Baby Symphony. He started cello lessons when he was six and then I grew up playing in the Conservatory," he says, noting the Conservatory has always held an illustrious standing in his mind.
Clark earned his Bachelor of Music in flute performance at the University of Calgary. He then went on to complete his Masters of Music at the University of Western Ontario before obtaining his PhD from the Royal College of Music.
Bringing a wealth of experience and knowledge to the Conservatory, which has been Calgary's premier provider of music and performing arts education since 1911, Clark says he hopes to further elevate its focus on teaching by broadening the musical education already offered and bringing in an interdisciplinary approach.
"We're looking at incorporating things from performance psychology and life skills to addressing health and well-being so we are able to offer more wholistic training and develop more rounded musicians and people," he says, stressing that he wants the Conservatory to be a place where everyone from high-performing musicians to those who just play for fun can enjoy programming and quality education.
Clark brings a unique and distinct expertise in performance psychology, having spent much of his time in London researching the field while teaching undergraduate and master's students. Musical training has always been very technical, according to Clark, but is now starting to concentrate more on mental health and physical well-being.
"That's everything from helping students find ways of managing performance anxiety to developing more effective practise routines," he says.
"Musical training focuses a lot on technique, expecting that if you do enough of that sort of work, when you get on stage in front of everybody everything will just work, not recognizing that the environment on stage is very different and not the same sort of task compared to what is done in the practise room."
On top of teaching, Clark has also studied the benefits of experiential learning. Clark is looking forward to expanding the presence of the Conservatory not only within the University community, but beyond to see where new connections can be made.
Dr. Evan Cortens, interim dean of continuing education at MRU, says Clark's leadership skills will be key.
"I'm really excited about what Terry can do working with instructors and his knowledge of pedagogy from an academic perspective. He's a team builder and is someone who is passionate about what we do in the Conservatory. We couldn't be more thrilled to have him on board."
The Conservatory at MRU is home to more than 125 talented instructors and offers a range of programming for all ages.