MRU expanding micro-credentials with funding boost from province
Peter Glenn — Mount Royal University | Posted: September 27, 2022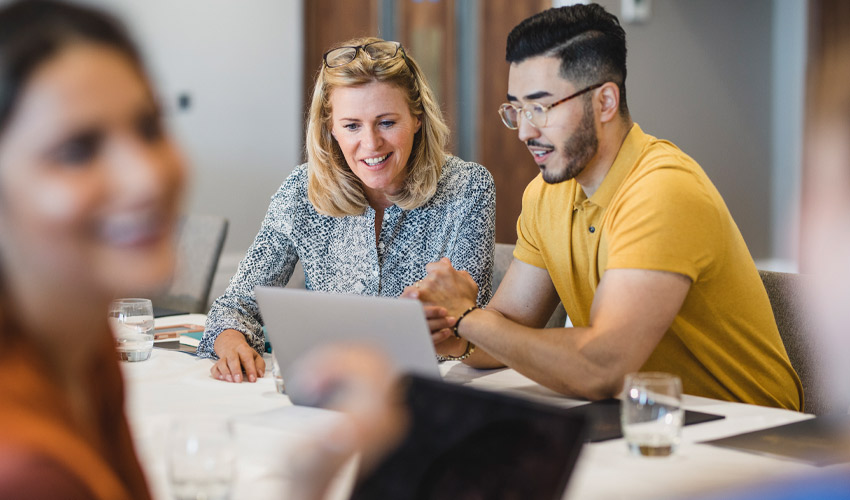 Mount Royal University has received funding to develop three more micro-credentials.
---
Mount Royal University has received funding to develop three new micro-credentials as Alberta continues to expand options for people looking to upgrade their skills or embark on new careers.
As part of the government's Alberta 2030: Building Skills for Jobs initiative, the Ministry of Advanced Education will invest $8 million over the next two years to fund new micro-credential programs. These short-term programs will create new opportunities for unemployed and underemployed Albertans to quickly re-skill or upskill in our changing economy. This will allow Albertans to better meet industry needs, re-enter the workforce and quickly pivot in their careers.
"Micro-credentials empower Albertans to develop the job-ready skills they need to be successful and build new careers, while ensuring employers have access to the talent they need to grow their business," said Demetrios Nicolaides, advanced education minister.
"I'm thrilled we're able to expand this program in a meaningful way that supports our students, post-secondary institutions, employers and industry to secure Alberta's future."
Each micro-credential course comes with a digital badge that can be shared online so employers can verify the achievement. These badges contain secure, embedded data that verifies a credential and that the holder can present as proof of a specific competency or skill. They can be shared on social media, attached to a resumé or added to an email signature. Mount Royal's digital badges are managed and verified through MyCreds.ca, Canada's official credential wallet for post-secondary learners and graduates.
The newly funded programs receiving a total of $235,501 in development funding that will be offered through MRU's Faculty of Continuing Education and Extension are:
Supply Chain Resilience and Scope 3 Reporting: This course will start broadly defining concepts of supply chain resilience, life-cycle analysis and circular economy. Strategic risk assessment tools include scenario analysis, simulation and network analysis.  Vulnerabilities in economic, environmental and social (ESG) activities will be identified and thereby ladder on the existing Mount Royal ESG extension certificate. This course will provide both leaders and supply chain operational staff with an understanding of the strategic and tactical supply chain resiliency issues as well as approaches to effecting change.
Advanced Competencies for Practicing Midwives — Hormonal Contraception: This course will include a four-week practicum that will allow registered midwife learners in Alberta to practice the skills necessary to prescribe, order and administer hormonal contraception. Delivery will be flexible and accessible to prospective learners. The didactic component will be an online course that will provide weekly tutorials on hormonal contraceptive management.
Bridge to Early Learning and Child Care (ELCC): This micro-credential program will include various stand-alone micro-credentials that build on each other and link to discipline-specific topics such as: Introduction to the ELCC Profession in Alberta; Child Development; Working with Families; Professional Program Planning and Practicum. Each micro-credential includes an experiential learning component enabling students to apply theoretical knowledge to professional practice with a strong focus on skills development. Completed micro-credentials and accrued practicum hours can be applied to ELCC certification with the Government of Alberta and may ladder into other diploma and degree programs.
"We are expanding our line of micro-credentials that align with the demands of Alberta's economy," said Dr. Evan Cortens, PhD, interim dean of the Faculty of Continuing Education and Extension. "MRU is well positioned to meet the needs of Albertans looking to enhance their existing skills or pivot to a new job by providing relevant skills training that meet the needs of today's employers."
Mount Royal is already up and running with introducing micro-credentials to its educational mix. In January 2022, continuing education offered its first micro-credentials, three short-term, online courses in the high-demand area of environmental, social and governance (ESG) reporting. The ESG reporting micro-credentials were developed collaboratively between the Faculty of Continuing Education and the Institute for Environmental Sustainability.
Mount Royal's second suite of micro-credentials offer courses in applied machine learning (AML). This subset of artificial intelligence (AI) involves learning computers to act without having to be explicitly programmed. AML has given us self-driving cars, practical speech recognition, effective web search and a vastly improved understanding of the human genome. The four AML micro-credentials deliver hands-on, applied knowledge to position learners to be relevant to the demands of a data-driven business organization and leverage AI technologies. Completing all four micro-credentials earns an Applied Machine Learning Extension Certificate.
Learn more about MRU's Faculty of Continuing Education and Extension.