Professor and student receive Newcomer Recognition Awards
Immigration benefits all sectors of life in Canada
Nadia Moharib — Mount Royal University | Posted: November 1, 2022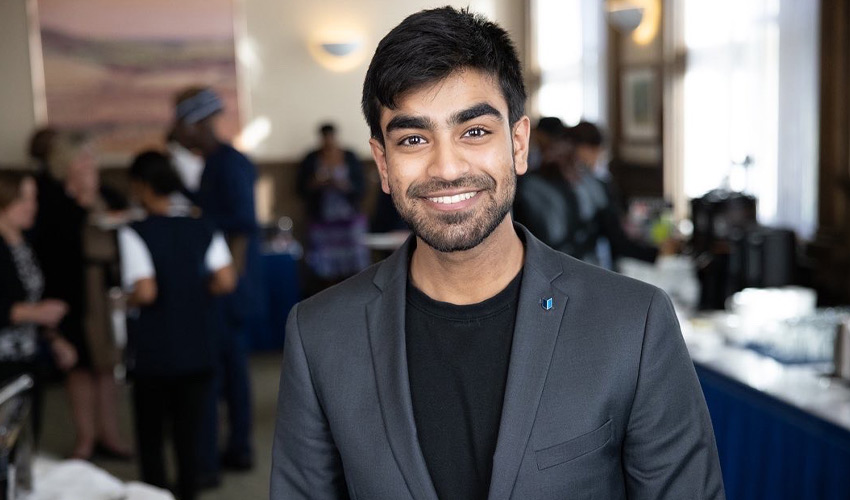 Mount Royal University nursing student, Fawaz Saleem.
---
Fawaz Saleem knows what it is to be in the minority.
So, when he walked into a lab early in his Bachelor of Nursing studies at Mount Royal University to find himself outnumbered again, it wasn't new territory.
"It was me, one other guy, and 20 girls," he says. "I expected it, but it was a little weird."
The India-born, proud Muslim Canadian embraced his minority position as an opportunity to make a difference.
"As long as I can channel that into something proactive in the community, that is all that matters," he says. "And it's not just me. There are other people. Even if I am able to help some of them navigate some of these waters, that is more than enough."
That's exactly what he did.
As president of the MRU Men in Nursing Club, Saleem and a small but mighty group try to help ease other men into a field dominated by women. That kind of faith-based drive to do good secured the 20-year-old a prestigious nod from the province, an Alberta Newcomer Recognition Award, which cites Saleem's contributions to the Muslim student community with the establishment of the Calgary-based Muslim Student Advisory Committee and position as president of MRU's Muslim Students' Affiliation.
The acknowledgement in the Young Leader Award category also commends him for developing a four-week program for the Youth Leadership Academy of Canada promoting ways to increase equity, diversity and inclusion (EDI).
The honour underscores Saleem's ongoing efforts to push for EDI wherever he can. In high school, when attacks on mosques stoked fear among students sharing the same faith, he created the Muslim Club to offer a safe space and foster awareness.
"My parents talked to me and my siblings and said these things will happen. We should not be afraid to be ourselves. That's the reason we came to Canada, to be ourselves and to be Muslim without feeling ostracized," he says.
Professor recognized for work towards inclusivity
Faith Michael Uzoka, PhD, a computer science professor at MRU, also earned an Alberta Newcomer Recognition Award for his long-standing commitment to EDI.
The Nigerian-born's relocation to Canada in 2004 as a postdoctoral fellow was, quite literally, a dream come true that put the purpose-driven professor on a path to help others.
"I'm a person of faith," he says. "A family member came up to me (saying) I saw you in a dream and God says he is sending you to Canada to bless you. This is a divine plan."
Uzoka's work to advance EDI saw him join the team that drafted the first accessibility policy for MRU more than a decade ago.
"What gives me satisfaction is when I am making an impact in the lives of people," Uzoka says, a member of MRU's President's Equity, Diversity and Inclusion Advisory Committee. "And that impact can be within the immediate environment, my community and even impact abroad."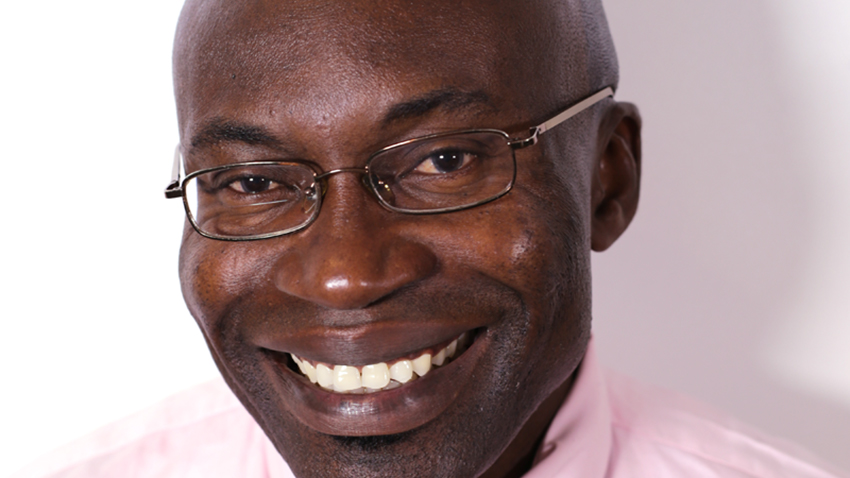 Faith Michael Uzoka is the inaugural chair of the Equity, Diversity, and Inclusion committee in the Faculty of Science and Technology.
---
In 2019, Uzoka received an MRU Research Recognition Award for Community Engagement. After collaborating with a high-school student in Africa, he co-created a smart pill dispenser to increase access to health care and also developed a computer system to help doctors to more quickly and accurately diagnose dangerous tropical diseases.
Recently, along with MRU's president and vice-chancellor Tim Rahilly, PhD, Uzoka was awarded the Queen Elizabeth II's Platinum Jubilee Medal for significant contributions to Alberta.
His Newcomer Recognition Award in the Inclusive Workplaces category applauds efforts to develop a culturally diverse and inclusive workplace for students and employees by advocating individuals in equity-deserving groups be hired and pushing for systemic change.
Uzoka, who is the inaugural chair of the EDI committee in the Faculty of Science and Technology, is proud to be among so many dedicated to the same cause.
"I only happened to be the face of the work so many have been doing on the EDI profile for the university," he says, adding the awards are only impetus to do more. "My belief is that if you are a human being, no matter your personal characteristics, no matter what you believe in, no matter where you are coming from, you deserve to be treated with dignity and deserve to have a level playing field.
"It makes sense to utilize my privilege in making sure people have not only a sense of belonging, but opportunities and the ability to utilize their potential to the fullest and not feel discriminated against and feel a sense of belonging. MRU provides me with a platform to do that."
The benefits of immigation
More than 250 ethnic groups live in Canada and one in four Canadians are a "visible minority."
Esra Ari, PhD, an assistant sociology professor at MRU, never heavily identified as Muslim while growing up in Turkey.
But that changed when she came to Canada more than a decade ago to face rampant assumptions about people from Islamic countries, which made her question her identity and decide to share her story.
"I found it so disturbing, because all Muslim women are generalized … we are not all the same," she says. "I became an advocate. You cannot generalize all women who live in Muslim countries. That is not OK."
Like other immigrants, Ari believes she offers another vantage point.
"I bring perspective," she says. "Immigrants help with creating new ways of learning and looking at life. I am in a position to share ideas. Not just teaching textbook material, but also teaching perspective of life."