Gathering to farewell and welcome across
Provost Chad London, PhD, officially received on to Blackfoot territory
Michelle Bodnar — Mount Royal University | Posted: February 6, 2023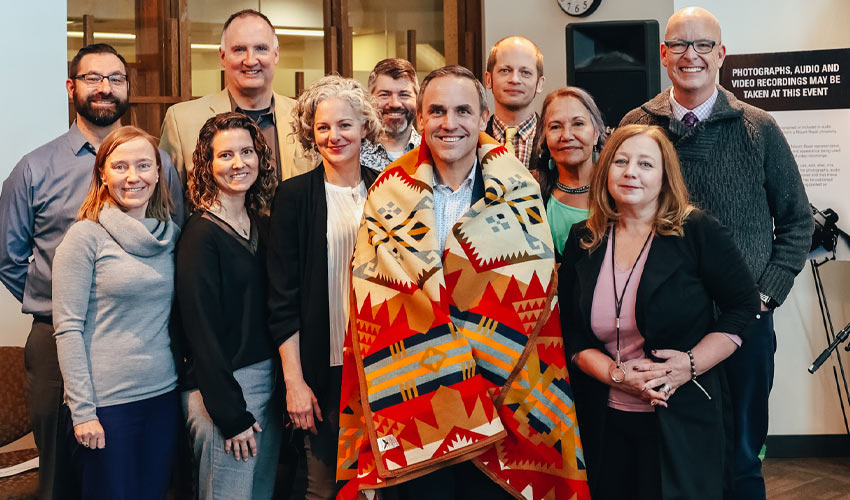 On Feb. 2, members of MRU's Dean's Council and the office of Indigenization and decolonization, as well as former colleagues from the University of Saskatchewan, gathered around provost and vice-president, Academic, Chad London, PhD, in person and virtually, as he was "sent" from USask and "received" by Mount Royal through a common Blackfoot practice called "capturing."
---
Feb. 2 marked a poignant end to provost and vice-president, Academic, Chad London, PhD's, first month at Mount Royal University.
London, members of the Dean's Council and MRU's associate vice-president of Indigenization and decolonization dr. linda manyguns, phd, took part in a common Blackfoot practice called "capturing."
A sending ceremony was kindly suggested by the University of Saskatchewan's provost and vice-president, Academic, Dr. Airini, which officially "sent" London from his previous position as dean of the College of Kinesiology at USask to be "received" at his current position of provost at MRU.
Members of the USask community joined in the proceedings via video feed from Saskatoon. Dr. Airini, who is of New Zealand Indigenous (Samoan) descent, said, "In times past and in these times, we have recognized when a community welcomes in newcomers, and when community members depart. This is because relationships are made, matter and endure, beyond where we are located geographically or institutionally.
"This gathering is to recognize that Dr. Chad London has been a member of the USask community and is now entering another community — no longer physically in Saskatoon, and yet continuing to be cherished. He may appear to be one, and yet he is surrounded by many."
Gerald Auger (Woodland Cree, Sakāwithiniwak) provided the opening prayer in his language, following in English to say that he had asked for London to be able to find the success that he needs "so that our children, and our children's children, can walk in a world filled with love, kindness and compassion."
During the ceremony, London was "captured" in the Blackfoot way and carried by members of the Provost's Council on a blanket gifted to him through the office of Indigenization and decolonization. He was ceremoniously wrapped in the blanket afterwards, which is fittingly named "Journey West," and welcomed into Blackfoot territory.
"the indigenous culture is intricately woven together by the relationships we create and know," said manyguns. "the blanket will wrap chad with care and love so he can take care of the tasks that take care of us. he is welcomed, and greeted with respect and kindness. the ceremony honours us, and the relationships we now have with the university of saskatchewan.
London is very familiar with Mount Royal following almost two decades of experience working at the University in a variety of roles, including as dean of the Faculty of Health, Community and Education from 2011 to 2016, before taking his position at USask.
In thanks to USask, Dr. Airini was also gifted a blanket "to recognize and show our sincerity," manyguns said.
Dr. Airini spoke of London's impact on USask, describing him as an exceptional leader who assisted in growing Indigenous enrolment in the College of Kinesiology by 33 per cent, bolstering research and the number of Tri-agency grants received, helping to raise more than $51 million for a new sports complex, assisting international students in financing their education and establishing a successful donor-funded lecture series that has featured international experts on various kinesiology-related topics.
London's greatest gift lies in his ability to create meaningful connections, especially with students, faculty and the community, Dr. Airini said, and that she has great confidence that he will bring those skills with him to MRU.
Visibly moved by the ceremony, London said he had experienced a wave of emotions that was particularly humbling. Calling Dr. Airini an "amazing mentor" and "so wise," London said he is grateful for the kindness shown to him from the USask and MRU communities in making his successful transition.
"There's a metaphor there for those who carried me as I was 'captured.' I think I may need to be carried on many occasions going forward, and I appreciate you for being willing to do that."
Mount Royal's president and vice-chancellor, Tim Rahilly, PhD, remarked that he was "rather taken" with the ceremony and "the notion of graciously sending and receiving is a lesson that we at MRU and all can learn.
"We acknowledge that (London) is no longer physically present at the University of Saskatchewan, however I don't think that we have to categorize that as loss. I think that it's an opportunity to enhance collaboration, to share in knowledge and traditions, and I'm sure our respective organizations will benefit in this transfer," Rahilly said.
The ceremony is about transitions, which we all go through in life, London said.
"I can't think of a more rewarding and meaningful way to make this transition than this ceremony, an Indigenous ceremony incorporating Indigenous ways of knowing and Indigenous ways of doing. My heart is full of gratitude because of that," London said, and that he would be going home to journal to try to capture the moment.
As universities work to hold up each other in education, "In this way we recognize community, communities and relationships. We build new relationships, and we offer respect to one another. We look after one another in good ways," Dr. Airini said.
Mount Royal's office of Indigenization and decolonization's purpose is to promote truthful education that eradicates misinformation.