Authenticity, integrity and excellence
MRU's 2023 honorary doctorate recipients announced
Betty Rice — Mount Royal University | Posted: May 15, 2023 | Lasted updated: May 31, 2023
Convocation ceremonies are steeped in tradition and protocol, from the gowns, mortarboards, sashes and other regalia worn by participants to the music played during the conferral of degrees. Honorary degrees, for example, date back to the Middle Ages and are often accompanied by the Latin words "honoris causa," which means "for honourific reasons." They are the highest honour Mount Royal University is able to bestow.
"MRU's Honorary Doctors of Laws recipients have achieved great things in their fields and are leaders and builders who have given back to their communities. It is our pleasure to recognize their outstanding service, extraordinary standard of excellence in their work and contributions towards the betterment of society," says MRU president and vice-chancellor Tim Rahilly, PhD.
"These exceptional individuals bring honour to the University and we look forward to the words of wisdom they will impart upon our graduating classes during our Convocation ceremonies."
Mount Royal University's vision is, "opening minds and changing lives," which is reflected in all honorary degree recipients. They provide leadership and inspiration as MRU's newest alumni begin the next chapter of their lives.
Wednesday, May 31 at 10 a.m.
Faculty of Business and Communication Studies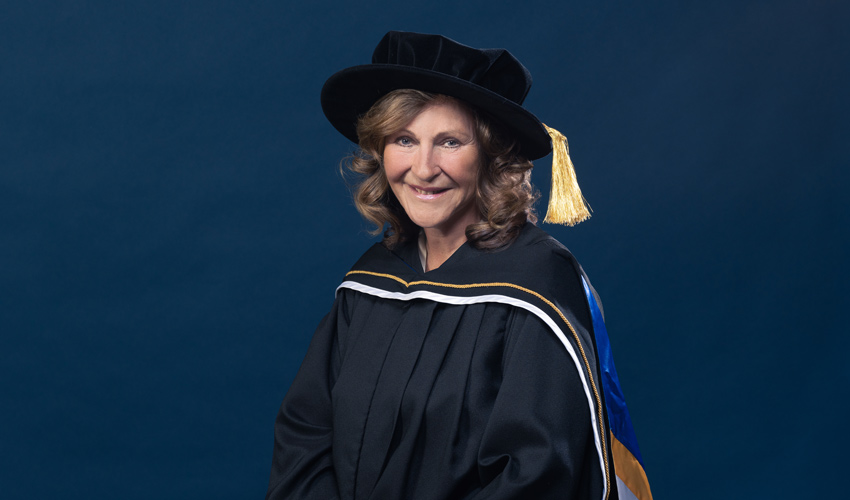 Compassion. Courage. Respect. Reconciliation.
These words describe Nancy Southern and her commitment to responsible leadership.
Born and raised in Calgary, Southern attended Mount Royal and the University of Calgary before joining her family's business as a member of its Board of Directors. Today she is chair and CEO of ATCO Ltd., which was started in 1947 by her father, Ron Southern, and is a globally recognized Canadian business leader.
A member of numerous councils and organizations, both in Canada and around the world, Southern's business acumen and leadership abilities led to her being named to Fortune's list of the "50 Most Powerful Women" outside the United States in 2016. In 2022, she was awarded the Business Leader Lifetime Achievement Award from the Canadian Chamber of Commerce.
Yet it is her personal commitment to education, equity and social issues that sets Southern apart. Recognizing the critical role post-secondary institutions play in social innovation and moving today's society forward, ATCO regularly engages students through MRU's Career Services' work-integrated learning programs and currently employs more than 150 MRU graduates.
Believing that the value of a team is greater than the power of the individual, Southern is committed to inclusive leadership. In 2021, under her guidance, ATCO established its Indigenous Advisory Board, creating action and consultation for the company's foundational commitment to build and sustain world-wide relationships with Indigenous Peoples.
Wednesday, May 31 at 2 p.m.
Faculty of Business and Communication Studies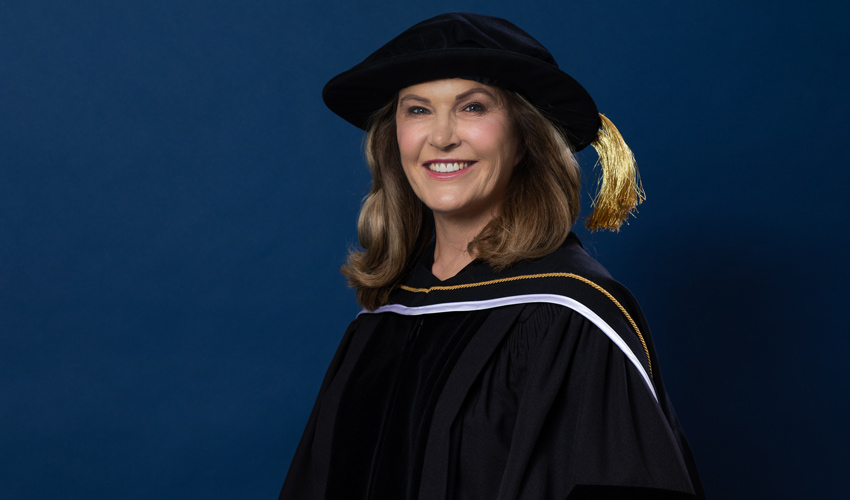 There is a strong correlation between being a successful leader in business and the time and energy that person gives in support of their community.
Such is the case with Leslie O'Donoghue. Currently a corporate director with DYE & Durham, and a longtime independent director with Pembina Pipeline Corporation, O'Donoghue has held many senior corporate positions, including leading business development and strategy as a partner with the law firm of Blake, Cassels & Graydon LLP.
Acknowledged — four times — as a Top 100 Most Powerful Women by Canada's Women's Executive Network, O'Donoghue has been elevated to the Network's Hall of Fame. Additionally, she has received the Distinguished Business Leader Award (University of Calgary/Calgary Chamber of Commerce), the Johnson Award (Queen's University), and been listed as one of the Top 25 Most Influential Lawyers in Canada (Canadian Lawyer Magazine).
With a well-earned reputation as an advocate for women in business, while acting as an executive vice-president at Agrium, O'Donoghue formed a Women's Inclusion Network to provide mentoring, networking and developmental opportunities.
She is also a dedicated volunteer with the United Way of Calgary and Area, including chairing the Calgary campaign.
O'Donoghue's philosophy is simple: a leader has the responsibility to give back and to inspire the next generation. Doing so, she says, helps society and makes individuals more empathetic and grateful in the process.
Thursday, June 1 at 10 a.m.
Faculty of Health, Community and Education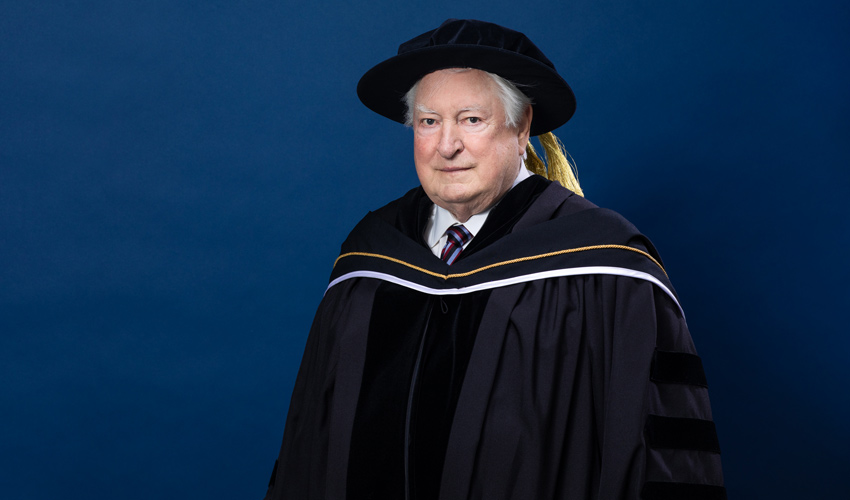 As president of Mount Royal College from 1980 to 1989, Dr. Donald Noel Baker, PhD, led Mount Royal through a critical period in its history — a time when radical change was necessary to meet financial challenges. His leadership is often credited as the catalyst that eventually led to Mount Royal's transition from a college to a university in 2009. He is the author of Catch the Gleam: Mount Royal, from College to University, 1910-2009, a comprehensive institutional history that can be downloaded without cost from the University of Calgary Press.
In 2001, Baker was appointed executive director of Ontario's Post-Secondary Education Quality Assessment Board, a then-new agency responsible for assessing proposals for degree programs and universities. That led to invitations to undertake projects in the Middle East. After stepping down as executive director, Baker served in various senior administrative or management consulting roles in the United Arab Emirates and Qatar. His history of Qatar University, the first history of a Gulf national university, will appear later this year.
Baker has received several honours, including an Honorary Diploma in Art and Science from Mount Royal College, an Honorary Bachelor of Applied Studies from Humber College and an Alberta Centennial Medal.
Baker remains connected to MRU through the Donald and Heather Baker Scholarship, established in 1989, which supports Bachelor of Arts students majoring in history.
Thursday, June 1 at 2 p.m.
Faculty of Continuing Education and Extension
School of Nursing and Midwifery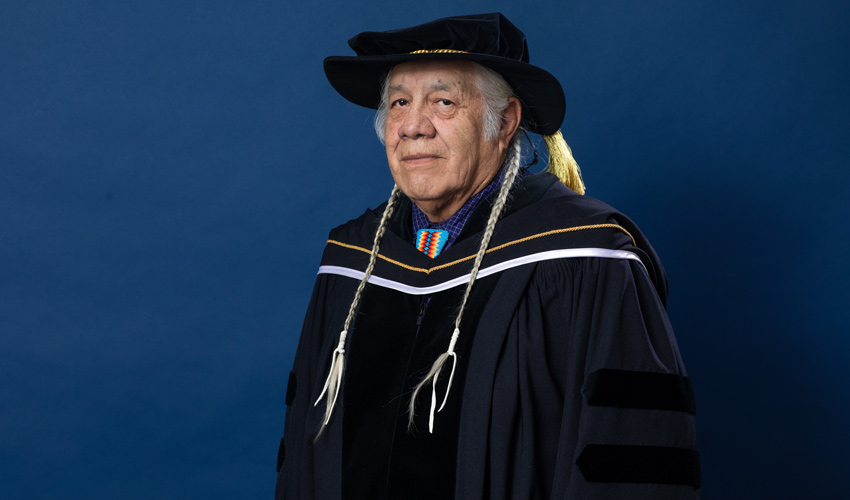 Dit'oni Didlishi (Spotted Eagle) Bruce Starlight is an Elder of the Tsuut'ina Nation and one of the last fluent Tsuut'ina speakers. He has served in many capacities. As a student of, and teacher, mentor and advisor to Mount Royal, Starlight has played a major role in the amiable relationship between Tsuut'ina Nation and MRU. A well-known advocate of cross-cultural awareness, he is a member of MRU's Traditional Thinkers Advisory Council for the Office of Indigenization and Decolonization.
In 2022, Starlight and his family gifted a tipi and tipi knowledge to MRU and share that knowledge with schools.
Having to leave high school due to his father's passing to support his mom and siblings, Starlight upgraded his learning later in life and enrolled in linguistics at the University of Calgary. Making a career of his knowledge, in 2008 Starlight started the Tsuut'ina Gunaha Institute to preserve his beloved language and served as the Tsuut'ina language commissioner until his retirement in 2022.
In 2019, he was presented with an Honorary High School Diploma from Henry Wisewood High School.
The first elected Indigenous director of the Calgary Stampede Board of Directors after serving as the first Indian Events Committee chairman, in 2005 Starlight was one of 100 people in Alberta to receive a Citizen of the Century Award. He is also an advisor to the worldwide Planet Youth movement.
Friday, June 2 at 10 a.m.
Faculty of Arts
Faculty of Science and Technology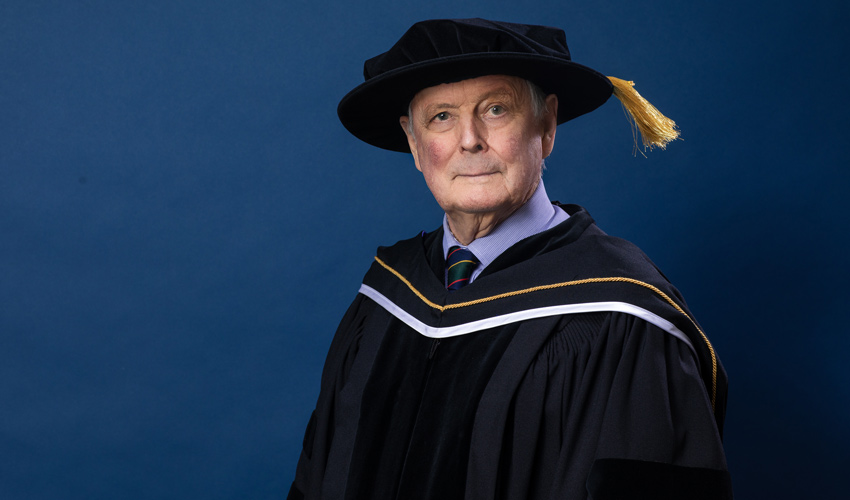 It's quite a journey from Mount Royal classrooms to the highest ranks of Canada's military and diplomatic corps, but Gen. John de Chastelain isn't one to shy away from a challenge.
After immigrating to Canada from Scotland as a teenager, de Chastelain enrolled at the original Mount Royal College location in downtown Calgary. In short order, he enlisted as a private with the Calgary Highlanders before transferring to the full-time Canadian Armed Forces. Over the years, he steadily climbed the ranks, until 1989 when he was both promoted to general and appointed chief of Canada's Defence Staff. He held that position until 1996, save for a period when he served as Canada's ambassador to the United States, a post usually reserved for high-ranking diplomats.
In April 1998, de Chastelain was involved in assisting to accomplish the passage of the Good Friday Agreement, which put an end to sectarian violence in Northern Ireland. He then spent the next fifteen years helping to implement that agreement, including supervising the decommissioning of paramilitary arms.
de Chastelain keeps his ties to MRU alive through serving as the honorary chairman of the Military Memorial Bursary Program, which honours sacrifices made by fallen members of our Mount Royal family. He is also a former national vice-president of Scouts Canada and was an honorary director for the Canada Ireland Foundation.
Friday, June 2 at 2 p.m.
Faculty of Arts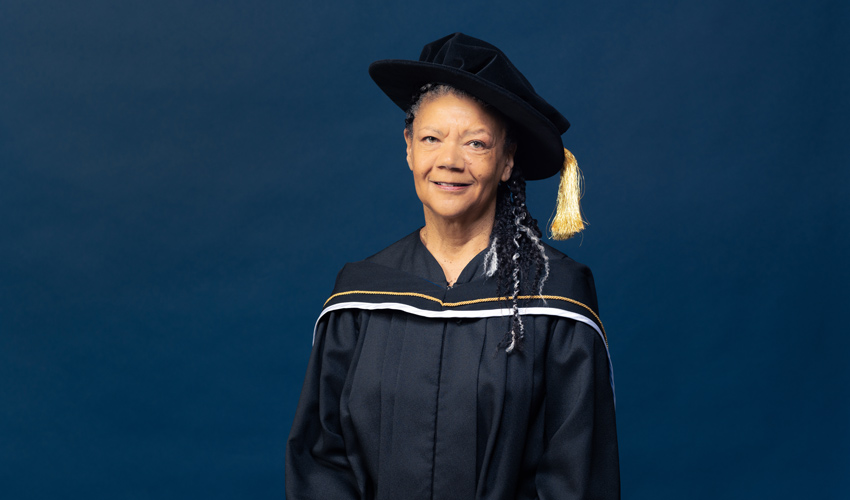 Cheryl Foggo is a noted author, researcher, journalist, playwright and filmmaker whose work and career have focused on sharing the stories of her ancestors and others in Alberta and the prairies' early days.
A Calgarian whose family roots connect to the Black pioneers who came to the province in the early 20th century, Foggo has celebrated Black and mixed-race Canadians through her novels, films, plays and editorial and public-speaking work.
Nationally recognized and the recipient of more than a dozen awards, Foggo is perhaps best known for her efforts to highlight the contributions and challenges faced by early Black residents in Alberta. She has also produced autobiographical works and children's books, using history as an anchor for present themes. In a recent project connecting the past and present, Foggo wrote and directed the documentary John Ware Reclaimed, retelling the story of the legendary horseman and rancher who settled in Alberta in 1882.
Foggo is the recipient of the Harry Jerome Award for the Arts (2008), the Lieutenant Governor of Alberta Distinguished Artist Award (2021) and the Queen Elizabeth II's Platinum Jubilee Medal (Alberta, 2022). She also received the Alberta Order of Excellence in 2022.
Foggo volunteers for multiple organizations, is an advocate for writers and artists and an active mentor and lecturer. In 2020, she was the keynote speaker at MRU's Equity in Education event.
Mount Royal University's 2023 Convocation ceremonies take place from May 31 to June 2.