MRU and UCalgary collaborate on SoTL speaker series
Exploring different topics and issues within the teaching and learning context
Haley Jarmain — Mount Royal University | Posted: May 5, 2023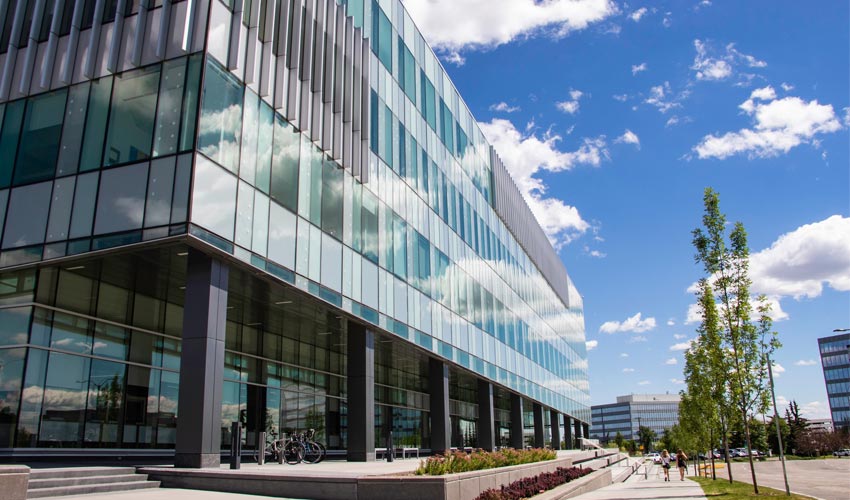 The Mokakiiks Centre for Scholarship of Teaching and Learning is a research centre at Mount Royal University located in the Riddell Library and Learning Centre.
---
The Mokakiiks Centre for SoTL (Scholarship of Teaching and Learning) at Mount Royal has partnered with the University of Calgary's Taylor Institute For Teaching and Learning to bring forward a speaker series meant to push the boundaries of conversation about key ideas in SoTL.
For those who are not familiar with SoTL, it's still a relatively young field of research. It consists of systematic inquiry into teaching and learning in the context of higher education aimed at enhancing practices for student learning. Every year, MRU holds the Celebrate! Teaching and Learning event in support of the discipline.
"It's a field that is interdisciplinary and inherently all about application. It contributes to and draws upon theory and data to find ways to be better teachers," says Dr. Cherie Woolmer PhD, assistant professor and MRU's Canada Research Chair in SoTL.
The collaboration between MRU and UCalgary came about through Woolmer, Dr. Michelle Yeo PhD, professor and director of the Mokakiiks Centre, and Dr. Heather Jamniczky, academic lead for teaching and learning research at the Taylor Institute. The trio wanted to look for areas where faculty at both universities might benefit from coming together to explore common interests in SoTL.
"We're two very different institutions but we wanted to explore things we might be able to do in collaboration for faculty of both schools who are interested in critical conversations about SoTL," Woolmer explains.
She says they landed on the idea of hosting the speaker series, called Brave Conversations in SoTL, to push the envelope and bring up some of the more complicated and contested topics that come up in higher education, such as social-justice issues and how they affect the field of SoTL.
"We wanted to come up with a way to ask provocative questions, and, more importantly, bring in voices that offer different theoretical frameworks to help understand working in partnership with students to improve teaching and learning," Woolmer says, noting there's a huge benefit to hearing new and different insights.
The series of three virtual conversations launched in February 2023, and covered a wide range of relevant topics with a focus on student-faculty partnerships.
Woolmer hosted the first talk, setting the tone for what the series would entail.
"It really aimed to set the scene for how this way of working with students needs to be framed as a political act within the academy, ultimately trying to highlight that if we are going to work in partnership with students we need to disrupt hierarchies of conversations and decision making about teaching and learning."
The second speaker series featured two presentations, one from Dr. David Hornsby, PhD, associate vice-president (teaching and learning) professor in Carleton University's Norman Paterson School of International Affairs. The second presentation featured Maisha Islam, research culture lead (equity, diversity and inclusion) at the University of Southampton's Doctoral College. Islam is also studying for a professional doctorate in education.
The third and final installment of the series featured Dr. Julia Rattray, PhD, professor in higher education at Durham University in the U.K., and Sophia Abbot, a doctoral student in the higher education program at George Mason University in Virginia who also works as a graduate assistant in Mason's Stearns Centre for Teaching and Learning.
Woolmer says it was important to include both national and international perspectives in the series to offer a broader perspective.
"In the field of SoTL specifically, a lot of research is very context bound, whether it's in the classroom or within the institution, so I think there is real benefit from hearing from people who are in different contexts," Woolmer says. "You get to understand some of these more abstract issues like working in partnership through hearing about different contexts, different positions and different approaches."
This also highlights the work both Mount Royal and UCalgary are doing in the field of SoTL to other post-secondary institutions and leaders in the field.
Woolmer and others involved in working on this series are hopeful that more conversations and events like this will happen in the future, covering even more topics and issues.
SoTL researchers at MRU and UCalgary are invited to join the inaugural SoTL spring networking event on May 11. More details and a registration link can be found here.