Convocation 2023: There is always another phase in life
Compiled by Erin Guiltenane — Mount Royal University | Posted: May 29, 2023 | Lasted updated: June 1, 2023
Marc Hamoline
Funeral Director Certificate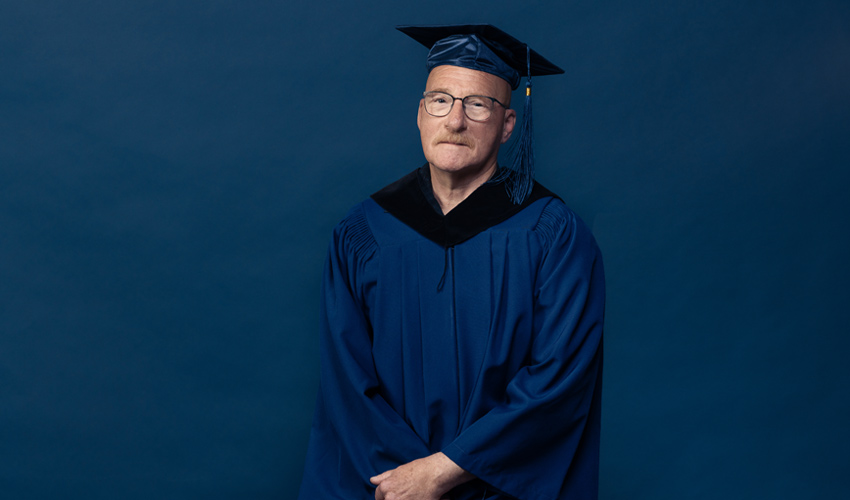 After spending years serving in fire and EMS/emergency management in Saskatchewan and Healthcare Protective Services in Alberta, Marc Hamoline returned to school to move into the next phase of his career. Hamoline's special combination of life and career experiences inspired him to continue learning and continue helping others as they navigate through difficult and emotional times. He graduated from Mount Royal with a Funeral Director Certificate during the 2023 Convocation ceremonies.
What was your most memorable MRU experience?
I would have to say that my most memorable experience was the guidance of the instructors within the funeral director program. I had the great pleasure and opportunity of meeting and getting to know them throughout my courses. Learning from their professional experiences gave me a better understanding of the funeral profession.
What was it like returning to school after already having worked in a career?
Honestly, it sure felt different after being out of school since 1973. Returning to school in my early '60s was a learning experience of its own. Going back to my early days where I grew up on our family farm in Saskatchewan, I had learned a lot of trades from farming operations and the automotive body-repair industry. I then moved forward into fire/EMS and emergency disaster organizations within Saskatchewan.
In 1999, I moved to Alberta, where I had the opportunity to establish a career within the Calgary Health Region/Alberta Health Services in the health-care protective services sector as a community peace officer. I retired from that role in 2021, and then moved on into the funeral profession.
What advice would you give to someone considering going back to school after working for a number of years?
I would tell them to go with their heart in what they truly want to achieve in life. If it means going back to school for a better education and knowledge, then it's well worth it.
Was there someone specific who made an impact on you during your studies?
Yes, there were two of my instructors who both made a great impact on me. One being my Funeral Directing 1 and Funeral Trends instructor David Root, and the other being my Funeral Director 3 instructor Lindsey Wharmby.
"Going back to school for a better education is well worth it."

Marc Hamoline
What was the biggest obstacle you had to overcome during your time in university?
I would honestly say that there were two areas of obstacles. One was essay writing and the other was completing final exams in a timely manner while under camera video monitoring. I had real issues within these two areas at the start of my schooling and courses, but as time continued on throughout all the courses within the funeral director program I had managed to overcome these difficulties with the guidance of great instructors.
What do you consider to be your greatest achievement?
My greatest achievement is that, even at my present age of 66 years, I followed my heart, goal and dream in becoming a funeral director. In going back to school in order to accomplish it, I have a better understanding of the funeral industry and was able to get immediate employment with Pierson's Funeral Services — a top family-owned-and-operated funeral home within the city of Calgary.
What are your plans for the future?
My plans are to remain and grow within Pierson's Funeral Services, as well as expand my education by taking the funeral celebrant courses to be included within my funeral director position.
MRU grads are helping shape the future here in Calgary and across the country. We invite you to join us in celebrating the unique combination of confidence, vulnerability and boldness that goes into the university student experience and read our profiles of exceptional students from the Class of 2023.
A note for soon-to-be MRU alumni! As you prepare to transition from student life, we encourage you to check out our Alumni Hub — custom-built to inform you about the programs, benefits and services available to you as a member of the MRU alumni community.