MRU study lowers temperature on mask politics
Team finds impacts of medical barriers limited and temporary
Peter Glenn — Mount Royal University | Posted: September 19, 2023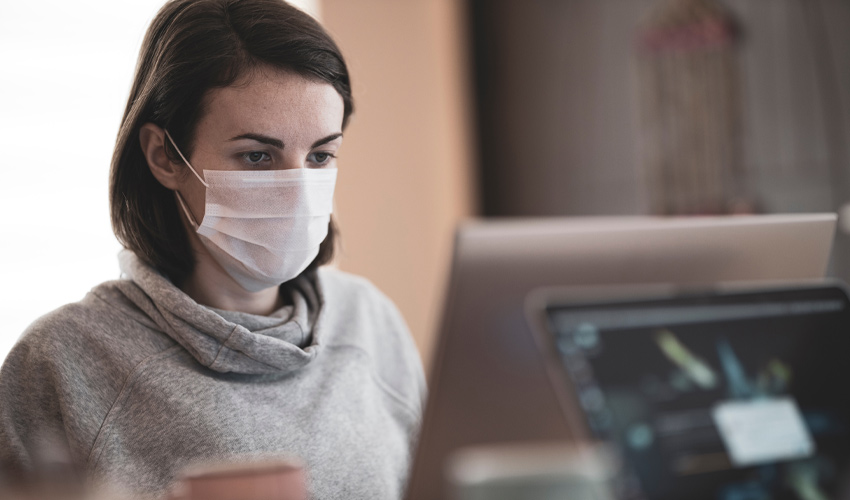 Masks were a valuable tool against COVID-19, but their use became highly politicized during the pandemic.
---
While masks became a key component of the battle against COVID-19, they also became a political symbol and were subject to anecdotal reports of physiological effects.
As we head towards fall and potentially another uptick in respiratory infections, a study by Mount Royal University physiology professor Dr. Trevor Day, PhD, and his team dispels some of those concerns, finding that the length and magnitude of changes encountered by people wearing masks, including surgical masks and N95 respirators, the result of heat trapping and rebreathing expired air, were mild, not physiologically relevant, equivalent between barrier types, and immediately reversible on removal.
Day is well known for research into stressors that affect blood gases, and the physiological responses to blood gas challenges, like high or low carbon dioxide (CO2), and low oxygen (O2; hypoxia; at high altitude for example, so when masks became a key part of the pandemic, it seemed a natural topic to tackle.
"The pandemic had started and mask mandates were emerging. (Calgary physician and CBC radio columnist) Dr. Raj Bhardwaj  did a piece on medical barriers on CBC radio, and I talked to him afterwards, and given that little work had been done on the topic at the time, and the topic was in my wheelhouse, we decided to collaborate," said Day.
The researchers sought to investigate the physiological responses to wearing two types of common medical barriers, surgical masks and N95 respirators, at rest over 60 minutes.
"We found that the effects were mild, not physiologically or clinically meaningful, and washed out immediately upon removal of the barrier," says Day.
Specifically, the researchers found that the face area under the mask gets hotter than normal, as expected, and the effects of exhaled CO2 (a little higher) and exhaled O2 (a little lower) are very mild, and similar between barrier types. Blood oxygen saturation was also unchanged. The values after wearing the barriers for an hour were all within normal ranges.
The researchers also compared these barriers during low intensity treadmill exercise to better simulate use of masks in a work setting, and found the effects are also mild and reversible. These findings have not yet been published but Day said their reading of the literature also suggests that mask use in occupational settings is safe, and the effects are limited.
Award winning article
The team was thrilled to have the article accepted for publication in the Journal of Applied Physiology (JAPPL), a journal facilitated by the American Physiological Society (APS). However, it was initially challenging to find a home for it, because the clinical or occupational  journals they tried saw it as applied physiology, and the physiology journals they approached saw it as concerning occupational health.
"We tried to make this the most comprehensive study to date on the topic of physiological effects of medical barriers, and one anonymous reviewer thought this was the case. This is the first study we know of to compare the effects of surgical masks and N95 respirators at rest," says Day.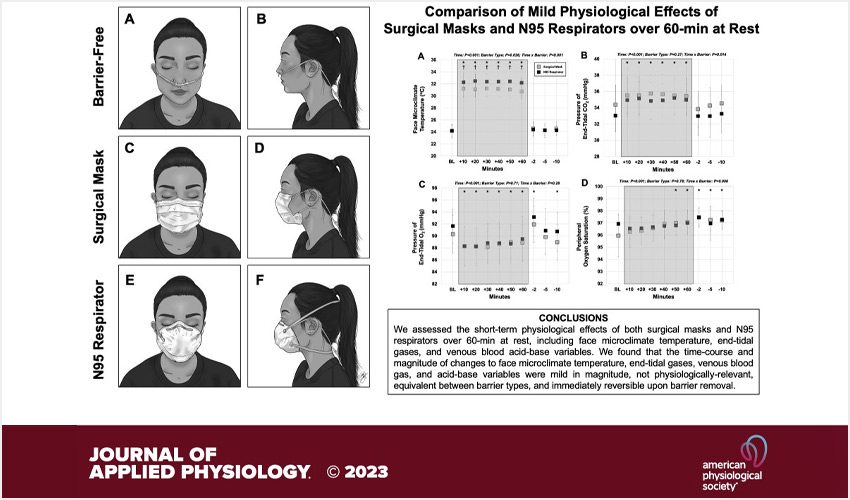 An MRU study looked at the physiological effects of masks and respirators.
---
The article received the American Physiological Society Select Award for July 2023, an award showcasing the best recently published articles in physiology research.
"It's always gratifying and validating when peers from professional societies select your work for recognition, especially after the long process of getting the study published."
Student involvement
Day's research program has the training of students at its core, and he stresses he couldn't do his work without them, calling working with students on research the most rewarding part of his job.
In fact, the first listed authors, Valerie Cates, Anthony Marullo, Rodion Isakovich and Jordan Bird, were all MRU students that helped with data collection, analysis and writing. There were also a number of other MRU students that volunteered to help with data collection, but didn't meet the threshold for authorship, but were acknowledged in the paper for their help. A number of clinicians who volunteered on their own time to help with blood draws are listed as co-authors.
Cates is now an M.Sc. student at the University of Calgary, Marullo is a Ph.D. student at the University of Cork, Ireland, Isakovich just started medical school at the University of Calgary, and Bird just defended his M.Sc. thesis at the University of British Columbia Okanagan, and is starting a CIHR funded PhD program at the University of British Columbia in Vancouver. Cates also lent her artistic expertise to create a schematic of the study's participant instrumentation for the paper.
Lowering the temperature on mask politics
While masks were valuable tool against COVID, their use became highly politicized during the pandemic. While the researchers support their use for the protection against respiratory infections, not just during pandemics, Day says they made every effort to take a fair-minded and objective approach to assessing the physiological effects of wearing medical barriers at rest and during exercise.
"We think this study accomplishes that," says Day. "We think our findings can both explain the mild anecdotal symptoms some people experience, while reassuring everyone that their use is safe, and the effects are mild and reversible. Wearers can simply remove the mask for a period of time if the symptoms become uncomfortable, but they aren't dangerous in healthy people."
"We hope the use of barriers in any context can become less politicized and stigmatized, and their use can become more accepted and normalized in all contexts, not just in hospitals or in public during pandemics, for the protection of people from respiratory infections of all kinds."
Marullo recalls that during the research, the world was in the midst of the pandemic , a novel and frightening period of time.
"People were seeking answers from anywhere and everywhere and a lot of that information was incorrect and creating potentially harmful situations,"  he says.  "Our study took one of those misconceptions and showed that wearing masks was not harmful to the individual. While the integrative implications of wearing a mask are complex, the story is simple, wearing a mask is not harmful to you and can help others."
Bird emphasizes that changes the team did find "were not physiologically relevant and immediately reversible upon removal of the mask. It demonstrates that while there may be an outcry from some that masks cause harm, that really does not appear to be the case from a blood gas perspective."
The study was funded in part by an Natural Sciences and Engineering Research Council of Canada Discovery grant, with support from the MRU Faculty of Science and Technology and MRU EH&S, and an MRU sabbatical (in Winter semester 2021).
Day said he is  particularly grateful to participants for their time and effort in supporting the study; Melissa Cruz, Stuart Elle, and Rob Siklodi for laboratory support, technical assistance, safety guidance, and personal protective equipment (PPE) supplies; and  Mount Royal University (MRU) Department of Biology, Faculty of Science and Technology and MRU Occupational Health and Safety for laboratory space, equipment, and PPE supplies, and well as MRU HREB for approving our study in advance.
Read more about the Faculty of Science and Technology at MRU.