From MRU to the NBA
Alumnus Noah Lewis' journey working in sport
March 28, 2022
The Wayne and Theresa Embry Fellowship provides two Canadians the opportunity to gain firsthand experience in a professional basketball operations environment. Video by the Toronto Raptors.
---
A deep-seated passion for sport has taken Mount Royal University alumnus Noah Lewis, Bachelor of Health and Physical Education — Physical Literacy (2018), from being captain of the Cougars' men's basketball team to working among some of the top athletes, coaches and trainers in the NBA through a once-in-a-lifetime mentorship opportunity with the Toronto Raptors.
Knowing he wanted to merge his undergraduate education with varsity-level basketball, Lewis had a few offers on the table. He says the positive impressions he got from MRU are what ultimately sealed the deal. "I'm a firm believer in finding the place that fits you, and from my first visit I got a really great feeling from the team and Mount Royal as a whole."
Although he started out his studies in the sciences, Lewis later switched into the physical literacy program. Offering a combination of sport, leadership, biomechanics, anatomy and physiology, he says physical literacy was the perfect fit for his future goal of working in sport.
A program highlight for Lewis was taking adapted physical education courses with Professor David Legg, PhD. Inspired by what he was learning to get more involved in the community, Lewis volunteered his time as a respite care worker and used sport to connect with young adults with disabilities.
"Adaptive sports athletes have a different set of parameters that you need to work around. There's a lot of critical thinking involved, you have to get creative and problem solve," Lewis explains. "That was my most enriching and meaningful work experience."
When not studying or volunteering, Lewis' time was dedicated to basketball. He played as a guard on the Cougars' men's basketball team throughout his time at MRU, including three seasons as team captain.
In recognition of his hard work in the classroom, out in the community and on the court, Lewis was named a five-time U SPORTS Academic All-Canadian (awarded to varsity athletes with a GPA over 3.5), two-time Top Academic MRU Varsity Athlete, 2017 recipient of MRU's Leadership and Community Service Award (given to a varsity athlete with the most community service volunteer hours) and 2018 recipient of MRU's Brian Fleming Award, which goes to a varsity athlete based on athletic performance, academic achievement, and leadership and community involvement).
When asked what advice he would give future student athletes, Lewis says being proactive is key. "Get important dates of everything in advance — sport, academic or otherwise — and plan your schedule accordingly." He adds that taking advantage of MRU's smaller class sizes and getting to know your professors can also have a positive impact.
"Small class sizes were something I truly valued throughout my education. I made a lot of connections with professors, and that also helped me when applying for my master's program and jobs," Lewis says.
It was through conversations with some of his professors that Lewis chose to pursue his Master of Science in sport business and leadership at Loughborough University in London, England, the top-ranked university in the world for sports research. The program focused on leadership in sport and gave Lewis the opportunity to dive into the heart of soccer culture through work with Westham United Football Club.
"Seeing sport through a different lens was really beneficial. It was a great addition to my physical literacy background," he says.
A return to MRU
Returning to Canada, and more confident than ever in his choice to pursue a career in sport, Lewis applied for the Wayne and Theresa Embry Fellowship. Run through the Toronto Raptors, the program provides two Canadians the unique opportunity to spend a year gaining first-hand experience working in a professional basketball operations environment. The fellowship consists of mentor-led rotations to provide growth and experience in all facets of an NBA basketball team, including coaching, scouting, team services, player development, medical, financial, equipment, travel and G-League.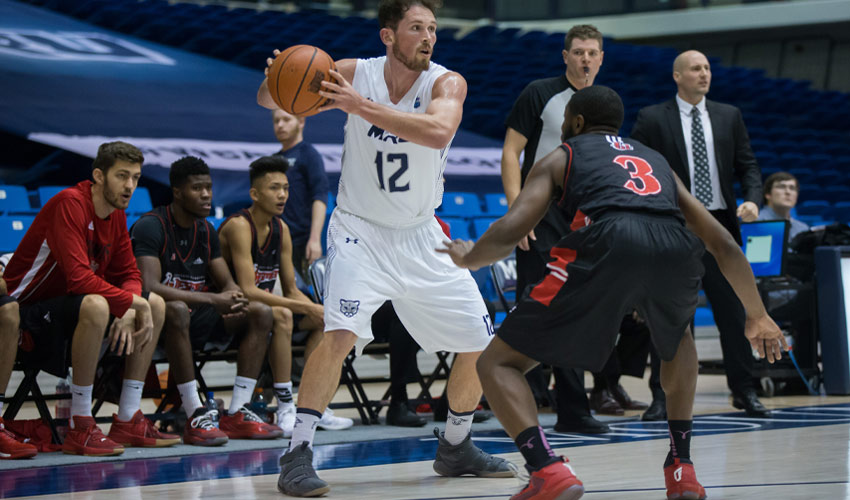 Playing on the MRU Cougars men's basketball team and later returning to the team as assistant coach were two experiences that helped Physical Literacy alumnus Noah Lewis on his journey to being selected for the Wayne and Theresa Embry Fellowship with the Toronto Raptors.
---
The first time Lewis applied, he was flown out and interviewed in Toronto as a finalist. Although he wasn't selected as the fellow that year, he was given valuable feedback about gaining more hands-on experience to increase his chances. Following this advice, Lewis returned to his MRU basketball roots, this time as an assistant coach.
"It was a great opportunity for me to transition from being a player to better understanding the coaching side of things," he says.
Applying again, this time with more experience, Lewis was selected as the 2020/21 fellow. With his start date delayed a year due to COVID-19, he is currently two-thirds of the way through what he refers to as "a masterclass introduction to working in the NBA." Every day of the fellowship is different, and Lewis says pulling from his past experience, education and mentorship advice has allowed him to execute the work with confidence.
"I still utilize much of what I learned at Mount Royal to this day. For example, when I'm working in the weight room with athletes here in Toronto, I'll apply a lot of the principles I learned in my physical literacy courses."
Lewis' main area of focus for the year is on-court player development and coaching. "I am extremely lucky to get to learn from the 14 coaches on Head Coach Nick Nurse's staff every day. My goal is to continue absorbing as much knowledge as possible and take forth the messages that resonate most with me as I shape my own unique coaching style."
With a few more months to go, Lewis is excited to continue immersing himself in the Raptors organization with upcoming rotations in analytics, public relations, scouting and team culture.
"The access to mentorship is unparalleled, and getting to learn from any member of the Raptors staff is a privilege," he says.
While fully acknowledging the once-in-a-lifetime opportunity he's currently in the midst of, Lewis also remains thankful for all of the moments and learnings that helped him get there.
"From my own past experiences, whether it be playing or coaching at Mount Royal, I've learned lessons that I now pull from and try to pass forward. You never know what lessons you'll need to apply down the road, so the best thing you can do is continue learning and accumulating as many experiences as possible."