An inside look at what it's like to live in MRU Residence
Alumna Tess Bickley reflects on her experience living on campus
July 12, 2022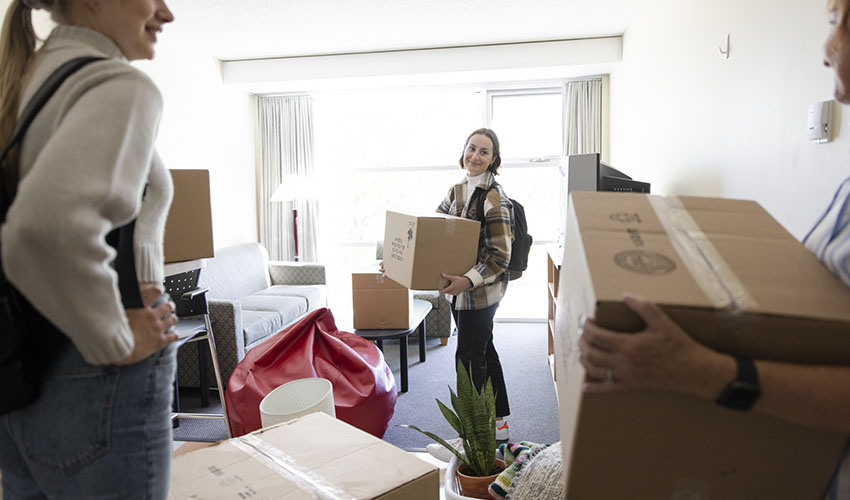 Living on campus in MRU Residence can have many perks, including less time spent commuting and being part of a vibrant, welcoming community.
---
Starting university is an exciting time, but it also comes with having to make some big decisions, including whether or not to live on campus in student residence. We spoke with Residence Life Coordinator Tess Bickley to get an inside perspective about living in Mount Royal Residence to help you decide if it's the right choice for you.
Bickley lived in Residence throughout her MRU degree, working as a resident advisor (RA) for three of those years. With a mix of personal and professional experience, she definitely knows a thing or two about living on campus.
What advice do you have for future students who are still unsure if Residence is right for them?
I would say go for it! University is all about trying something new. Choosing to live in Residence was one of the best decisions I have ever made. I loved my time in Residence as a student and the experience I gained as an RA led to me deciding to pursue a career in Residence Services after graduation. The connections you can make while living here are well worth it.
What are some of the top perks of living in Residence?
The first things that come to mind for me are having a strong community to rely on and the sheer convenience of being a five minute walk from class and on-campus amenities like MRU Recreation Centre, the Library and Wellness Services. Plus, Calgary winters can be chilly, so I was always thankful I only had to run to West Gate to avoid the cold instead of braving the roads.
How does MRU Residence support students?
Our amazing team of RAs are always here to support you and there is a student staff member assigned to look after every Residence community. They can help you through anything that may come up and connect you with resources on campus. RAs also plan a ton of fun activities so there is always something going on! This year we are planning additional monthly Residence-wide activities such as a Banff trip and sunrise hike.
"Choosing to live in Residence was one of the best decisions I have ever made."

Tess Bickley
In what ways can living in Residence enrich a student's overall university experience?
Many of my closest friends, who I still see regularly, I met because of living in Residence and my time on the RA team. In my first year I remember being connected with so many of our amazing resources on campus because of hearing about them from my RA, neighbours or just seeing posters in the hallways of Residence. There are also some great study spots in Residence to help you focus — I would recommend the East Community Center or the alcove in B building.
For anyone who is moving away from home for the first time, how does Residence help with that transition?
Residence is a great stepping stone for anyone looking to gain more independence while also being part of a great community of people. When I moved into Residence, I did not know anyone and I was a little nervous because I came from outside of Calgary. I vividly remember feeling so welcomed into the community by my roommates and neighbours and thinking, "I can actually do this!" I also found the fact that utilities were included with rent extremely helpful for keeping things simple, I didn't have to worry about getting the internet set up or paying monthly bills. If I had questions or needed help with maintenance concerns the Residence team was very responsive and helpful.
What's a fun fact about Residence prospective students probably don't know?
We have really great beach volleyball and tennis courts nestled right behind West Residence. Also, the lobby of B5 is the best place on campus to watch the sunset!