Finding your nursing niche in the ICU
Extension certificate provides additional training for difficult medical scenarios
Nadia Moharib — Mount Royal University | Posted: March 27, 2023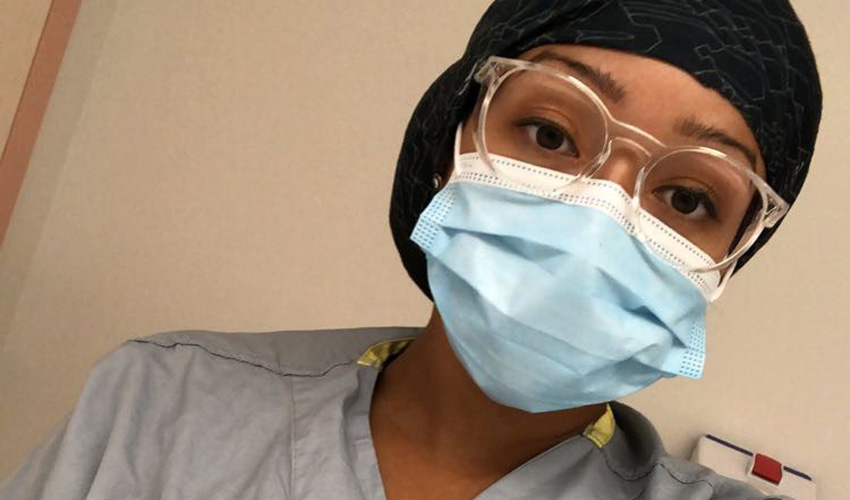 Kenya Mokoena signed up for MRU's Advanced Studies in Critical Care Nursing program, which allows nurses who meet the requirements to better prepare themselves or upgrade their skills and knowledge to work in either emergency rooms or ICUs.
---
When her patient's heart stopped and her breathing ceased, Kenya Mokoena stepped aside as the ICU (Intensive Care Unit) Code Team team rushed in.
The registered nurse watched them work, gripped by the swift deployment of their skills. Not long after, Mokoena decided she wanted to do what they could.
"I was working in medicine at the time and the ICU team inspired me with the way they handled the situation," she says. "I wanted to know what to do and understand why they did what they did."
Mokoena signed up for Mount Royal University's Advanced Studies in Critical Care Nursing (ACCN) program, which allows nurses who meet the requirements to better prepare themselves or upgrade their skills and knowledge to work in either emergency rooms (Emergency Nursing) or ICUs (Critical Care Nursing).
The flexible online post-diploma certificate, which is open to nurses who might be just starting or veterans looking to work in critical care, allows students to work at their own pace — while simultaneously continuing their nursing career.
Those who qualify can opt out of an in-hospital clinical program by applying for Prior Learning Assessment and Recognition (PLAR), which gives students credit for learnings they have already picked up on the job. In those cases, it means less time getting their ACCN completed and less cost for the program.
Regardless of which stream students choose to specialize in, the ACCN offers not only in-depth theoretical and skills training, but is a way to instill the needed confidence to act in these intense, fast-paced team environments.
Critical Care Nursing
Mokoena, who works in the ICU at the Royal Alexandra Hospital in Edmonton, had just started in that unit when she began taking the Critical Care Nursing stream of the ACCN.
Already a nurse for about two years, she knew she wanted some additional training. As someone already working in the field, Mokoena was able to apply as a PLAR student, earning credit for the in-hospital portion of the program. She took the course over a few years and says it has helped her succeed in the exact field she wants to work in.
"I really love the ICU," the 27-year-old says. "I think that is kind of my niche in nursing."
Joan Harris, an associate professor with the ACCN program and the Critical Care Nursing stream  coordinator, has put in a lot of hours in the real world in Canada and in the U.S.
She loves the interdisciplinary approach that comes with critical-care nursing and, specifically in the ICU, the in-depth study of pathology and the treatment of her patients.
"It's a team approach," Harris says. "You work very closely with physicians and respiratory therapists and social workers and dieticians."
The patient load is typically just one or two patients, and nurses work with them as well as the families at their side.
"There is a wide breadth of information you have to know and you have to be really confident and comfortable," she says. "I think it's an opportunity to showcase all those aspects of nursing."
In both ERs and ICUs, that team approach attracts many to the job … and helps them thrive, too.
"There is a lot to deal with and it can be quite overwhelming and soul sucking if you don't take care of yourself," Harris says. "You work with some amazing people and those are the people that help and support you. It's a real community in that way."
Some of Harris' students have been new nurses right out of university, others have been nursing for years and a number have been already working in ICUs (such as Mokoena) and wanting to build on their skills.
Newcomers to either stream can often find it incredibly intimidating, Harris says, but as the ACCN program strengthens their knowledge and skills and adds that clinical piece in an ER or ICU setting alongside a nurse or clinical instructor, it "really pulls it all together and gives them that sense of confidence."
"I'm glad I took the program," Mokoena says. "It does give you a lot more of that theory, and the rationale of the 'why.' "
Find out more about the ACCN or sign up for a virtual information session.