Message delivered to the Mount Royal Staff Association on May 1, 2019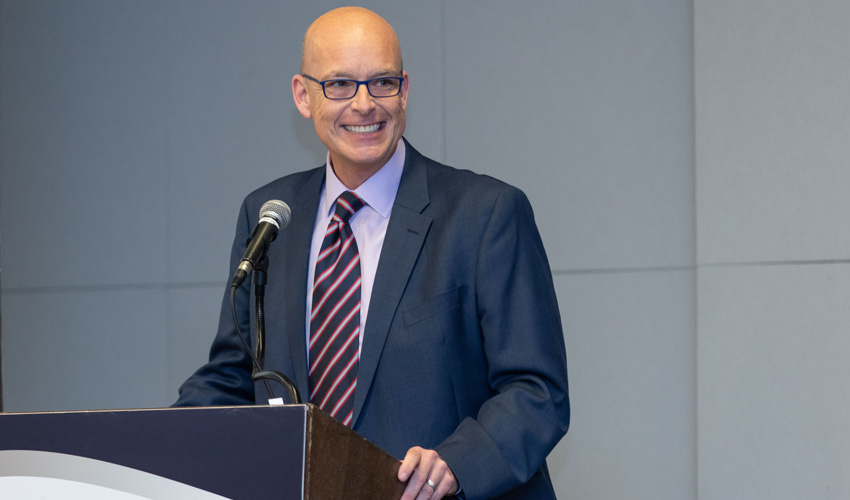 Good morning everyone.
It's wonderful that you have this gathering and I'm delighted to be here today.
Today is my first day of school. And like many of you, maybe you remember the day you were called, the day you walked into MRU. I see today you have all kinds of great food and lots of love. Food, shelter and love ― which is also what I'm going to be looking for as I enter into this world.
It is indeed an honour for me to be the tenth president of Mount Royal University and the first vice-chancellor, and to be here for my first day of school. Over time I hope to meet you individually and learn more about you.
In the meantime, since I'm here, I thought I'd introduce myself a little bit and share with you what I believe in, where I come from, why I chose to come to Mount Royal and what I hope to do as your tenth president. And I think I'll start with my beliefs as they relate to the University.
Some of you may have seen the lovely video that they did to introduce me, which featured my huge left foot, like the Friendly Giant for those of you who are old enough to remember the Friendly Giant. You can see my shoe, and then they pan up and there I am.
In the theme that existed in that video, I believe that each student deserves a transformational education. That education can be exactly that. It can transform lives. It truly did transform my life, that's not some bullet point I add on. Education changed who I am and I believe it can change societies, countries and the world. And you are part of that. You are first-class contributors to the provision of education. That's very important. And while I've just walked in the door it might seem disingenuous of me to say thank you, I know what you do. I've seen what you do, I know what those at other universities with similar jobs do, and it is very important. I thank you very much for the contribution that you make to students' lives.
In terms of what students want, I think it's what you want as well. I think you want to be supported. I think you want to have an individual experience with your university that you've contributed to, many of you long-serving. Students want to be supported, faculty want to be supported, staff want to be supported and I'm hoping, as president, I can contribute to that. And when done right, students reach their long-term goals, personal goals, education goal, life goals, and we have the opportunity in our microcosm to help them do that while they're on campus ― to learn those skills and go forward into the world. So they can be contributors to a civic and democratic society and they can contribute to economic growth, and really help move the province and the city along.
So a little about me. What has led me here today. I have a "checkered" past that involves both administrative and academic work and I really do see myself as one of those people in the Venn diagram who's somewhere in the middle, who really does try to reach into both administrative and academic realms.
I've spent the last nine years at Simon Fraser University as vice-provost, Students and International, and before that I held a variety of administrative and academic posts at institutions such as the University of British Columbia and McGill University.
"Education changed who I am and I believe it can change societies, countries and the world."

Tim Rahilly, PhD

I did my PhD and my MA in educational psychology and counselling at McGill and my undergraduate at Concordia University, and had wonderful, wonderful experiences. In fact, when I talk about the transformation that education can have, it's not my PhD that's the most important thing in my educational history. The most important thing is Dawson College. Because that changed my life. I was not a great high school student, but I became an excellent student by going to Dawson College.
I've enjoyed my work in both academic and administrative roles. I've taught graduate courses in educational leadership, and my whole career has been about developing student-centred policies and practices. Most recently I've worked on student conduct policies in terms of prevention and response to sexual violence on our campuses, and I've worked on some very large capital projects in order to move them forward. And I hope to do likewise here at MRU.
So, why did I come here? I actually had the chance to visit the campus a couple years ago as part of an external review team, and I was just honestly blown away by what I saw at MRU. I saw people, didn't matter if they were staff, faculty, executive, what they were all saying was remarkably similar, and I had not encountered that at any other university. I got a strong sense that this was a primarily undergraduate university that is student-centred, and that is something that I've been preaching for the past few decades.
So, I knew a few things about MRU from my past, and actually as I walk across campus I am amazed at how many people I actually know. People are stopping me because I worked at another institution with them, or I've taught them, or I've had at some time a professional association with them. I knew about a lot of the work that was happening at MRU, and I knew it was distinguished for its reputation for student-centred education. But, there are things that I didn't know, that I've only learned since being involved, and no doubt I'm going to continue to learn a lot more about MRU.
I think where I'm trying to come from is the notion that MRU is both THE place ― it's the happening place focused on undergraduate education and is known for that ― but at the same time it's really a hidden gem. Something that we really need to tell the world about, and I see that as a really big part of my role.
I've been astounded by the facilities that have been added the last couple of years here at MRU, they're beautiful. The Riddell Library and Learning Centre, the Taylor Centre, the Bella Concert Hall. I do expect to learn more about the work that's being done on campus, and I want to become your strongest cheerleader for that work, and I want to become a "chief storyteller" in the community for the work at MRU.
And so in the next few months I hope to spend time with you. I will make an effort to keenly listen to what you are all doing and really try to focus my role in trying to orchestrate and bring people together and jump on opportunities as they emerge. Longer term, we'll work on some strategic planning, some mission-vision work and help fine-tune some of that and build on Mount Royal's amazing reputation and track record.
I would like to thank all of you, it's been a real pleasure. I hope you have an excellent day.