President's address to the Spring 2019 Convocation ceremonies attendees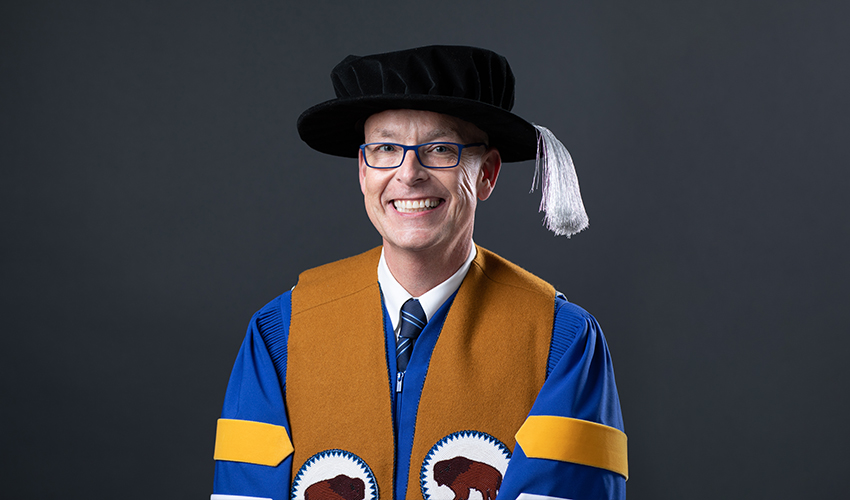 It is a pleasure to share today's ceremony with: Her Right Honourable Lois E. Mitchell; members of the Board of Governors; representatives from the faculty, staff and student associations; the Honorary Doctor of Laws recipient; the Centennial Gold Medal recipient; special guests and community partners; faculty and staff; and family and friends of our graduating class.
Most of all, graduating students, thank you for allowing me to celebrate with you. On the surface it may seem that you and I are at different points in our relationship with Mount Royal - for me at the beginning and for you at the close. But what I would like to say today is that we are not so different.
For a start, we both invested in learning. We learned through formal instruction, guided by our professors in the classroom or in research projects. We became more knowledgeable on our own, using wonderful materials like those in the Riddell Library and Learning Centre. We benefited from practical and experiential learning. And we managed the different parts of our lives - juggling studying, employment and commitments to our family and friends.
Mark Twain in his book Tom Sawyer Abroad said, "A person who carries a cat by the tail learns something they can learn in no other way." No doubt we learned a few hard lessons along the way and got a bit scratched up, but we are wiser for it. As I look at you all - sitting here looking fabulous - I know you persevered and were resilient.
Today we celebrate that, and tomorrow we get back to our regular lives and we KEEP learning!
Another thing we have in common is a gratitude. We appreciate those who helped prepare us for the future and who continue to support us. Graduating students, you are about to join Mount Royal's alumni family. These alumni have paved the way for your success. In many conversations over the last month, I learned that Mount Royal has a strong reputation. Much of this strength comes from the more than 100,000 alumni who are doing great things in the workplace and in community.
There is another extremely important group of people who helped pave the way for your success; your friends and family - some of whom are here today. I recall the best part of my own graduation was seeing the pride in my parents' eyes. Graduates, may I ask you to please rise, as you are able, and if you have guests here today look over to them, wave and give them a round of applause.
I, too, appreciate the people who have come before me. This institution is built upon an incredibly solid foundation. I join a tradition of excellence that aims to foster knowledge and improve society. Many talented and committed employees - administrators, faculty and staff - have forged a path before me.
They encouraged thinking beyond contemporary boundaries and social convention for the betterment of society. Indeed they created the MRU of today - a campus that is inclusive of gender and sexual identity, race, ancestry, national origin, political affiliation and abilities.
While there are many wonderful buildings at MRU, I believe a great university is not denoted by its buildings or its bank account. Rather its excellence is measured by the people who study and work there, and how ALL these people contribute to the community and the society at large. Using this measure, Mount Royal University is a great university.
Mount Royal's history also includes strong and long-term partnerships in the community. For example, our relationship with the local Rotary Club goes back to 1910 with founder Dr. George Kerby. These partnerships have contributed to the growth of communities and post-secondary education in Calgary, Alberta and Canada. I am honoured to continue to lead this growth.
Graduates, the last thing I think I'll share with you is that we all made the decision to choose Mount Royal. We saw something in this university that led us here. I came here because of Mount Royal's commitment to the student experience. My guess is that you came here for the same reason. And, I imagine, that this student-centred approach delivered to you many benefits.
Before I came here, I knew Mount Royal had a distinguished reputation for teaching and learning. Now that I have been here for a month and met with many people, I can say that it is true. I have had some of the most fascinating conversations with members of our faculty: their curiosity is infectious. Because of them, you reaped the benefits of a world-class teaching faculty.
I have also had some of the most reassuring conversations with staff: their values reflect the ideals of what a post-secondary education should be. Because of them, you received support that led to your success.
With that, graduates, may I ask you to join in a round of applause for the faculty and staff who supported you in getting to this moment.
In the short time I've been here, I can attest to the fact that Mount Royal is a very welcoming community. The You Belong Here brand is lived and real. Just like you, I chose Mount Royal. And just like you, I'm pretty pleased that I did.
I believe that education has the ability to transform lives. Education transformed mine and I am very sure, graduates, it has transformed yours. Because of your education, you are poised to have a fulfilling career.
Because of your community service, I hope you will continue to give back. Because you personally grew, you are now more resilient.
You're not finished changing, of course, as your life will be full of transformative moments. But remember what you've learned here. And remember that you're not alone. Mount Royal will always be here for you. We are proud of you and what you will accomplish, because your future is bright.
I believe the future for Mount Royal is also bright. I am excited, honoured and committed to do my part as president and vice-chancellor. I have taken the oath of office and will do my utmost to fulfill that oath.
I will work with faculty, staff and students to build a strong vision focused on an exceptional student education and experience.
I will reinforce the areas where we are already leaders and encourage momentum in areas where we are still growing. I will tell the MRU story - who we are, where we are headed and why others want to be part of our bright future. I will contribute to a strong post-secondary sector in Calgary, Alberta and Canada.
I started today by saying that you and I are not so different in our relationship with Mount Royal, with me at the beginning and you, seemingly, at the end. And it's true. We are here together because we all appreciate the people who came before us.
We are here because we appreciate Mount Royal's focus on students. We are here together with an incredibly bright future ahead of us.
Just as you are grateful for those who supported you, I'm also grateful to the MRU community for the warm welcome and the team of people who helped me transition to campus.
At this ceremony, I am joined by a few special friends, colleagues from my former institution, Simon Fraser University, and family in the form of my partner Dr. Charlie Chen and his parents Terry and Beth. Words cannot express my gratitude for your support, friendship and love.
Graduates thank you for choosing Mount Royal, and thank you for letting me share this momentous day with you.