President and Vice-Chancellor Timothy Rahilly, PhD, speaks to the Fall 2019 Graduating Class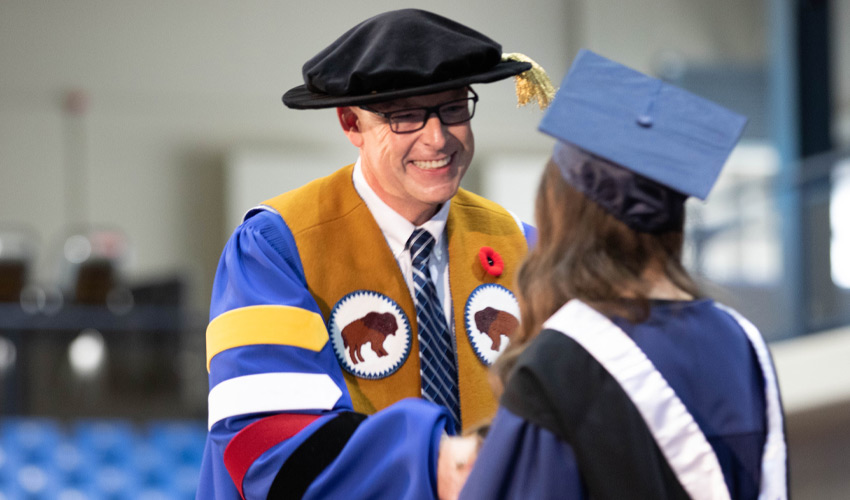 It is my great pleasure to share today's ceremony with all of you. Today, we celebrate our graduating students, and while I hope you will stay connected with us, this is our last chance to hold you captive, one foot out the door, and urge you to reflect on your time at MRU.
Mount Royal University is student-focused. The most student focused university I have ever encountered. We have done everything possible to give you what I will call the three Cs.
The first C? Credentials! You completed the requirements in your chosen discipline - meeting the litmus test of academic rigour. This meant completing those essays, passing those exams and delivering those presentations - not an easy feat.
But there's more! You had the chance to be part of research projects alongside faculty members. Being part of the research process is quite rare for undergraduates at other universities, so treasure this opportunity.
At Mount Royal, you also got real experience through co-ops, practica, field studies and community service. You went out into the world and applied the theories from the classroom. I often hear from employers who appreciate Mount Royal graduates because you have experience that makes you ready to work on day one.
You are more than job-ready: you are work ready! Armed for an ever changing world!
So what does this all mean? It means you already have a proven track record. Be confident in what you have learned and in what you have done. Take that step. Don't wait until everything is perfect or certain.
You have all likely heard the story of the tortoise and the hare. Noted psychologist Carol Dweck reframes this story for us. She tells us,
"As children, we were given a choice between the talented but erratic hare and the plodding but steady tortoise. The lesson was supposed to be that slow and steady wins the race. But, really, did any of us ever want to be the tortoise? No, we just wanted to be a less foolish hare. We wanted to be swift as the wind and a bit more strategic - say, not taking quite so many snoozes before the finish line. The story of the tortoise and the hare, in trying to put forward the power of effort, gave effort a bad name. It reinforced the image that effort is for the plodders and suggested that in rare instances, when talented people dropped the ball, the plodder could sneak through."
So, don't be afraid to be the hare! Use your talents! Get in the race! Make a move! Perhaps that is a move into entrepreneurship, a fulfilling career, or further graduate studies. Use your credential. Through your time at Mount Royal, you have shown you are capable and you have the credentials to prove it.
The second of the three Cs is critical thinking. Because you took courses in your major and general education courses outside your discipline, you were exposed to different ways of thinking, of doing and of being. You are stronger for it.
You have more than knowledge. Your liberal education means you know how to enquire, listen and discern. Critical thinkers are independent thinkers. You assess rather than assume; are inquisitive rather than accepting; open-minded rather than set in your beliefs and ways.
In an ever-increasing polarized world, those who have the capacity to think for themselves are at an advantage. One only has to turn on the television or watch a video clip from any 24-hour news organization to know the world needs people like MRU graduates who are capable of seeing beyond the story that is presented. Because of critical analysis, you are better prepared to forge your own path, no matter the direction you choose.
There are people who I call 'stretchers'. They are the ones who think and experience life outside their own silos. My observation is that 'stretchers' are more adaptable to change, less rigid in their opinions and are solution-oriented. They use their critical thinking skills to successfully navigate their way through unfamiliar territory. I encourage you to stretch and keep your critical thinking skills sharp and at the ready - they really can make a world of difference to you and others around us.
The first two "Cs" are 'credentials' and 'critical thinking'. The third and final "C" is 'caring'.
At Mount Royal, we pride ourselves on being a welcoming community. The You Belong Here brand is lived and real. We care deeply about the experience you had at Mount Royal - that you grew as a person and were supported along the way. We know you will go out into the world and take your MRU experience with you to live a life characterized by empathy and compassion for the experiences of others and a strong desire to contribute to a better world.
We are celebrating your accomplishments today and I know you want to acknowledge and recognize those people who helped you get here today; the people you care about.
Graduates, you reaped the benefits of a world-class teaching faculty - instructors who know you by name and know your goals and aspirations. And whether you met staff one-on-one, or they worked behind the scenes, they were committed to your success. With that, graduates, may I ask you to join in a round of applause for Mount Royal's faculty and staff.
There is another very important group of people who helped pave the way for your success: your friends and family - some of whom are here today. Graduates, may I ask you to please rise, as you are able, and if you have guests here today, look over to them, wave and give them a round of applause.
Before I finish up on the topic of caring, let me say that while caring for others is important, you must also care for yourself. As you leave here, please remember to look after your own mental and physical health.
When things get tough - and they will, it's just the way life works - speak to yourself like you would speak to someone else having a hard time. Be kind to yourself! It is true you are imperfect: we all are. It is true, in hindsight you might have done things differently, but that's okay. You are perfect in your imperfection and you have learned through your experiences.
Embrace the world and each other with compassion, enthusiasm and optimism. It is not always the easiest thing to do, I know. But by seeking out the positive, the solution, you can bring light into the darkest of situations. This is both an important personal skill and leadership skill.
While people will see you as a "go to" person, what is important is that you have the ability to draw on your own skills and lead yourself during difficult times. And when you can't, you will have built a caring world around you that can support you when you most need it.
So graduates, those are the three Cs: credentials, critical thinking and caring. Remember these Cs as you move into the next phase of your life. They will serve you well.
And remember that you're not alone. Mount Royal will always be here for you. You are joining an engaged, vibrant group of more than 105,000 Mount Royal alumni. We truly hope you will stay connected to your alma mater.
Graduates, thank you for choosing Mount Royal. And I will end with one last "C": a kind of "gift with purchase." I and the entire MRU community offer you our final "C" - congratulations!