How do I print in the Labs? 
In order to print in the MRU computer labs students must add money to their PCounter accounts. This can be done at any Pcounter Deposit Station located around the University.

Adding money to your printer account
Note: There will be detailed instructions at the Deposit Stations. If you wish to see them, click on How to deposit money to your printing account instructions
Pcounter deposit station locations: 
Riddell Library (1st and 3rd floors).
Across from Security at the West Gate Entrance.
Adjacent the bank machine at Tim Horton's.
Main Level of the East Business Building.
Main Level of the East Arts Building.
Cougar Campus Store.
For technical assistance
Please phone the IT Service Desk at 403.440.6000.
Checking account balances 
After logging in to the computer you can check your printing account balance by double clicking on the Check Account Balance icon located on the desktop of all lab computers.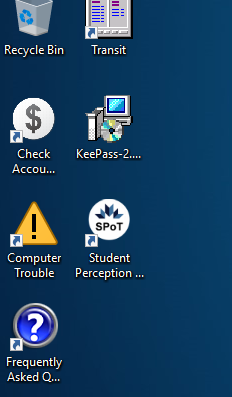 After double clicking on the Check Account Balance icon a pop-up window will open displaying your current printing Account Balance.

Sending print jobs 
Students will submit print jobs normally, using the File ... Print menu, their job will be submitted to the Active Directory server and Pcounter will determine if they have enough print credit. If the student's credit is valid the job will complete and the account will be debited accordingly.

Cost of printing
Black and White: 15 cents per copy.
Colour: 50 cents per copy.
Logging off MRU computers
Failure to logout gives other users access to files on your network drive and printing funds.  Always log out when you are finished using a computer.