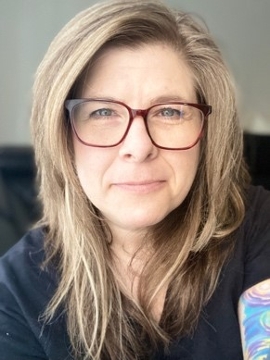 Dr. D. Scharie Tavcer joined Mount Royal University in 2004 and is an Associate Professor in the Department of Economics, Justice, and Policy Studies. Dr. Tavcer believes in teaching that has components of experiential learning and/or community service learning. This involves incorporating lived experience into her lectures through guests or off-campus events, and providing students with real world scenarios with real people in real situations.
Dr. Tavcer is the 2019 recipient of the MacEwan University Distinguished Alumni Award.

Dr. Tavcer is the 2020 recipient of the Faculty of Arts Outstanding Teacher Award
Courses taught / main areas of teaching & learning:
Introduction to Criminology; Introduction to the Criminal Justice System; Introduction to Human Relations; Crisis Intervention Strategies; Criminal Law; Corrections; Qualitative Research Methods; and Women and the Criminal Justice System.
Main areas of scholarship & research:
Offenders and the barriers and challenges of reintegrating into the community
Violence against women; sexual violence; relationship violence
Feminist lens to understanding crime, social disorder, and the criminal justice system
Victims and trauma informed care
Poverty offending
Mental illness; addiction
Occupational stress injuries of front-line workers
Criminal law
Education:
Doctorate in Sociology, major in Criminology (2007) with the Max Planck Institute for Foreign and International Criminal Law and the Albert-Ludwigs Universität both in Freiburg, Germany;
Masters in European Criminology in 2001 from the Katholieke Universiteit Leuven in Leuven, Belgium;
Bachelor of Arts major in Psychology/Sociology in 1997 from the University of Alberta;
Diploma of Law Enforcement & Security from Grant MacEwan University
Experience:
Prior to a career in academia, Dr. Tavcer worked for the Correctional Services of Canada in Alberta and British Columbia. Roles included:
Parole officer supervising offenders on conditional release and completing community assessments for those offenders preparing for release;
Correctional worker at the Stan Daniels Healing Centre, which is halfway house for Indigenous offenders on conditional release;
Program therapist in a violent offender treatment program with the Correctional Service of Canada Pacific Region, Regional Health Centre
Community Service - previous:
Secretary on the Board of Directors with the Elizabeth Fry Society of Calgary
Researcher and advocate in various projects with the United Way of Calgary & Area, the Prostitution Awareness & Action Foundation of
Edmonton, the Shift Program, RESET Society (formerly the Servants Anonymous Society of Calgary)
Researcher with the Calgary Women's Emergency Shelter
Researcher and curriculum developer with the Justice Sector Constellation of the Poverty Reduction Coalition of Calgary
Community Service - current:
Director at large on the Lakeview Community Association Board of Directors
President of the Lakeview Green Condo Corporation Board of Directors
Notable scholarship:
Tavcer, D.S. (Scheduled for publication 2020). Criminal law for criminal justice students: An introduction. Oxford University Press.

Barker, J., & Tavcer, D.S. (2018). Women and the criminal justice system: A Canadian perspective (2nd edition).

Take a look at one of her research studies:
http://mruir.mtroyal.ca/xmlui/handle/11205/256

Tavcer, D.S. (2016). Pornification: A Study into Young Men's Attitudes and Beliefs Toward Dating, Sex and Sexual Assault.