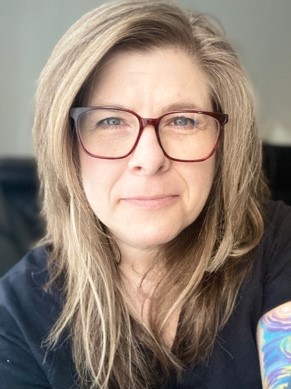 Associate Professor
Reviewer for the journal Violence & Victims
MRFA representative on the Joint Occupational Health & Safety Committee
Office: EA3059
Phone: 403.440.6383
Email: stavcer@mtroyal.ca
Dr. D. Scharie Tavcer joined Mount Royal University in 2004. She is an Associate Professor in the Department of Economics, Justice, and Policy Studies in the Criminal Justice Degree Program. Dr. Tavcer believes in teaching that has components of experiential learning and/or community service learning. This involves incorporating lived experience into her lectures through guests or off-campus events and providing students with real world scenarios with real people in real situations.

LinkedIn | Google Scholar | Orcid
Education:
PhD: Doctorate in Sociology, major in Criminology (2007) with the Max Planck Institute for Foreign and International Criminal Law and the Albert-Ludwigs Universität both in Freiburg, Germany
            o   The Trafficking of Women for Sexual Exploitation: The Situation from the Republic of Moldova to Western Europe.
M.A.: Masters in European Criminology (2001) from the Katholieke Universiteit Leuven in Leuven, Belgium
           o   Understanding the push and pull factors of trafficking of women for the purpose of sexual violence.
Undergraduate: Bachelor of Arts major in Psychology/Sociology (1997) from the University of Alberta and a Diploma of Law Enforcement & Security from Grant MacEwan College (1992)

Teaching:
Statement: I am proud to teach students who wish to enter the criminal justice profession. Many of my students come to university with a narrow view of the world and others have had some intense lived experiences. But all of them hope to make a difference in the justice system and I get to help them towards that goal. My teaching strives to ignite their interest in questioning, reflecting, and addressing the social justice issues within the criminal justice professions
Courses I teach: CRJS 1001; CRJS 1003; CRJS 1011; CRJS 2006; CRJS 2021; CRJS 3009; CRJS 3011 including CRJS 2222 (Criminal justice field school to Nunavut) as well as in Continuing Education's Police Studies Certificate Program.
I am available to supervise Honour students:Yes


Scholarship:
Statement: My approach in criminal justice extends into the social justice arenas that includes marginalized individuals who intersect with the criminal justice system. My work is also intentionally interdisciplinary and intersectional that requires collaboration beyond my areas of expertise. My intention is to create applied research so that the important questions continue to be asked. My scholarship (and teaching) focuses on sexual violence, relationship violence, as well as mental illness and its prevalence in corrections, offender reintegration, criminal law and sentencing, and occupational stress injuries in justice workers. And regardless of the focus, each project aims to be applied research – that the outcome of the research informs practice in some manner.
Select research projects:
-  An introduction to criminal law for criminal justice programs and students by Oxford University Press (projected in print in 2022)
-  Women in the criminal justice system: A Canadian perspective 3rd edition by Emond Publishing (projected in print in 2022).
-  Sexual consent education in Canadian post-secondary institutions
-  Sexual consent education online module creation
- Environmental scan of relationship violence services and gaps in Alberta
Publications:
-   Tavcer, D.S. (2020). The Consequences of Conviction for Incarcerated Women. CCJA Justice Report

article issue 35.3


-    Shankar, I., & Tavcer, D.S. (2021). "

Good People with Good Intentions

":

Deconstructing A Post-Secondary Institution's Sexual Violence Policy Construction

. Canadian Journal of Educational Administration and Policy, 195, 2-16.
-   Barker, J., & Tavcer, D.S. (2018). Substance use and abuse: The role that drugs and alcohol play in the lives of criminalized women. In D. Gosse (Ed.),

About Face: Essays on recovery, therapies, & controversies of addictions in Canada

by Breakwater Books Ltd
-   Tavcer, D.S. (2016). Pornification:

A Study into Young Men's Attitudes and Beliefs Toward Dating, Sex and Sexual Assault

.
Selected Grants & Awards:
2020: Exploring sexual consent education at Canadian universities various funders - $6300
2016: Symposium on occupational stress injury - $20,000
2015: Community Service-Learning Showcase at MRU -$2000
2015-19: Department of Justice Canada: Provincial Welness Project (researcher partner) - $500,000
2014-15: Criminal Justice Field School to Nunavut - ~$11,000


Noteworthy Service:
MRFA representative on the Joint Occupational Health & Safety Committee (2021- present)
Faculty of Arts Promotion Committee (2019-present as a member and alternate)
CRJS Curriculum Committee (2015-2019)
MRU Positive Space Committee (2006-2016)
Board of Directors, Secretary, and volunteer with the Elizabeth Fry Society of Calgary (2004-2006 and 2010-2012)
Researcher and advocate in various projects with the United Way of Calgary & Area, the Prostitution Awareness & Action Foundation of Edmonton, the Shift Program, RESET Society (formerly the Servants Anonymous Society of Calgary) (2004-2008)
Researcher with the Calgary Women's Emergency Shelter (2015-2019)
Researcher and curriculum developer with the Justice Sector Constellation of the Poverty Reduction Coalition of Calgary (2015-2019)
Advisory Committee member to the five-year evaluation of the program Believe In You run by Sagesse. It is a peer-based program for women who are exiting sex work (2019-2021)
 
Link to my professional website: www.scharietavcer.com  
My CV (from the annual report site):here