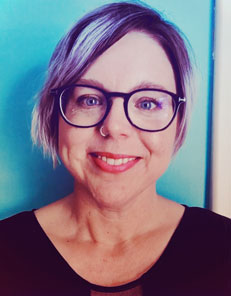 Ada Jaarsma
Academic title: Professor, Philosophy
Education
PhD, Purdue University
MA, Trent University
BA, University of Waterloo
Office: EA3189
Email: ajaarsma@mtroyal.ca
Phone: 403.440.8545
---
Scholarly Interests
My research takes place at the intersections of continental philosophy with science studies, and I'm especially fascinated by phenomena like placebo effects that draw attention to embodied meaning-making. I'm in the midst of a three-year research project, Placebos Talk Back, conducted collaboratively with Dr. Suze Berkhout (University of Toronto); this project is funded by an SSHRC Insight grant (2020–2023). I'm also keenly interested in teaching as an object of inquiry; in addition to articles and book chapters, my new co-edited collection Dissonant Methods: Undoing Discipline in the Humanities Classroom, is published by the University of Alberta Press. As a way to contribute to new, exciting work in continental philosophy, I am an associate editor for the journal Symposium: Canadian Journal of Continental Philosophy.
Teaching
I teach courses in continental philosophy, existentialism, feminist philosophy, philosophy of science, and philosophy of sex and love. In my teaching, I'm committed to accessibility, flexibility, and other ideals of universal design. I'm also committed to open access resources: along these lines, you can find all of my lessons and syllabi that I create for my courses on this site.
Selected Scholarly Activity
Dissonant Methods: Undoing Discipline in the Humanities Classroom, co-edited with Kit Dobson (University of Alberta, 2020)
"Choose your own birth!" Aeon (March 2020)
"Encounters with Deleuze: An Interview with Constantin V. Boundas and Daniel W. Smith," Symposium 24(1) 2020: 139-174.
"Trafficking in Cure and Harm: Placebos, Nocebos and the Curative Imaginary," with Suze G. Berkhout, Disability Studies Quarterly 38(4) 2018
Kierkegaard after the Genome: Science, Existence, and Belief in This World (Palgrave Macmillan, 2017); see book symposium here.
Selected Honours, Grants and Awards
SSHRC Insight Grant, "Placebos Talk Back" (2020–2023)
SoTL Essential Grant (2019–2020)
SoTL Mentorship Grant (2017–2018)
---
Link to my professional website.
---