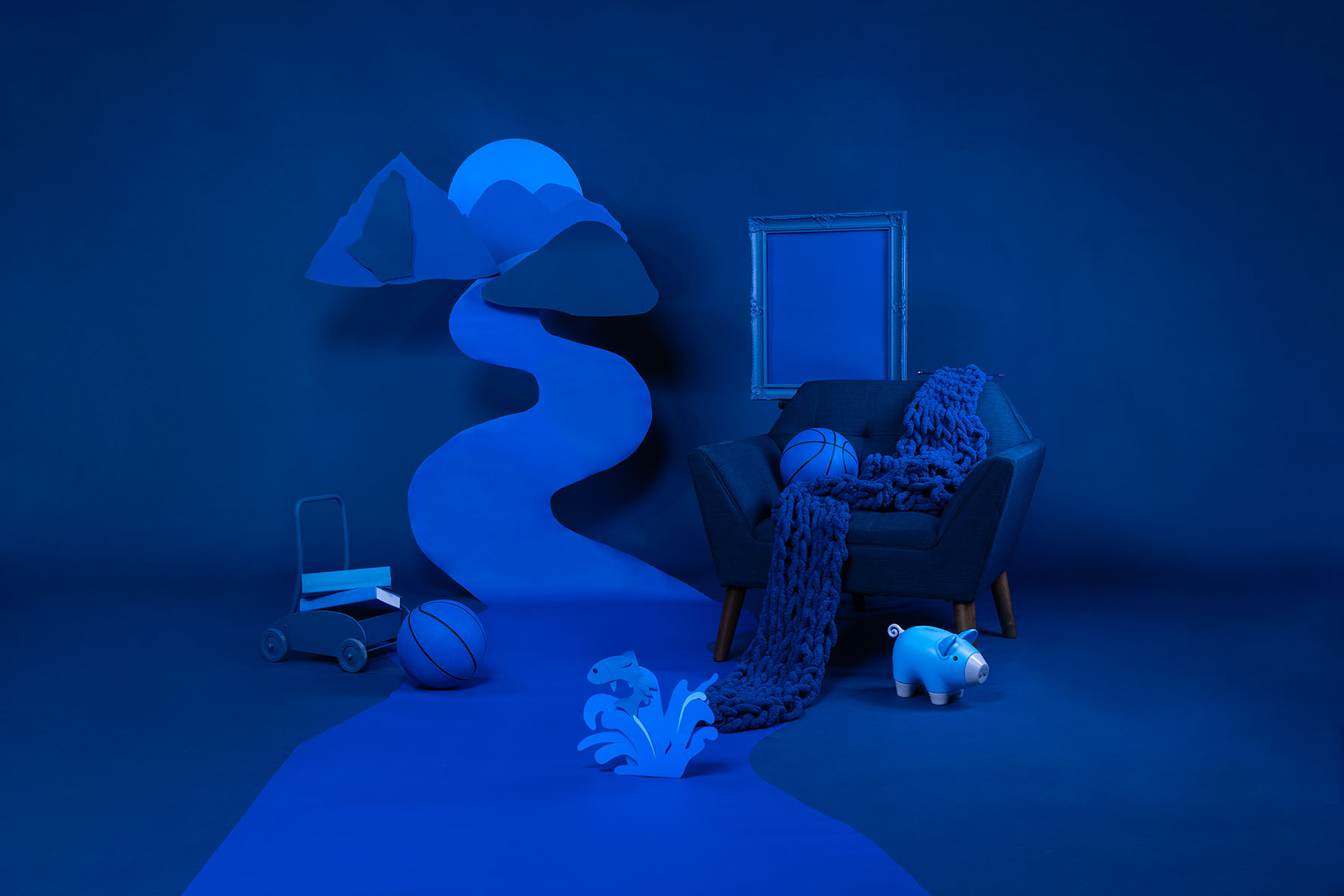 Mount Royal is proud to recognize those who have dedicated their time, efforts and careers to spark positive change.
The 2021 Alumni Achievement Awards recipients include a resilient social worker and residential school survivor, a compassionate community health nurse, an inspirational human resources professional, an equity-driven entrepreneur and a high-achieving varsity athlete.
They have faced adversity head on, passionately advocated for those who do not have a voice and made meaningful moves towards the betterment of society. They share an unrelenting focus on what it means to be human and each stands as a powerful reminder of the impact one can have by leading with integrity, humility and compassion.
The Alumni Achievement Awards are presented in four categories:
The

Lifetime Distinguished Achievement Award

recognizes alumni at the culmination of their careers who have brought honour to their profession and alma mater.
The

Outstanding Alumni Award

acknowledges alumni who have made exceptional accomplishments in their fields and significant contributions to their community.
The

Horizon Award

recognizes the outstanding achievements of alumni early in their careers.
The

Outstanding Future Alumni Award

is given to a current student who has been significantly involved with the University or wider community and exemplifies the leadership and ambassador qualities of our alumni community.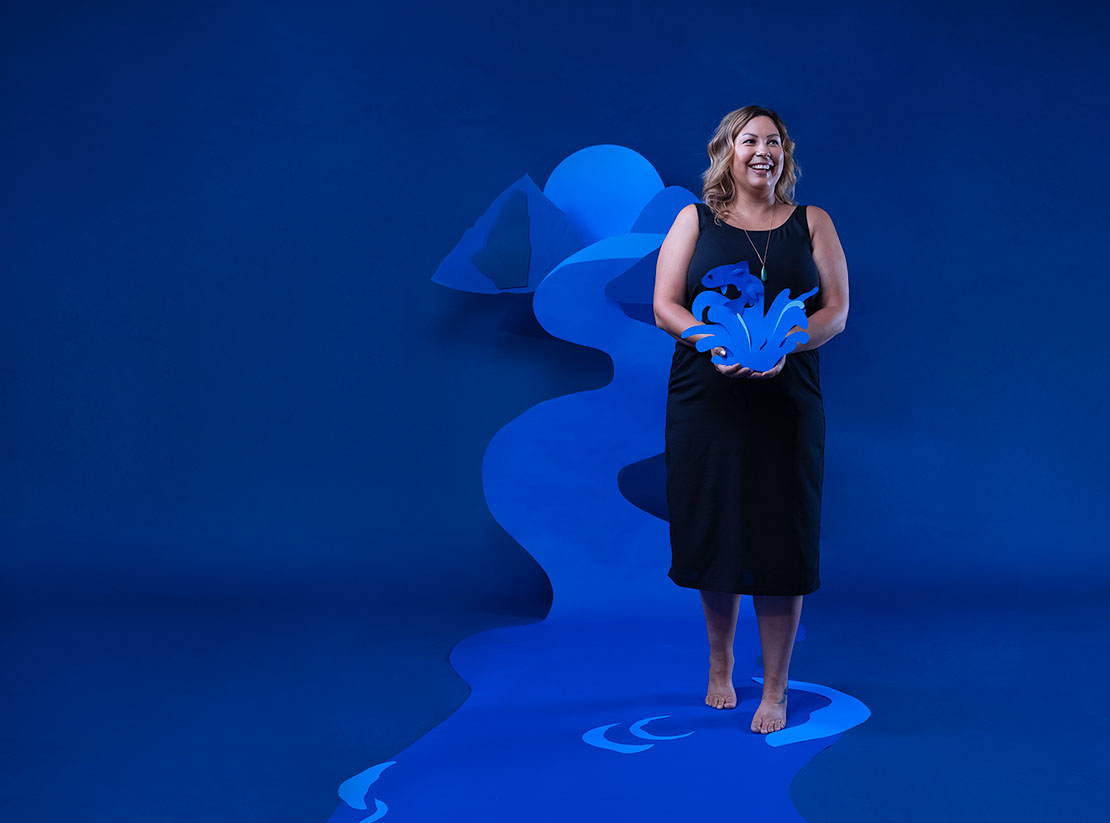 Jenny Philbrick
Outstanding Alumni Award — Professional Achievement
Bachelor of Business Administration — Human Resources, 2016
Nen, meaning "land and resources" in the Tŝilhqot'in language, is an important part of Jenny Philbrick's life that helps keep her grounded and connected to her culture.
Growing up in poverty, Jenny Philbrick used to dream of living in "nicer low-income housing and working at the mall." Today she serves as the executive director for the Tsilhqot'in Nation in the central interior of British Columbia, overseeing crucial matters for close to 6,000 citizens, leading over 100 employees, building relationships in the community and supporting negotiations with various levels of government.
"I used to be embarrassed to tell my 'come from nothing' stories," Philbrick says. "But now I see the importance of sharing, of letting others know you can make your own path."
Philbrick was the first of her family to graduate from high school and she didn't stop there. She started with a human resources certificate at Bow Valley College. Next, Philbrick enrolled at Mount Royal, where she spent two years upgrading through the Aboriginal Education Program (now the Indigenous University Bridging Program) and then completed her Bachelor of Business Administration — Human Resources.
Balancing schooling with being a parent and working full time, often commuting four hours a day between daycare, school and home, Philbrick credits her children and Indigenous community for being her biggest motivators.
"I wanted a different life for my kids," she says.
"And I wanted to be a role model to my community and family members."
After graduating, Philbrick stayed at Mount Royal, working at the Iniskim Centre where she mentored and shared resources with Indigenous students. During her time as a student and employee, she sat on a number of committees and made significant contributions to the indigenization of Mount Royal as an institution.
"To actually bring in Indigenous students and get their views and their opinions, I think that was vital," Philbrick says of Mount Royal's approach to incorporating Indigenous ways of knowing into the post-secondary system.
In 2019, Philbrick received a call offering her the role of human resources manager with her Tsilhqot'in Nation back home in B.C. Philbrick's work impressed the six chiefs within the Nation and they soon offered her the position of executive director, which she holds today.
On the educational front, Philbrick recently completed her executive MBA in Indigenous business and leadership from Simon Fraser University, which she says will help her provide more opportunities to her communities.
Believing that "learning is forever ongoing," Philbrick is also reintroducing herself to her language and her Nation's protocols.
Reflecting on where she was compared with where she is, Philbrick shares that it was a lot of hard work. Even though nothing came easy, "it was so worth it.
"I am a success story of a poor Indigenous girl who overcame many barriers to become educated, gain experience and who moved home to help advance her community and her people."
For overcoming adversity through education to help advance her Nation, for her contributions to the indigenization of Mount Royal and for not being afraid to lead, Jenny Philbrick is the recipient of this year's Outstanding Alumni Award.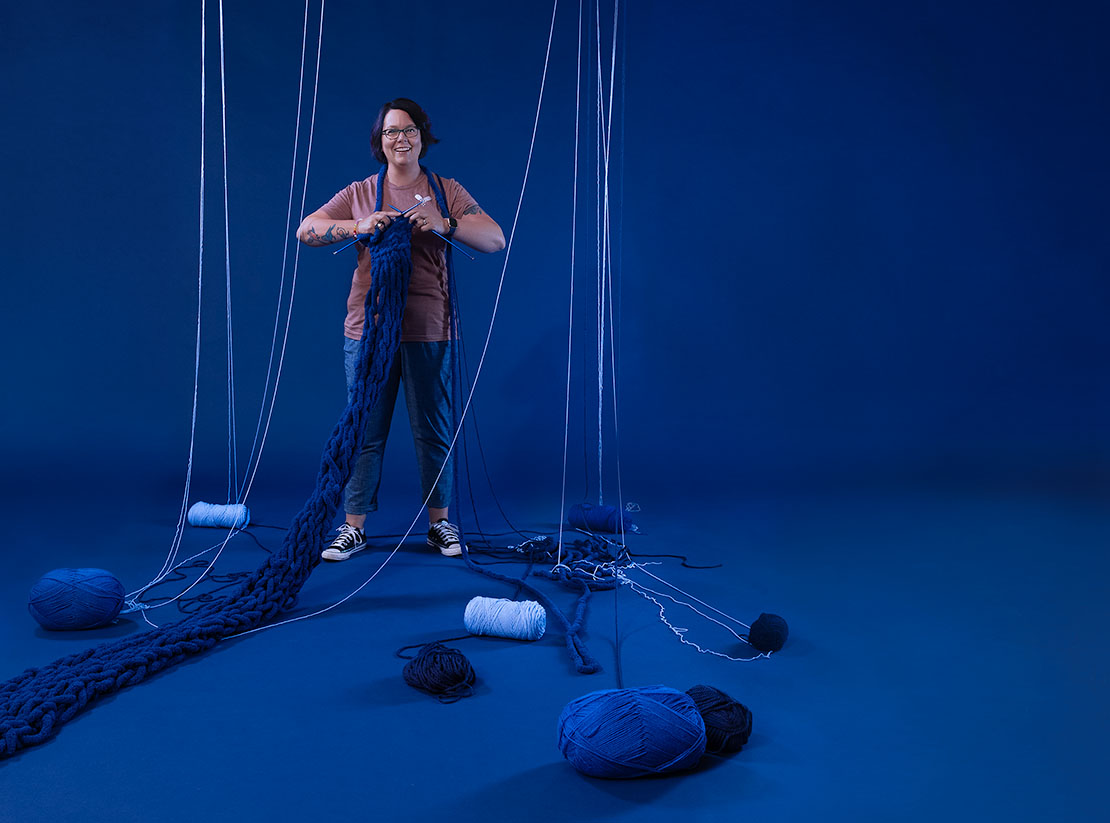 Rachael Edwards
Outstanding Alumni Award — Community Service
Bachelor of Nursing, 2010
In her (very little) free time, Rachael Edwards is an avid knitter who makes warm and cozy items for her friends and family.
Rachael Edwards, an alumna of the first Bachelor of Nursing cohort at Mount Royal, has dedicated her nursing career to supporting vulnerable populations and advocating for more compassionate health care.
During her undergraduate studies, Edwards began working at CUPS Community Health Centre, a non-profit that describes its mandate as to "build resilient lives for Calgarians facing the challenges of poverty and trauma." Later, she moved into a full-time role with CUPS that included working in the liver clinic and on the Downtown Outreach Addictions Partnership team (also known as the DOAP team).
She says beginning her career with street-level outreach gave her the opportunity to identify — and be responsive to — health-care gaps in the community. One of those was the lack of palliative care for people experiencing homelessness.
"We talk about living in homelessness, but we don't really talk about dying in homelessness and what that looks like," Edwards says. "How do we make sure that people aren't dying alone, and are dying with dignity and comfort?"
In what Edwards describes as a "serendipitous meeting in a parking lot," she connected with palliative care physician Dr. Simon Colgan and together they started the Calgary Allied Mobile Palliative Program (more commonly known as CAMPP) in 2016. This unique initiative gives vulnerable individuals a voice in what their end of life looks like by assisting them in managing pain and navigating the health-care system.
"It's an honour to create such a great impact for the people who we work with," Edwards says. "Integrating a harm-reduction philosophy of care with a palliative philosophy of care, and being able to share that, empowers the whole community to see things in a different way."
In addition to her work in the field, Edwards is a regular preceptor and guest lecturer with Mount Royal's School of Nursing and Midwifery. She continues to introduce the philosophy of harm reduction and dispel myths about substance use, addictions and people who experience structural vulnerability. She also helps agencies and community members understand the benefits and importance of harm reduction.
"We are only as strong as our most vulnerable," she says. "I want to help take away the stigma and show the human side that many forget. By highlighting our shared humanity, we can bring people on board to see it the same way."
Never one to slow down, Edwards is currently completing her Master of Public Health at the University of Victoria. She hopes this will help her to be an even stronger advocate, especially within the political and community spheres.
She notes that being recognized for this award is a reminder to not give up.
"This award is accepted on behalf of everyone practising in addictions and mental health and, most importantly, is dedicated to the humans that we serve and love."
For her dedication to working with vulnerable populations, her endless advocacy for more compassionate health care and her commitment to shifting perspectives through outreach, Rachael Edwards is the recipient of the Outstanding Alumni Award — Community Service.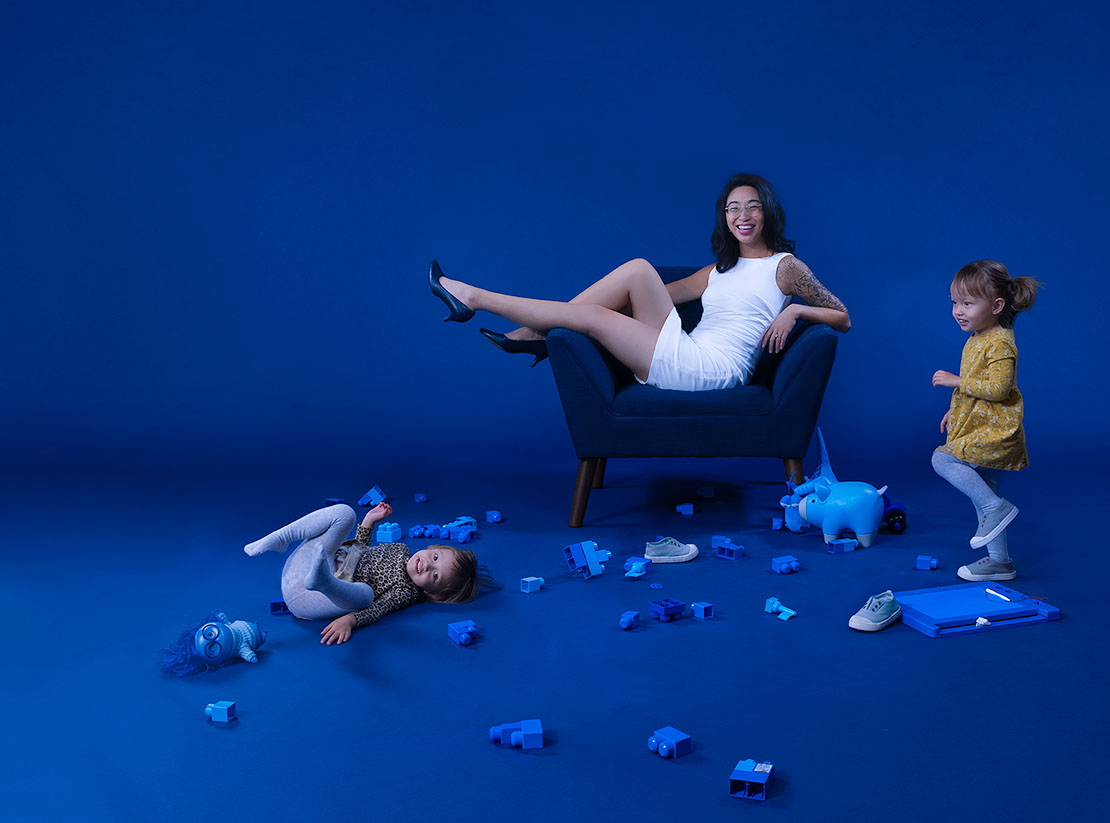 Kylie Woods
Horizon Award
Bachelor of Communications — Public Relations, 2012
Kylie Woods balances her career advocating for women in tech with being a proud mom to twin girls, Lily and Mae.
With an entrepreneurial spirit and a Bachelor of Communications — Public Relations in her pocket, Kylie Woods is shaking up the world of technology and innovation in the name of equity.
After learning that women are twice as likely to quit the tech industry, Woods founded Chic Geek, a Calgary-based non-profit. With inclusion always at the forefront, Chic Geek "embraces trans, gender queer, non-binary and the full vibrant spectrum of gender expression."
Aiming to "stop the leaky talent funnel" by helping women build strategic networks and achieve greater career visibility, "I wanted to create a small piece of the world where everyone feels welcome," Woods says. "Tech companies by nature are the innovators and changemakers of industry. Leading technology companies across the globe are looking for solutions to retain women and diverse employees, not just because it's the right thing to do for humanity, but because they get better results all around."
Although a degree in communications is not the status quo for entering the tech industry, Woods says for her it has made all the difference.
"Participating in Enactus (a global network of values-driven business, academic and student leaders) and having access to the courses run through Mount Royal's Institute for Innovation and Entrepreneurship was really eye-opening for me. They helped me build the confidence and gain the experience to take Chic Geek from idea to action."
Woods has taken the conversation of gender equity in tech throughout Alberta and beyond. She hosted the first Techstars Startup Weekend Women's Edition in Canada, was twice a panelist at Mount Royal's International Women's Day events and gave a voice to women in STEM (science, technology, engineering and mathematics) at the International Visitor Leadership Program hosted by the U.S. Department of State.
Also on Woods' list of successes is launching Geeky Summit, the largest tech conference for women in Western Canada, and securing $300,000 in grants for Chic Geek this past year.
"It's a testament to the hunger and appetite to diversify and support women and technology in Alberta," Woods says. "Knowing that we have impacted the lives of women working in technology in a positive way is so meaningful."
Being part of the tech sector means Chic Geek is constantly evolving, and that fluidity and openness to change is also mirrored in Woods' leadership style.
"I always had this misconception that leaders are talkers and leaders tell. But in my journey with Chic Geek, what I have learned is that leaders listen," she says. "They create space for their people to thrive, grow, learn, participate and bring their own ideas to the table."
Woods is quick to share the spotlight by acknowledging the team that supports her, including employees, board members, volunteers, family and friends. And while she admits that being considered a leader initially came with some discomfort, she also has a deep gratitude to be in this space.
"I see it as an opportunity to show other women, women of colour, that they can do this too."
For advocating for gender equality in the world of technology and for creating space for women to realize their full potential in the industry, Kylie Woods is this year's recipient of the Horizon Award.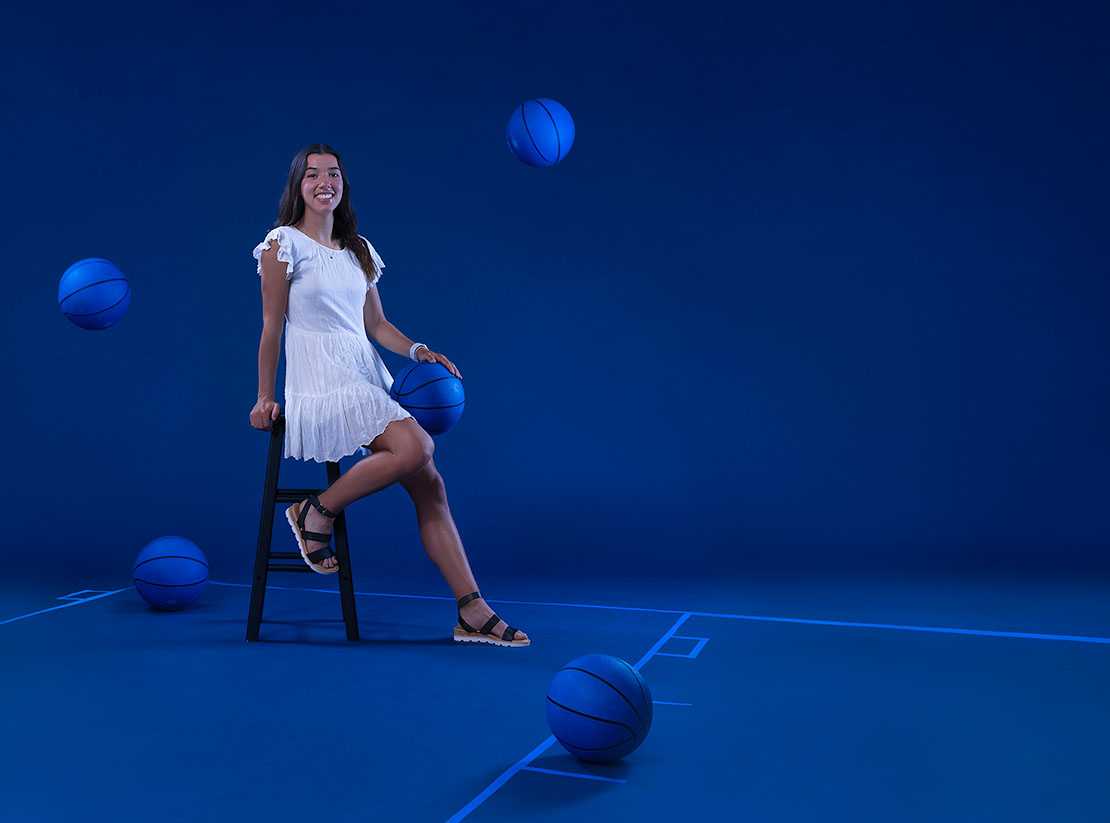 Marnie Garner
Outstanding Future Alumni Award
Bachelor of Education — Elementary, 2022
Basketball has played a big part in shaping Marnie Garner's values and philosophy of teamwork.
Marnie Garner is no stranger to a busy schedule. As a varsity athlete and Bachelor of Education — Elementary student, she juggles a demanding combination of classes, homework, practices, workouts and games. But she doesn't stop there. Garner is also committed to making an impact in her community, and she does all of the above with authenticity and enthusiasm.
For five years Garner played a pivotal role as a guard on the Cougars women's basketball team. After earning the trust and respect of her teammates, she was named team captain.
"Being friendly, approachable and knowing that my teammates could talk to me is a big thing for me. I don't judge anyone, ever. I try to relate to everyone. That's something I take pride in," she says.
Garner also personifies determination when it comes to her studies. She received the Academic All-Canadian Award, given to athletes in full-time studies with a GPA of 3.4 or higher, four years in a row, and made the Dean's Honour Roll for two.
While Garner has found success in her current program, she shares that academics never came easy to her. Using her own experience as fuel, she is passionate about creating an inclusive classroom environment for her future students.
"I want to help kids who struggle in school like I did. I want to be able to relate to my students while making learning fun and flexible."
When she's not on the court or in the classroom, Garner can be found giving back to the community. Over the years she has been a basketball coach and volunteered with Deaf & Hear Alberta and the Salvation Army. She also spent the last four years as a mentor with Crew, a program run by Catholic Family Service that pairs youth aged 10 to 14 with post-secondary student-athletes.
As she enters her final year of studies, which will mostly consist of teaching practicums, Garner is excited to take what she has learned and incorporate it into her future classroom. This includes adaptable teaching styles to meet differing student needs, hands-on interactive work and Indigenous learning for all grade levels.
"I want to keep learning with my students," Garner says. "I have confidence that I can be a positive role model for my future students and show them that anything is possible."
For setting an example both in the classroom and on the basketball court, and her passion for giving back to the community and leading the next generation, Marnie Garner is this year's recipient of the Outstanding Future Alumni Award.
Read more Summit
Past recipients – Alumni Achievement Awards 2020
Check out the recipients.
READ MORE