A leader in innovative teaching strategies and outstanding practical instruction, Mount Royal University's School of Nursing and Midwifery will prepare you to make a difference, at varying stages of your career, in the health and well-being of Canadians through our programs: 
The School of Nursing and Midwifery's vision is for our engaged learners to contribute to healthy, supportive communities. Mount Royal University's strategic plan reflects the institution's dedication to providing students with a holistic and transformative education, preparing them to become lifelong learners and active global citizens. Opening minds and changing lives is embraced in the Faculty and School strategic plan goals of strengthening scholarship and research, engaging in change-making, connecting with communities, inspiring engaged learners and promoting a healthy community.
For midwifery and nursing, this means our faculty, staff and students contribute to improving the lives of individuals, families, communities and society. Our graduates can be found in a broad range of roles in healthcare organizations locally, provincially, nationally and internationally. 
The School of Nursing and Midwifery has a long history and strong affiliation with our alumni. Throughout the years, our programs have been known for their "firsts' in Alberta and Canada.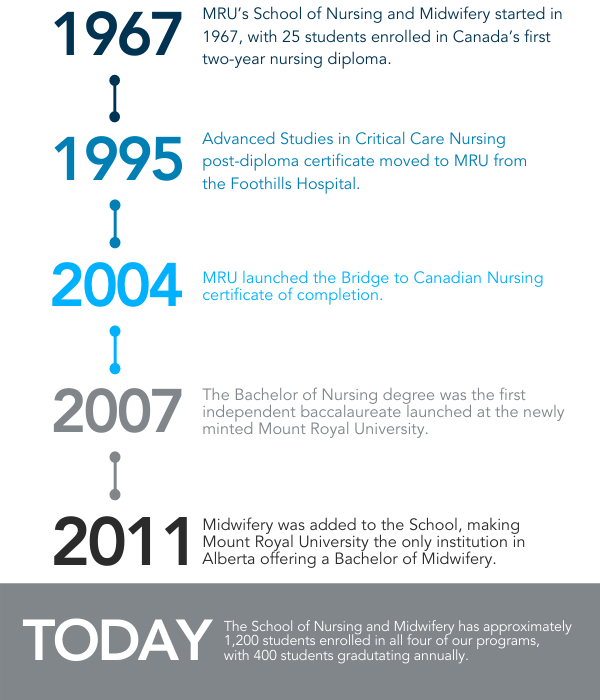 At no time in our history have these contributions been more important to sustaining a healthy, functioning society. Since its beginning, the School has responded to environmental changes by developing processes to allow students to work in clinical placements safely, thereby ensuring the continued supply of highly educated and trained nurses and midwives to provide care for individuals, families and communities. We are also working to address structural considerations of equitable, meaningful inclusion, and accessibility in our teaching and learning space.
School of Nursing and Midwifery's Commitment to Action on Racism
This Anti-Racism Statement was developed by the RN Educators Group which includes leaders of the Faculties, Schools and Departments of Nursing in the Province of Alberta, along with the Colleges offering the Practical Nurse Diploma program. The School of Nursing and Midwifery participated as a member of this group and supports this statement.
---
Faculty of Health, Community and Education's Commitment to Action on Racism
The Faculty of Health, Community and Education's (HCE) strategic plan for 2019–24 is based on the Blackfoot story of Ani to pisi — the spiderweb. One of our goals is to promote a healthy community intending to support diversity and inclusion of all people, including Black, Indigenous, People of Colour, 2SLGBTQIA+ communities and all those suffering at the hands of racism and discrimination. 
As leaders of HCE, we acknowledge that we need to do more and are committed to working with the HCE community to do more. We turned to our Espoom Taah Elder Roy Bear Chief to share his wisdom and perspective on what's happening and our role in creating a world that respects all.
Elizabeth Van Den Kerkhof
Director, School of Nursing and Midwifery
Stephen Price
Dean, Faculty of Health, Community and Education
I am the Espoom taah for the Faculty of Health, Community and Education. I would like to include my thoughts on anti-racism through my Blackfoot worldview and lenses.
According to the Blackfoot creation story of Ani to pisi, which is the spiderweb, vibrations within the web indicate a problem, and we must attend to the vibration as we must go and help. When a major vibration occurs, it brings global attention to the vibration. People have responded in droves. But after the dust settles, how do we sustain the momentum and harness the energy generated from all this response? How do we go from misunderstood to understood to understand and continue to push forward in addressing racism as well as colonialism? One is embedded in the other. This is a major global challenge that should have been undertaken years ago. Never too late. If we look at each other as one and leave out the colour of our skin, it will certainly lead to the belief that we are all related, even to the plants, animals, and our environment.
Leroy Little Bear's words sums it up best:
Leroy Little Bear's words sums it up best:
If everything is animate.
Then everything has spirit and knowledge.
If everything has spirit and knowledge.
Then all are like me.
If all are like me.
Then all are my relations.
Iika nai kso ko watsi yopa, in other words, "we are all related." Let us not forget that.
Thank you, and God bless.
Espoom Tah Elder Roy Bear Chief
Our Commitment
As a Faculty whose work is deeply rooted in making connections across all sectors and populations, we inspire students to seek the truth and honour the Truth and Reconciliation Commission of Canada's calls to action and the United Nations Declaration on the Rights of Indigenous Peoples. Additionally, we include the Scarborough Charter to guide us on anti-Black racism and Black inclusion in post-secondary education.
There is much work to be done by our Faculty to create a system where we can all thrive. We are having discussions on what this will look like. 
When we drafted HCE's strategic plan, we worked closely with Indigenous and racialized employees. Thanks to our Espoom Taah (Blackfoot for helper) Elder Roy Bear Chief, we were gifted the Blackfoot story of Ani to pisi, told by Roy's brother Clement.
Ani to pisi speaks to the spider web and the idea that when there is a vibration in our Faculty, we come together as a community — whether to celebrate, heal or help. 
As we continue to examine our work and dialogue about equity, diversity and inclusion, we connect to actions aligning with our strategic plan.
This is something we can only do in collaboration. We recognize the need to engage with students, employees and, most importantly, the community.
We need to listen and better understand what supports are necessary for our students to have an equitable learning experience, how we understand and address our biases on faculty and staff hiring committees, how we can promote and support research, where we can make spaces for all voices; and how can we support communities flourishing.