Growing community and prosperity
Second year Bachelor of Science ― Environmental Science student Braden Etzerza is of Tsimshian, Tahltan heritage and European decent. Growing up in Prince Rupert, BC, he witnessed many challenges in accessing healthy food for the people in his home community of the Metlakatla Nation and other coastal communities.
This led to an interest in and passion for coming up with solutions to address food insecurity issues for Indigenous peoples both on and off reserve. He has conducted research at Metlakatla and three other coastal Tsmysyen communities to support his endeavours, and is using his education at Mount Royal to further his agenda.
Etzerza says, "The goal of my research is to help Indigenous people support their own food security with the added benefit of self-determination in guiding their futures."
Looking into planting the seed for start-up food projects, one of Etzerza's main goals is to highlight the need to create gardening spaces for urban Indigenous people. In April he presented his research at the Oxford Global Challenge 2017, chosen as one of two winning entrants from over 10 participating teams from across Canada to appear. It's possible Calgary may soon see the results of Etzerza's work in the establishment of more community growing spaces, and a similar framework could be implemented across Canada. These spaces could play a dual purpose in honouring the rich history of Indigenous people as well as providing a more consistent variety of fruits and vegetables. They could also be places where Indigenous people can go to heal, connect and learn more about their heritage.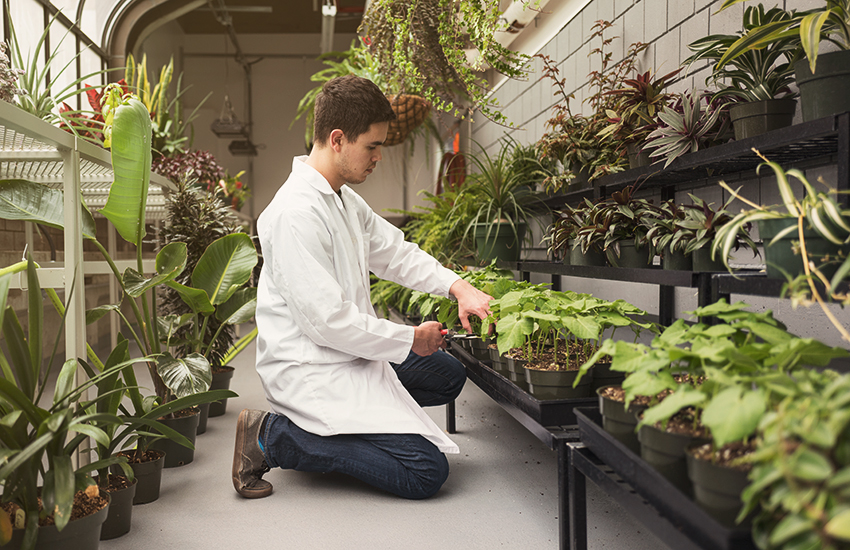 Mount Royal is a place where plenty of opportunities exist if you put the work in, says Etzerza.
Patti Derbyshire, professor and chair of the Department of Entrepreneurship, Marketing and Social Innovation, is working with Etzerza to implement research opportunities that further enhance his learning experience. Derbyshire says that Etzerza saw and understood quickly how he could take his interest in environmental science and his concerns for his community and start to make an impact right away.
"Through a lot of hard work, he's made progress on both local and global projects, addressing intersections for Indigenous and non-Indigenous communities and applying critical knowledge from the classroom to research that will matter for the next seven generations," says Derbyshire.
"We are very excited about Braden's focus on prosperity crops for neighbour nations throughout Canada and their practical impact on Indigenous food security, the emerging fibre economy, and on job growth that supports Indigenous designers in Canada."
Etzerza was connected with Derbyshire through a teacher in an entrepreneurship class he was taking. He says due to the fact that Mount Royal University's many faculties, departments and institutions strive to connect and work together, a number of prospects began to present themselves.
"Sciences connected with business, entrepreneurship and social innovation," says Etzerza, who notes the importance of the indigenization work that MRU is doing.
"I would say, especially to Indigenous students, don't be scared to follow your passion," he says, admitting that he was a little nervous about entering sciences as a field. He originally backed down from his first-choice program because of fear. But with the support of many people connectors, program mentorship and faculty members, Etzerza realized science was where he belonged. Mount Royal's smaller class sizes were ideal for his type of learning, and the institution also houses the Iniskim Centre, which (from the website), "offers programs and services to increase the engagement and success of Indigenous students while raising awareness of Indigenous peoples and cultures." Etzerza has built a strong network as both a student and young indigenous man on his educational journey.
Additional supports include the Aboriginal Education Program (AEP), which helps Indigenous students who participate in upgrading. Also, the Aboriginal Science and Technology Education Program (ASTEP) provides help to Indigenous students seeking or enrolled in the Bachelor of Science or Bachelor of Computer Information Systems degree programs.
In his first year of university Etzerza used AEP resources to help raise his marks so he could get into his program of choice and thereby pursue his dreams. He has aspirations to learn more about social innovation by adding a minor to his degree. With further guidance from the ASTEP program, he is on track to continue to experience great success.
"If there was anything I could say about attending this university to a potential student, it would be to tell them about the volunteer opportunities, the connections, the welcoming environment and the supportive faculties and staff at MRU," says Etzerza.