Dr. Tim Rahilly reappointed as president and vice-chancellor
Message from the Board of Governors — Mount Royal University | Posted: August 17, 2022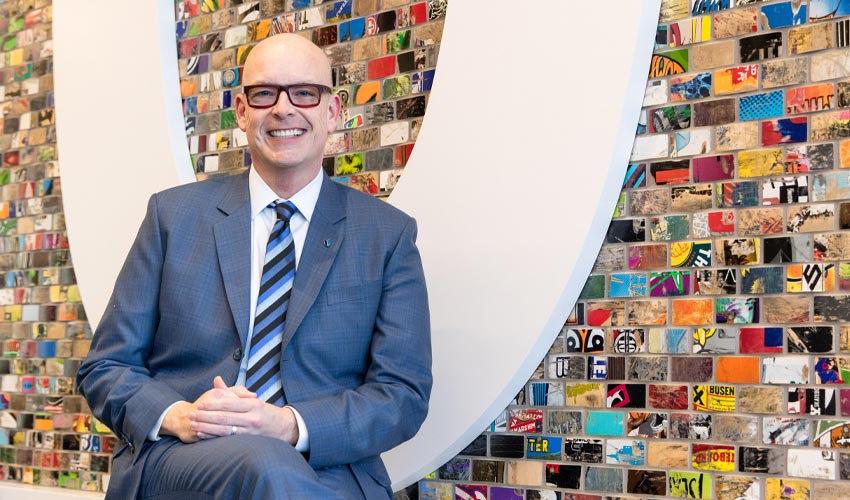 Dr. Rahilly is the tenth president and first vice-chancellor of Mount Royal University.
---
The Mount Royal University Board of Governors has voted to reappoint Tim Rahilly, PhD, for a second term as the University's President and Vice-Chancellor. Dr. Rahilly's second term will start on May 1, 2024.
He has said that the number one reason he was attracted to Mount Royal is its focus on students and the Board recognizes his strong commitment to the student experience and steady leadership that has guided the MRU community through many challenges since the start of his term.
The Presidential Reappointment Committee was formed to make a recommendation to the Human Resources committee of the Board regarding the President's reappointment, which they submitted to the Board in advance of the vote.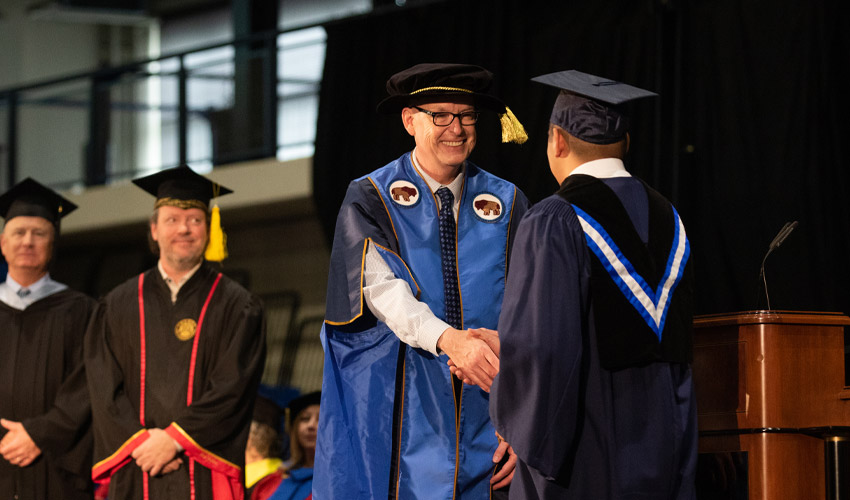 Dr. Rahilly congratulates graduands as they cross the stage at the 2022 convocation ceremony.
---
"Following a thorough review process, which included direct feedback from MRU employees, the Presidential Reappointment Committee submitted a strong recommendation to reappoint Dr. Rahilly as president and vice-chancellor and the Board voted in support of this recommendation," says Alex Pourbaix, Chair of the Board of Governors. "Mount Royal has navigated many twists and turns in recent years related to COVID-19, the Board acknowledges Dr. Rahilly's strong leadership of the university through this period with collaborative decision making in an effort to maintain the high standard of teaching and learning MRU is known for."
Dr. Rahilly has settled into his position and the broader city of Calgary by making strong connections with students, faculty, staff, alumni, along with the University's biggest supporters out in the greater community. He is eager to continue the great work that is taking place across campus departments that allows MRU to provide a transformative education while remaining committed to achieving new goals to build on current successes.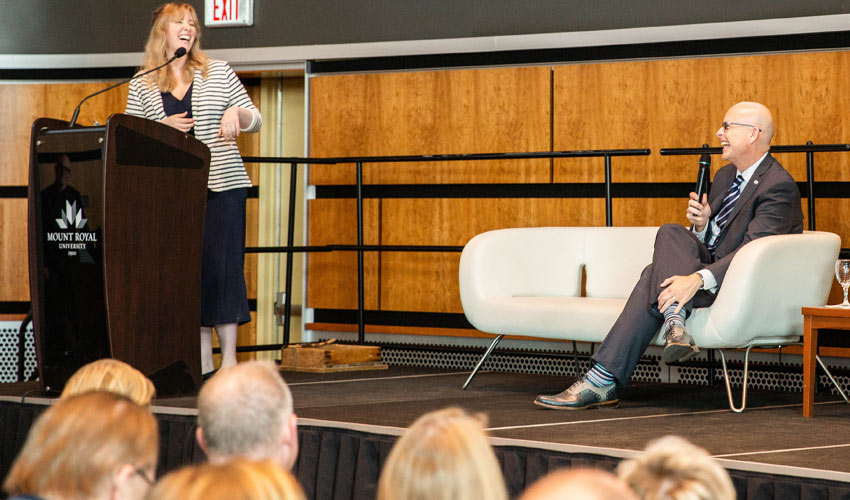 Dr. Rahilly on stage with Meg Wilcox, assistant professor (Journalism) at an event that officially introduced him to employees in 2019.
---
"I have been so honored to work at Mount Royal University with dedicated educators committed to student success. It really is a special place where student-centeredness is part of our history and our DNA" says Dr. Rahilly. "I plan to continue high levels of engagement with the campus and local community to assure that our current and future students leave this campus with the knowledge and skills to make change and build successful lives and careers."
"I am thankful to everyone who participated in the reappointment process, including the Presidential Reappointment Committee, the Board of Governors, and MRU students, faculty, staff and alumni who shared their feedback."
Pourbaix, who served as chair of the committee, shares in this appreciation and is grateful for the time and commitment of his fellow members of the Board of Governors who served alongside him on the Presidential Reappointment Committee:
Chris Lee, Vice-Chair

Kenna Olsen, Faculty Member

Morgan Loberg, Staff Member

Joseph Nguyen, Student Member

Shannon Pestun, Public Member

Thomas O'Leary, Public Member

Shannon Ryhorchuk, Public Member

Denise Man, Public Member (member-at-large)