New members added to the MRU alumni family
Fall Convocation emotional and inspirational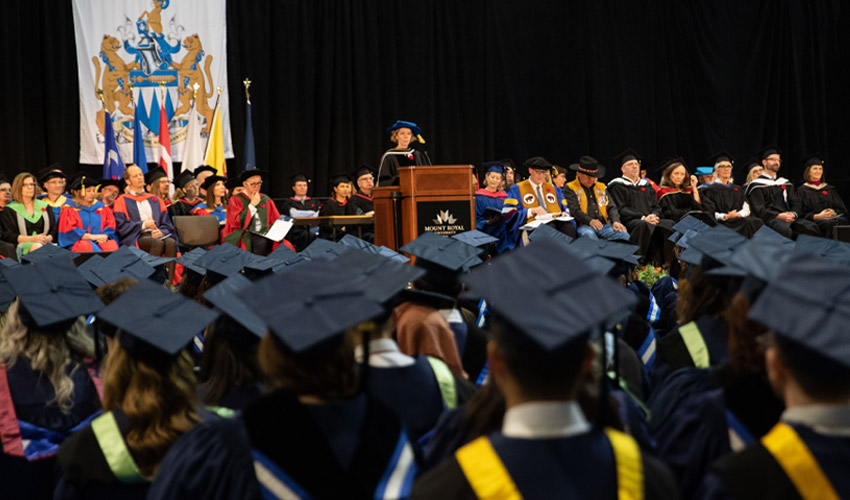 Mount Royal University officially welcomed 320 newly minted graduates to the alumni family on Friday, Nov. 1. Former students converted from graduands to graduates as they crossed the stage to collect their respective degrees, diplomas and certificates.
As has become the norm at the fall ceremony, the sixth of the 2019 calendar year, the largest cohort at the celebration was from the Bachelor of Communication. In total, 35 public relations majors were conferred with their degrees.
Massage therapy made up the largest group of diploma grads while representing the Faculty of Continuing Education and Extension. The Mount Royal University community was proud to congratulate 48 new massage therapists on their new careers.
The ceremony proceedings
The afternoon began with opening remarks from 2016 honorary degree recipient, Clarence Wolfleg senior (Elder Miiksika'am), who celebrated Mount Royal's commitment to reconciliation and the indigenization of curricula. Keeping with tradition, six self-declared Indigenous students received a medicine bag from the Iniskim Centre, gifted by Wolfleg and Steve Fitterer, vice-president, Student Affairs and Campus Life.
In his final convocation ceremony of 2019 and his first since being fully installed as president and vice-chancellor of Mount Royal, Tim Rahilly, PhD, addressed those in attendance ― reminding the graduates to focus on three "C's" as they depart campus.
Credentials, critical thinking and caring were the areas Rahilly asked the attendees to keep in their minds.
"They will serve you well," Rahilly said.
Rahilly also reinforced that Mount Royal will always be there to support the grads, and they are not ever alone.
"You're joining an engaged, vibrant group of more than 105,000 Mount Royal alumni. We truly hope you will stay connected to your alma mater. Graduates, thank you for choosing Mount Royal."
Additional accolades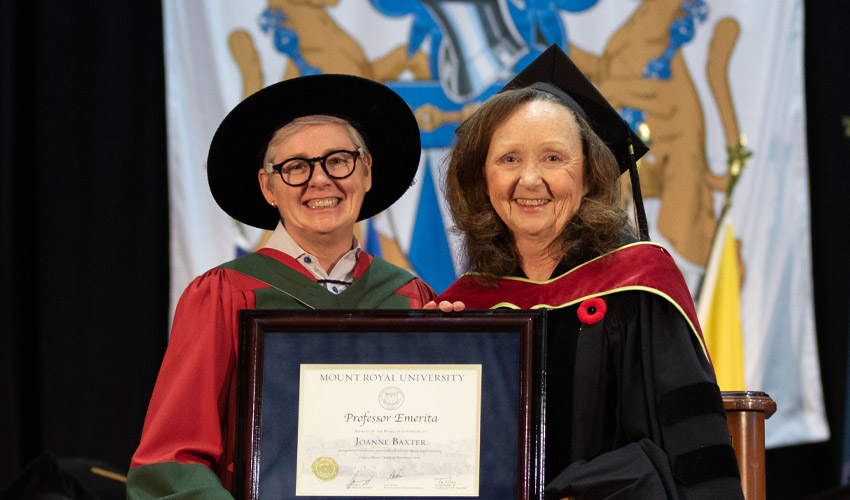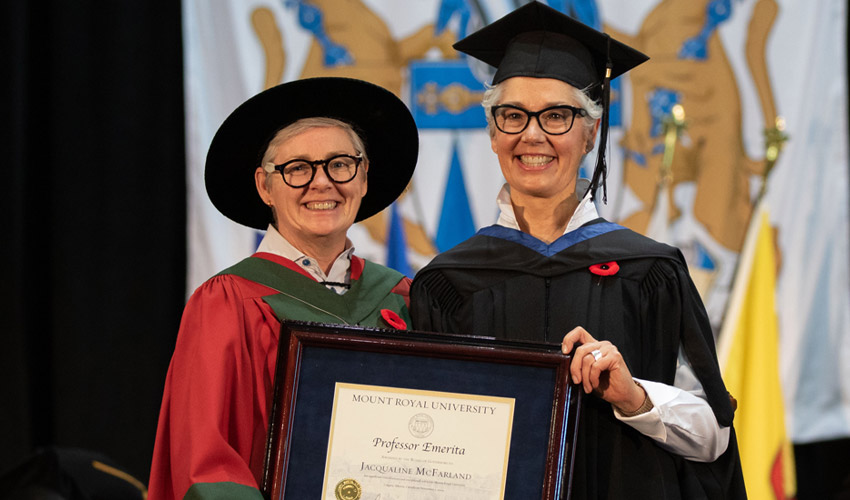 Also recognized at this prestigious occasion were former professors Joanne Baxter and Jacqui McFarland. The pair represented the ceremony's professor emeriti contingent.
Throughout her career, Baxter was an integral part of the early childhood education landscape in Alberta and Canada. In 1985, she began her teaching career at Mount Royal in the disability studies program before moving to the early learning and child care program in 1992, subsequently serving as its chair from 2005 to 2010. She worked on the development of the applied degree and was a lead contributor to the Bachelor of Child Studies, the only program of its kind in Western Canada.
McFarland's commitment to — and enthusiasm for — Mount Royal has been unwavering. She joined the Department of Interior Design part time in 1989 before becoming a full-time instructor in 1991. Upon receiving tenure in 1995, McFarland served as the department's chair until 2005. Her talents were recognized with a Distinguished Faculty Award in 1998. Following her resignation in 2008, she continued as a contract instructor until 2017.
Doctor of Laws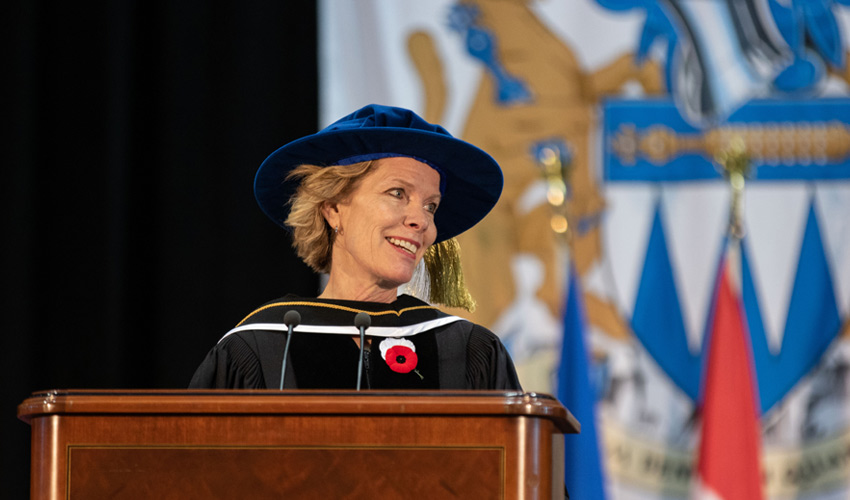 Mary Anne Moser received an Honorary Doctor of Laws at Friday's celebration for her dedication to discovery in the world of science and exemplary leadership in the Calgary community, the sixth such honour in Mount Royal's 119-year history.
The co-founder of Beakerhead, a week-long "smash-up" of art, science, workshops, events and performances for the general public, has long been associated with MRU.
While she was recognized by the institution, Moser had the opportunity to address the over 200 graduates in attendance, the chancellor's party and those there to support their friends and family from the stands. Her message to the recently appointed MRU alumni focused on the desire that most grads have to find work in their field, and how that maybe a better focus for new grads is not their discipline, but their self-discipline. She suggested that new graduates might want to think about indiscriminately going after skills, and going deep in a few areas that may or may not be related to their degree.
"It is amazing what the rear-view mirror will tell you about that first decade after graduation. You will see how important the sharpening of certain skills is to what doors opened for you," said Moser.
As the afternoon neared completion, Mount Royal's Provost and Vice President, Academic Lesley Brown reminded the recent graduates that their convocation regalia — the gown, hood and mortarboard — is a time-honoured symbol of post-secondary education. Until students receive their parchment, the tassel on their mortarboard is worn on the right side. At the conclusion of the ceremony, it is "tossed" to the left.
"It is my distinct pleasure to congratulate you on your remarkable achievements and ask that you now move your tassels from the right to the left," Brown said, which was followed by cheers and more than a few mortarboards being tossed in the air.
Mount Royal alumni, You Always Belong Here. Exclusive discounts and opportunities await you.
Nov. 1, 2019 — Jonathan Anderson
Media request contact information.
Have a story idea? Please fill out this form.