New Bachelor of Interior Design launched at Pearls of Wisdom
Improvements to studio space on the drawing board
Mount Royal University officially announced its 12th degree at the 18th annual Pearls of Wisdom event on May 30. The new Bachelor of Interior Design is now available to those interested in studying how spaces can be both effective and influential.
| | |
| --- | --- |
| | |
| This "Deconstructed Lobster Boat" was one of two waterbars designed by current Bachelor of Applied Interior Design students on display at the 2015 Pearls of Wisdom event. ~Photo by Chao Zhang | |
MRU has offered a popular three-year applied degree in interior design since 1998, and the first year of the full four-year degree is at capacity already.

"The new degree is leading edge and unique," said Jeff Keshen, dean of the Faculty of Arts.

"The curriculum marries advanced theoretical knowledge with hands-on development of design skills in the studio. Class sizes are small. The design studio features a typical professor to student ratio of one to fifteen."

The Interior Design program has been accredited through the Council for Interior Design Accreditation (CIDA) for a number of years, which is a requirement to work in the industry, and the new degree is the only one of its kind in Alberta.

The setting for the degree launch could not have been more appropriate, as MRU's Triple Gym was changed into an east coast-style kitchen party for the evening, complete with the pre-requisite lobster boil.
| | |
| --- | --- |
| | |
| Rodney Clark has been supplying oysters and lobster for Pearl's since its inception, and he recently opened one of his popular restaurants - Rodney's Oyster House - in downtown Calgary. ~Photo by Chao Zhang | |
"We transform spaces through colour, light, ambience, sound," said Frank Harks, an instructor with the Interior Design program who has taught at MRU for 24 years.

"That's part of the interior experience that designers create. It's a very complex profession."

Two water bars designed by current Bachelor of Applied Interior Design students as part of event sponsor RBC's Blue Water conservation project supplied ambience (and thirst quenching opportunities) for the nearly 400 guests. A construction class competition pitted eight groups of first-year students against each other to design and build a water bar that worked with the program, and the top two were put to use for the night.

Current applied degree students Michael Pickett, Caitlyn Wilson and Beth Barter's "Deconstructed Lobster Boat" - made out of old pallets and recycled plastic water bottles to support the theme of conservation - was one of the bars chosen, and all three were pleased with the final result of their efforts.

"It's a lot of time, but the reward is amazing," said Pickett. "When you finish that project that you didn't think you were capable of, your mind is blown and it drives you forward to the next project."

As part of the Interior Design program students take courses like construction, technical and creative drawing and hand and digital communications tools, plus they spend countless hours in the studio, beginning with basic skills that are then layered upon each other year after year. As the beneficiary of proceeds from Pearls of Wisdom this year, the Interior Design program is looking forward to enhancing their studio space for the benefit of students and instructors.

"We're renovating the studio to be world class," said Keshen.

"Each student will have his or her own work station, with mobile furniture to encourage collaboration, and new flooring and hanging felt panels were selected to improve acoustics in the open studio spaces."

The studio is the heart and soul of the Interior Design program, says Pickett, who sees a future for himself designing retail spaces.

"When you're getting stuck you can go and ask one of your classmates to take a look and see if they can offer some perspective of what you are doing wrong, " he said. "There is a lot of collaboration."

Wilson described herself as a "beginner drawer" when she started in the program, but through assignments, instruction and a lot of studio time she has seen her own skills improve vastly, as well as the skills of her peers.

"It's a work of passion. We invest a lot of time into studio because we love it so much," said Barter, who would like to design large events centres, including hockey arenas. Barter is also interested in repurposing and salvaging different items to be used again in interiors.

Each has the opportunity to come back for an additional year after completing the applied program to obtain the baccalaureate degree if they wish.

"Graduates will continue to have many career options," said Keshen.

"From being a commercial interior designer to a facility planner…from being a showroom designer to a design consultant, they'll also be able to pursue graduate studies at other institutions offering architecture, interior design or environmental design programs, to name but a few," he said.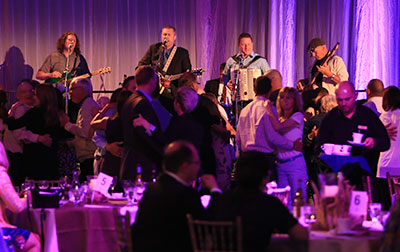 Calgary band Fraid Knot provided some east coast celtic rock as the entertainment for a crowd that wasn't afraid to kick up their heels. ~Photo by Chao Zhang