Mount Royal University has a gift for mothers-to-be in Alberta, just in time for Mother's Day.
The new four-year Bachelor of Midwifery (B.Mid.) degree - the only such degree program in Alberta and one of only three in Western Canada - was announced by Brenda Hendrickson, Dean of Mount Royal's Faculty of Health and Community Studies, on May 3.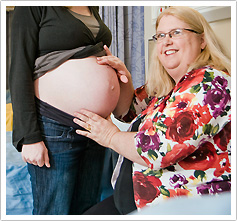 Midwife and Mount Royal professor Debbie Duran-Snell works with a woman who is eight months pregnant.
"Today's announcement marks a key milestone for the mothers and families of Alberta," Hendrickson says.
"In 2009, the Province of Alberta demonstrated vision and leadership in supporting publicly funded midwife services in the province, and now the government has helped Mount Royal establish the educational foundation to prepare midwifery caregivers to ensure safe, competent and quality care for women and their babies in the years to come."
Offered through Mount Royal's Department of Advanced Specialty Health Studies, this "made in Alberta" program reflects the continuing evolution of health care in the province - particularly the choices available to women for the delivery of their babies - and the integration of alternative therapies in care.
"This is so exciting and so empowering for women," says Debbie Duran-Snell, who has been a midwife for 32 years and is an Assistant Professor of Midwifery at Mount Royal.
"The program recognizes that childbirth is a normal part of life and not a medical condition. It emphasizes caring over curing, and honours women and the choices they make for this phase of their lives."
Growing appreciation and need for midwives
Midwives offer primary care to healthy women throughout their low-risk pregnancies, during childbirth (women may choose to deliver their babies at home, in a birth centre or in a hospital) and for the first six weeks of their babies' lives.
Demand for midwifery services has been growing steadily in Alberta for years and the pace has quickened since 2009 when the Province of Alberta approved public funding for the services.
With only 52 midwives currently registered across the province (and only 130 new midwifery graduates across the country every year), the need has rapidly outpaced the number of practitioners.

"There's increasing recognition of the role and importance of midwives in women's health," Duran-Snell explains. "While midwifery is well-integrated into care in other countries, Canada is just starting to realize the benefits."
In addition to providing enhanced continuity of care for women, midwifery services can also help reduce public health care costs by providing the right care alternatives at the right time. Increasing the number of midwives overall will also help to offset the potential impact of a shortage of obstetrical service providers expected in coming years.
Janis Wegerhoff, chair of Mount Royal's Advanced Specialty Health Studies explains: "For most low-risk women, a midwife is the primary care provider for pregnancy and postpartum."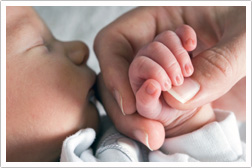 Mount Royal has championed the development of this program for five years, Hendrickson says.
"As primary maternity care providers, our graduates will advocate for women's choice and preference around childbirth," Hendrickson adds.
"This is a normal part of women's health that is embedded with cultural, social, emotional and spiritual meaning."
Developing comprehensive knowledge and skills
The evidence-based Bachelor of Midwifery program will prepare midwives to offer that breadth of care through a combination of biological, social and health sciences, midwifery and general education courses, integrated with clinical learning under the supervision of registered midwives practicing in the community.
Key to the program will be the opportunity for students to build on their theoretical foundation and expand their knowledge and skills through clinical placements with practicing midwives, which will be completed in the second half of the program.
"Our intent is to have the educational program mirror the practice model," Wegerhoff explains. "We are dovetailing what is being learned with what is wanted by women in Alberta and what is being practiced by midwives."
The curriculum is aligned with core competencies established for practice in Alberta and in Canada. Graduates will be prepared to write the Canadian Midwifery Registration Examination (CMRE), which will enable them to work any where in Canada.
"The program is a real statement about community," Wegerhoff says. "It's a return from centuries ago when midwives living in the community supported women through their pregnancy - but with all of today's upgraded technology and evidenced-based knowledge that ensures safety.
"There is so much demand for midwives in Alberta that I'm excited to have our graduates learn here and work here."
Support and responsiveness
Robin Fisher, Mount Royal Provost and Vice-President, Academic, adds: "This is one more great degree in our suite of degree programs.
"The program builds on Mount Royal's long-time strength in health and community studies, and reflects our commitment to be responsive - to identify a need and do something about it."
At the event announcing the new degree Greg Weadick, Minister of Advanced Education and Technology, said: "[The Bachelor of Midwifery] is a very welcome addition to our Campus Alberta system and I congratulate the University for making this program a reality."
Gene Zwozdesky, Minister of Health and Wellness, added: "Training and educating more midwives will mean more expectant mothers will get the quality care they want and need throughout the most important experience in their lives.
"This new degree program will result in less stress on the system and on other health care professionals. Providing the right mix of health professionals in Alberta is a key piece of our 5-Year Health Action Plan."
- Cathy Nickel, May 3, 2011