International Research Collaboration Continues to Grow
What started as an international research collaboration initiative last year has developed into a deepening international partnership between Mount Royal University and Universidade Federal do Rio Grande do Sul (UFRGS) in Brazil.
Dwayne Sheehan, associate professor in the Department of Physical Education and Recreation Studies at Mount Royal, has been collaborating with Eliseo Reategui, professor in the Faculty of Education at Universidade Federal do Rio Grande do Sul beginning last year with the launch of a Brazilian government grant for collaboration with Canadian Universities for graduate research. The grant is made possible through Conselho Nacional de Desenvolvimento Cientifico e Tecnologico (National Council of Technological and Scientific Development).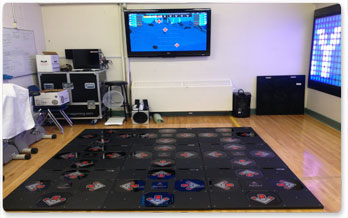 One of the exergames at the Research Centre in Calgary.
The international collaboration began with Reategui's PhD candidate, Mateus Finco, conducting research at Mount Royal beginning in Fall 2013 with Sheehan as his field supervisor. The collaboration involved researching the impact of integrating exergaming into physical education classes. Exergaming is referred to as the activity of playing video games that involve physical exertion and are thought of as a form of exercise.
Finco has now returned to Brazil after a successful academic and international experience and will spend the final portion of his PhD incorporating what he has learned at Mount Royal into his thesis on exergaming. In addition to completing his PhD requirements, he is working as a sessional instructor at a university just outside of Porto Alegre in Brazil and hopes to seek out a tenure track position in his field upon completion of his degree.
Partnership grows to include further benefits to Mount Royal students
Sheehan recently returned from a three week visit to Brazil to enhance the partnership and research collaboration. The trip also provided a means to investigate further partnerships with the Brazilian university and the potential of a future field school opportunity for Mount Royal students. The visit was made possible through the support of the Mount Royal Internationalization Incentive Fund, administered through the Office of International Education. The fund is intended to support initiatives which contribute to the internationalization of Mount Royal within the context of the strategies outlined in the university's Internationalization Strategy.
The field school initiative has been a personal passion of Sheehan's for quite some time and one that he sees as a tremendous educational opportunity for Mount Royal physical education students. In the last year of his own education degree, Sheehan had the opportunity to travel on a field school to Japan and Thailand. The experience exposed him to a global perspective on education, and he took so much away from the experience that resonates with him today.
"25 years later, I am still impacted by the global perspective I was able to gain abroad while completing my education degree," explains Sheehan. "I now want to come full circle and provide that same opportunity to the students I serve."
The timing is perfect for the planning of a potential physical education field school, as September will see the launching of the Bachelor of Health and Physical Education (BHPE) degree at Mount Royal. One of the foundations of this new degree is providing students with experiences that open the world to them. In 2017, by the time these first-year Bachelor of Health and Physical Education students are well into their degree path, Sheehan hopes the field school will be embarking on its first trip to Brazil.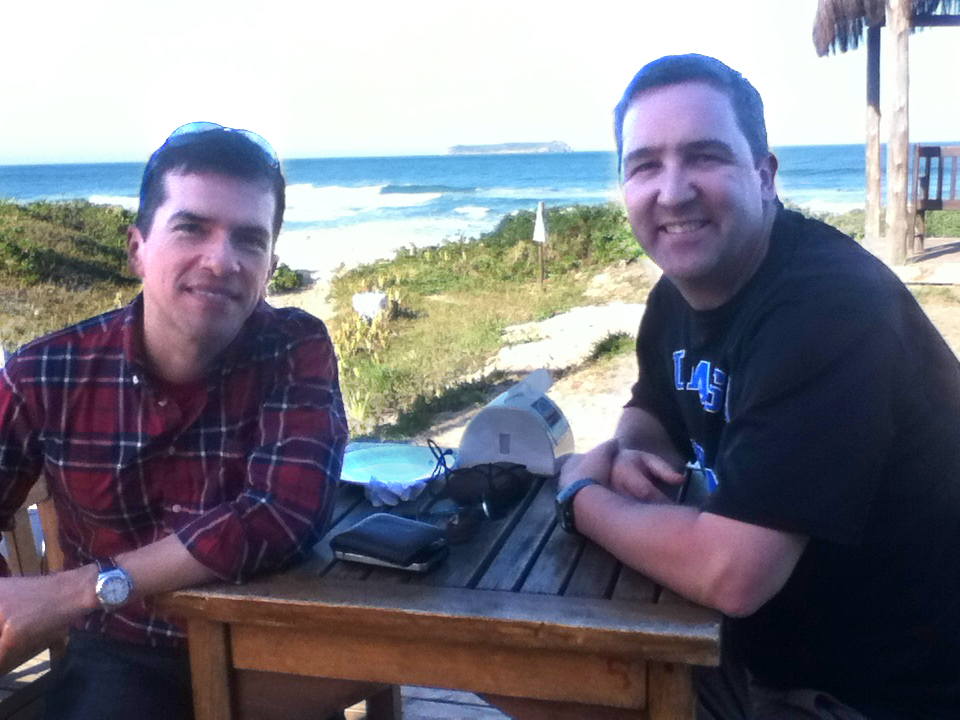 Professor Dwayne Sheehan and Professor Eliseo Reategui collaborating in Florianopolis, Brazil
Sheehan, a huge advocate of experiential learning, is very keen to incorporate a non-traditional learning environment, including practica, community service learning and field schools, into this degree program.
"Such activities will broaden opportunities for students enrolled in the degree," says Sheehan, "and will allow them to gain many new perspectives through the lens of physical literacy/education."
Sheehan met with the different stakeholders at the Brazilian partner institution during his visit, including the International Office. They were very keen to further the partnership and are moving forward with an international partnership proposal between the two universities.
"Field Schools provide powerful learning for our students and to have the opportunity to partner with a university in Brazil is very exciting for us," says Stephen Price, chair and associate professor in the Department of Physical Education and Recreational Studies at Mount Royal. "We are very thankful for the connections Dr. Sheehan has been able to make at UFRGS."
Follow up to the research
Reategui will be returning to Mount Royal in the Fall 2014 semester as a visiting professor and to continue collaboration with Sheehan at the Canadian Exergaming Research Centre. He hopes that his future graduate students will have opportunities to also gain international research experience at Mount Royal. Additionally, he has expressed a strong interest in acting as a guide for the potential field school to Brazil benefiting Mount Royal students.
"The partnership is taking shape to include many different layers," says Sheehan, "and I am looking forward to the anticipated outcomes as the collaboration grows."
Marisa Norona - July 6, 2014