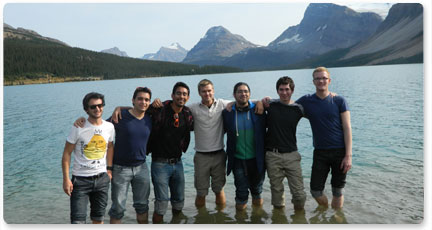 Software engineering student, Bjarni Ragnar Guðmundsson, from Reykjavik University in Iceland, may have not realized he was coming to Calgary when he chose Canada as a destination to study abroad, but says his six months at Mount Royal University have been life changing.
Guðmundsson says that once he had decided to participate in an exchange he went directly to the international office and started researching exchange opportunities. "At first I thought about going to study in Spain, but then I thought it would be great to go overseas to a school that was a bit further away," he says.
Although many of his friends had studied in the United States of America, Guðmundsson knew he wanted to go somewhere different, so he chose Mount Royal University through a partnership offered through his university.
However when he first chose Mount Royal, he thought Mount Royal was in Montreal not Calgary. After a bit of a surprise, Guðmundsson began researching about the City of Calgary and was pleasantly surprised with his destination of choice.
"After looking on the Internet a bit, Calgary looked like a great city to study in," he says.
On September 2nd after hours of travelling, Guðmundsson arrived in the City of Energy to begin his adventure as an exchange student.
"I was so tired and hungry when I arrived I ended up leaving my cell phone in the taxi cab. Then I realized that I had been dropped off at the wrong residences."
Although his first few moments in Calgary were a bit crazy, Guðmundsson's luck quickly changed. Almost immediately the taxi driver returned with his phone and Mount Royal's Security were able to take him to his residence.
He says that although his first few hours in Calgary were a bit crazy from being so hungry and tired, his first impressions of Canadians were outstanding. "Everyone was so nice. I couldn't believe that people were so open to talk and help me out."
After finding his new home in residence, Guðmundsson met his roommate Eric and they immediately became good friends. "He drove me to get groceries that first night and has taken me around Calgary. I have even gotten to know his family. In fact, his mom will often come down from Olds and fill up our fridge."
Living in residence has been an amazing experience for Guðmundsson. In Iceland he lives with his family, so living on campus has been a great way to gain some independence.
"It has given me a jump start to being independent. I am learning to cook and curious to experiment with new foods. Right now I am really good at cooking frozen pizzas," he laughs.
In addition to gaining independence, the MRU residence community has given him a great opportunity to meet other Canadians. "I really like that most of the exchange students are living with other Canadians, not just international students," he says. Guðmundsson's Resident Advisor, Haz, has also organized a lot of events and activities throughout the semester for fellow residents to participate in and meet new people.
"We went to a MRU Cougars hockey game. It was my first hockey game ever," says Guðmundsson, "I know it is weird that I haven't gone to one because I am from Iceland, but it is not as popular back home."
Now that he has watched his first game, skating is on Guðmundsson "To Do" list before he leaves.
Although Guðmundsson is having a lot of fun with the social aspect of his experience here at MRU his academic experience has also been amazing.
As an open studies student, Guðmundsson is currently taking Introduction to Computability, Data Bases and Computer Architecture. "The courses are really sweet. I am taking courses that I like, so it comes really easy and the teachers are all great too," he says.
For Guðmundsson, MRU is a lot like his university back home where classes are small and courses are interactive. "I have made one good friend in each course and all the teachers know my name and that I am an exchange student," he says.
Guðmundsson came to Mount Royal University as an exchange student through the Consortium for North American Higher Education Collaboration (CONAHEC).
He says that both universities have been extremely helpful with all the logistics and curriculum planning and recommends that anyone looking at participating in an exchange at Mount Royal University sign up immediately.
"Don't even think about it, just go!"
- Andrea Morrow, November 2, 2012