Mount Royal student takes her hijab experience to Jakarta
"The hijab covers your head, not your brain."
Wise words from Mount Royal's Evawani Daud, third-year psychology student and recent contestant in World Muslimah 2013.
An international competition for Muslim women with a focus on the Islamic faith, World Muslimah is a component of the World Muslimah Foundation (WMF) an organization focused on enhancing global understanding of the role of Muslim women in their culture and society.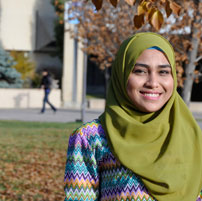 Hosted in Jakarta annually since 2011, World Muslimah selects 20 Muslim women between the ages of 18 and 27 from across the globe who demonstrate a balance between the organization's three tenets of smart, stylish and sholeha (pious).

The hijab experience

Immigrating with her family to Calgary from Aceh, Indonesia in 2007, Daud won the opportunity to return to her homeland to compete after submitting an essay on her experience wearing the hijab both in Indonesia and in her new home in Canada.

"When I started wearing hijab in grade six, it was largely out of obligation; Aceh was a city where it was pretty strict, and having a piece of cloth in public that covered my hair was something I did to be a good student and a good citizen," says Daud. "When I moved to Canada, there were no rules about hijab and only a few Muslim girls in school wore it."

Entering grade 11, Daud decided it was time to remove her hijab to help her fit in, but ultimately found it didn't make her feel better about her identity.

"I realized the problem was not the hijab; it was me who was not proud of my identity as a Muslim," she says. "When some Canadians think about Islam, they think about girls who are forced to stay home, that they are oppressed by wearing hijab … I wanted to show everyone that Islam is not like that - Muslim women are out there, contributing to society. It gives me an identity that I am proud of, as well as a sense of belonging."

Stepping into the spotlight

Daud's path to Jakarta didn't start from the urgings of her family or community - it began on YouTube. Looking for tutorials on how to wear hijab in 2012, Daud stumbled across videos from the World Muslimah competition from that year.

After seeing an Indonesian woman win, Daud decided that she would join the competition. She submitted her essay and to her surprise was selected as one of the top 100 candidates. She was asked to submit a video documentary in July describing her social activities, achievements, and Koran scholarship, to be voted on via YouTube and Facebook, as well as by a panel of judges.

"To be honest, I'm not used to being in front of the camera - I hardly wore makeup prior to the competition, but I had a friend urge me to see it as a challenge and a new experience," says Daud. "I had support from the campus' Muslim Student Affiliation and a chance to show my volunteer work at SAMRU's Peer Support Centre and Sustainability Centre."



After overwhelming support online, Daud was selected in the top 20 finalists and ultimately finished third in the completion, held in mid-September. She is now encouraging other Muslim women to participate, noting that there is no requirements in regard to height or body weight and that the experience alone is more than worth their while.

Beauty beyond appearance

While Daud did extremely well in the competition, she genuinely appreciates the opportunity to participate with a group of women whom she regards as sisters in a significant initiative for both her homeland and her faith.

"Since I moved to Canada, I've been looking for a place where I belong," says Daud. "Returning to Indonesia and to be connected with a culture that I've been missing has helped me gain confidence in public and helped me assert my value in society."
As with many women's only competitions, World Muslimah is not without its critics - however, organizers assert that the competition is not a "pageant." According to the WMF facebook site, the Muslim women's organization (founded in 2011), aims to enhance understanding of Islam and promote essential skills. WMF aims to reduce poverty, focusing primarily on the core issues of education and women's empowerment and appreciation.
The World Muslimah competition is held as a benefit relief of Muslim women in food crises, wars, conflicts and natural disasters.

Daud says she has a strong belief that all Muslim women should be highly educated.

"Because Islam encourages everyone to be a lifelong learner. I want to show the world the value of Muslim women, that they are not oppressed and limited by their culture and religion," she says. "With nothing but our hands and faces showing, we must rely on our inner beauty to define our self-worth."

Colin Brandt - Oct. 25, 2013