Two of the best to duke it out behind the podium
Starnino v. Bök.
For one exclusive night, these two titans of Canadian poetry will square off in a literary cage match at Mount Royal University.
Starnino is Montreal poet and publisher Carmine Starnino, an award-winning poet, essayist, critic and the editor of Signal Editions, the poetry imprint at Véhicule Press.
He's also one of Canada's most outspoken and respected literary critics.
Christian Bök is an Associate Professor of Canadian Literature, Critical Theory, and Poetics in the University of Calgary's Department of English, and the author of Eunoia,which won the Griffin Poetry Prize in 2002 and was named as one of 2008's Top 10 books by The Times of London.
For years, they have debated the contemporary state of poetry in Canada through letters, criticisms and essays.
Now, thanks to Mount Royal's Visiting Authors Program, they'll come together in person for an evening of feisty and intelligent debate.
"This is an opportunity for their debate to occur in person, with all the nuances of tone and passion that only a conversation can supply," says Micheline Maylor, a part-time lecturer in Mount Royal's Department of English who helped organize the event.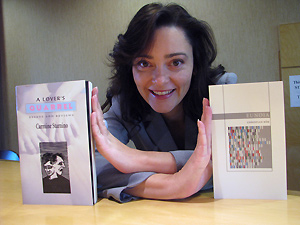 Micheline Maylor, who helped organized this meeting of great literary minds says there is potential for fireworks.
"The debate is worthwhile because the future of Canadian poetry lies at the heart of this conversation," she says.
"The poets represent two polar ends of the aesthetic and theoretic spectrum. They are the taste-makers of Canadian poetry. Their opinions will dictate who, why and how Canadian poetry will develop in the upcoming decades."
Maylor, who holds a doctorate in contemporary Canadian literature and creative writing, has been following this lyrical feud for years.
"When Starnino's essay Vowel Movements: Pointless Toil and Empty Productivity landed on my lap in 2004, I knew I had just read the most exciting piece of Canadian literary criticism in decades," she says.
"Then, while seeing Christian Bök perform in 2006, he denounced Starnino as irrelevant. Well, this was an argument that has teeth.
"I think these men and their outspoken values regarding Canadian poetry will combine to create the most exciting debate in the history of Canadian poetry."
Maylor likens the upcoming debate to the discussions on the nature of poetry that arose from T.S. Eliot's 1919 essay Tradition and Individual Talent and Ezra Pound's corresponding essay Make it New, published in 1934.
"Starnino and Bök are Canada's very own Pound and Eliot," says Maylor, who goes on to predict: "This debate will, undoubtedly, be studied in the future."
"It is a debate about aesthetics, theory and ideology that spans the twentieth century and beyond. It has roots in all poetry written in English, be it American, Australian, or European," Maylor says.
"As a matter of fact, the heart of this debate is about aesthetics - and that conversation crosses into other genres as well: music, visual arts, architecture, etc."
She says the evening will be of interest to a wide range of audiences.
"Anyone interested in poetry, poetics, aesthetics, art, literary theory, literary performance, Canadian literature - and/or a darn good debate."
Starnino and Bök: The Cage Match of Canadian Poetry takes place on Nov. 26 starting at 7 p.m. in the Leacock Theatre (S216).
Admission is free but you must RSVP by e-mailing
Kelly Hewson
or by calling 6457.
The Visiting Author Program provides an opportunity for authors, students and faculty to meet, exchange ideas and increase awareness of scholarly and artistic endeavors.

Carmine Starnino is this year's visiting author. During his visit to Mount Royal, Starnino will interact with the community through classroom visits, manuscript consultations, individual appointments, readings, and, in this case, a public debate.

The goal of the Visiting Author Program is to allow students, faculty and the greater community access to distinguished and unique voices in the Canadian literary landscape in a personal and professional way that encourages new ideas.

- Nancy Cope, Nov. 19, 2009