Little is known about the painter of a recently hung picture
The next time you're sitting at Starbucks by East Gate, don't be surprised if you feel like you're being watched. Not by Big Brother or a stalker, rather a powerful portrait of a couple.
The sitting area beside Starbucks has two new Native guardians overlooking those meeting, studying and relaxing in the popular spot near the East Gate entrance.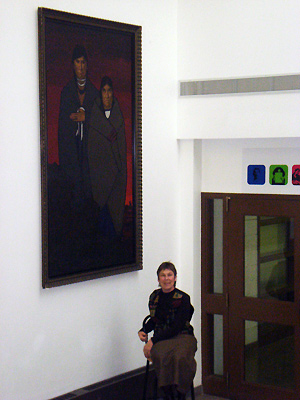 Mount Royal Archivist Pat Roome was thrilled to finally find a location worthy of this painting. She was equally excited when she found out some of the hidden history behind the painting.
Critically acclaimed Albertan artist Gerda Christoffersen's painting of a Native man and woman was recently hung there because of the proximity to natural lighting, the appropriate size of the space and because it's a painting that deserves an audience.
The painting, which has no known name at this point, was donated to Mount Royal by Lois Alger, the wife of Calgary's ex-mayor, Ross Alger, after Ross passed away in in the early 1990s.
Lois moved to a smaller home and donated several pieces of art to Mount Royal that simply wouldn't fit in her new home.
"My husband liked the painting very much and he was very fond of Mount Royal," says Alger.
"We had friends there and would often go to the theatre and concerts there so he would be very happy to see it being appreciated by the students, faculty and staff there today."
A collage donated by Alger was also hung in the hallway leading to and from the Iniskim Centre depicting historic Native leaders, Crowfoot and Old Sun, the Blackfoot leaders who signed
Treaty 7 in 1877
.
The collage is also believed to be a work by Christoffersen, although that is unconfirmed.
"When the paintings first arrived on campus we had a partnership with the Art Bank in Ottawa and the walls were full of art they'd lent us, not to mention the campus was a lot smaller back then," says Mount Royal Archivist Pat Roome.
Roome is also in charge of storing and cataloguing Mount Royal's art collection. It was a challenge to find a spot to hang the portrait of the man and woman, which measures approximately two metres tall and one and half metres wide.
"It's also not the type of painting you can just put up anywhere. I had been looking for a spot that would be suitable."
And of course it makes sense to display the painting near the Iniskim Centre.
"So, it took a while for everything to come together but I'm very happy that it's finally up."
The painting has dark colouring, strong lines and a stern tone that is very eye-catching.
The Algers received the painting in 1960 as payment for some accounting work Ross did for Christoffsen.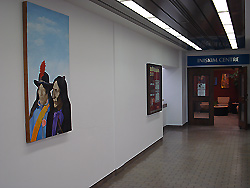 Roome also hung this collage, also believed to be the work of Gerda Christoffersen, just outside the Iniskim Centre.
Christoffersen, an enigmatic and elusive figure, painted the picture based on a newspaper article on Native culture that moved her. While not much is known about the prolific painter for sure. What is known is that some of her art was popular amongst certain American presidents such as John F. Kennedy.
"When the piece came from storage to the Archives in Fall 2009, we were unable to identify the artist because the signature is quite stylized," says Roome.
Help has a way of coming when you least expect it sometimes and when Roome was trying to identify the picture, it came in the way of Calgary Public Librarian Carolyn Ryder.
Ryder was touring the Archives at the time, and volunteered to check their files.
"She is the librarian responsible for their local history collection," says Roome.
"They have extensive files on Calgary artists. She sent us a digital image of the artist's signature. It matched the signature on this piece. Then she sent the material from their files, which was the key to identifying the work as that of Christoffersen."
Christoffersen was once married to Saskatchewan Cree artist Noel Wuttenee, brother of renowned Native lawyer and activist William Wuttenee.
Both Wuttenee and Christoffersen studied art at what is now known as Alberta College of Art and Design. As of the mid-1990s she was living in Vancouver with one of her sons. Other than that there is minimal confirmed information about the artist.
Both Christoffersen and her son have works at the Whyte Museum in Banff.
If you have any further information on Christoffersen please contact
Pat Roome
.
- Steven Noble, Jan. 21, 2010